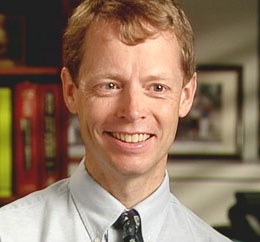 Many individuals with PWS experience significant disruption of daily life as a result of sleep-related symptoms. Daytime sleepiness, abnormal REM sleep, narcolepsy, and cataplexy are common symptoms in PWS, however their underlying cause is unknown. Thomas Scammell, MD, a leading expert in the neurobiology of sleep at Harvard Medical School, is working to better identify the biological mechanisms behind altered sleep / wake cycles in PWS.

This October, Dr. Scammell will be joining us at the Annual FPWR Conference: Action Changes Tomorrow and we couldn't be more excited! Funded by FPWR in 2015, Dr. Scammell's group is looking at the oxytocin / orexin pathway in the hypothalamus region of the brain to investigate how hypothalamic dysfunction in PWS results in the altered sleep / wake cycles in PWS and the resulting symptoms. Armed with a better understanding of sleep in PWS, researchers will be better able to develop new and more effective therapies for PWS. In his presentation, Dr. Scammell will review the sleep challenges in PWS, how they are addressed, and what we have learned about sleep from studying animal models of PWS.

Dr. Thomas Scammell received his Doctor of Medicine degree from the University of Massachusetts Medical School, where he trained in internal medicine. He also completed a residency in Neurology at the University of California, San Francisco, and a fellowship in Sleep Medicine at Beth Israel Deaconess Medical Center.

Dr. Scammell is a Professor in Neurology at Harvard Medical School, Beth Israel Deaconess Medical Center, and Boston Children's Hospital. He is a Deputy Editor of SLEEP and serves as an ad hoc reviewer for Neuron, Journal of Neuroscience, the New England Journal of Medicine, and the Annals of Neurology. He is a member of the International Classification of Sleep Disorders Task Force and a former member of the Sleep Research Society Board of Directors and the APSS Program Committee.

While not specific to PWS, research in the Scammell Lab focuses on the neurobiology of sleep and the neural basis of narcolepsy, an extreme tendency to fall asleep whenever in relaxing surroundings. Narcolepsy is caused by an extensive and selective loss of the hypothalamic neurons that produce the orexin neuropeptides. In this informative video, Dr. Scammell provides an overview of narcolepsy and insight into areas of research that may lead to better treatments for narcolepsy.

The author of over 100 journal articles, Dr. Scammell has lectured both nationally and internationally on narcolepsy and the neurobiology of sleep and wakefulness. His current research interests include identifying how loss of orexin signaling results in sleepiness and cataplexy, interactions of sleep and pain, sleep disorders in Prader-Willi Syndrome, and the cause of sleepiness after traumatic brain injury.