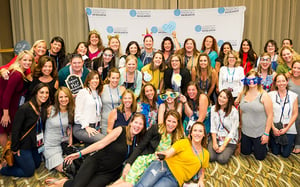 We're in the home stretch before the 2018 FPWR Family Conference, and the only thing missing is you!
From Oct. 4-6 in Las Vegas, we'll bring together families, caregivers, researchers and PWS experts for education, networking and community-building. We're also excited to welcome parents of individuals with Schaaf-Yang once again and USP7 syndromes for the first time.
It's a powerful experience, to be sure, and it wouldn't be the same without all of you! Here are some highlights of what to expect.
PWS Research Symposium
Events kick off Thursday, Oct. 4 with the PWS Research Symposium, a full day of the latest breakthroughs in Prader-Willi syndrome research. Parents are welcome to attend and should keep in mind that the presentations are given for a scientific audience of researchers and academics.
Topics include: genetics, molecular mechanisms, PWS models, metabolism, therapeutic development, clinical care, and clinical trials. If you're particularly interested in the science behind PWS, this day is for you.
Pre-Conference Session
A special session will be held the morning of Friday, Oct. 5 for parents who have received a PWS diagnosis within the previous 24 months.
It's a great opportunity to meet other new families and learn from people who are on the same journey and facing the same challenges and triumphs.
Conference Topics at a Glance
The conference officially begins Friday, and in just two days we manage to cover nearly every aspect of life with PWS imaginable. This year, we're also offering workshops specific to Schaaf-Yang Syndrome.
Highlights this year include:
The 2018 FPWR Family Conference will feature our first-ever panel with three of the world's most relevant PWS behavior experts: Elizabeth Roof, Kate Anne Woodcock and Anastasia Dimitropoulos, in a discussion led by moderator Lauren Roth.
The panel will focus on what the experts have learned in recent trials on behavior and what's being done to help us all overcome behavior challenges in our loved ones with PWS. Not to be missed.
Schaaf-Yang Syndrome Workshops
For the second year, we're holding Schaaf-Yang Syndrome Workshops at the conference. Schaaf-Yang syndrome is a genetic disorder caused by a disruption of the MAGEL2 gene on chromosome 15. The same disrupted gene is also missing in PWS, which occurs when MAGEL2 and several additional genes on chromosome 15 are missing or inactivated.
Conference sessions marked "SYS Families" are either specific to SYS or will contain PWS information that's also relevant.
Board Certified Behavior Analyst Cindy Szapacs and Associate Behavior Analyst Tony Chambers will lead separate sessions on Applied Behavior Analysis.
Cindy will lead the first session, ABA (Part 1): Applied Behavior Analysis and PWS: Dispelling Myths and Changing Behavior, on Saturday morning. Tony's session, ABA (Part II): Applied Behavior Analysis in the Education Setting: What to know and how to advocate, is Saturday afternoon.
Improving Clarity of Speech in PWS
Kolby Kail is licensed in California as a speech-language pathologist, and she has more than 15 years of experience treating children with speech difficulties.
Her session on improving clarity of speech will give parents and caregivers:
Practical solutions

Questions to ask when interviewing a speech-language pathologist

Activities and exercises to do with children at home
Optimal Nutrition in Prader-Willi Syndrome
Melanie Silverman is a pediatric registered dietitian, board certified lactation consultant and Chief Clinical Officer for Pacify, a tele-health mobile application. Her session will provide a better understanding of what and how to feed our loved ones with PWS, both adults and children. The goal is for participants to gain recommendations they can put into practice when they get home.
See You Soon!
Registration is now open for the 2018 FPWR Family Conference, Oct. 4-6 in Las Vegas. The full conference schedule has details on every session and speaker organized by day. I can't wait to see all of you there.