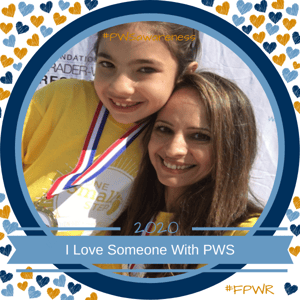 On May 1 we are kicking off Prader-Willi Syndrome Awareness Month! Since 2010, PWS Awareness month has mobilized the PWS community to raise awareness and educate others in their communities and across the country.
Visit our PWS Awareness month page on the FPWR website for inspiration, educational resources and fundraising ideas to help you with your awareness activities! And don't forget to sign up for our PWS Awareness Month emails to receive a daily PWS fact that you can share to help build awareness.
You can spread #PWSawareness on Facebook with our 'I Love Someone with PWS' profile frame! Simply go to update your profile photo and select 'Add Frame'. Search for 'prader-willi awareness' and apply the frame.
PWS Awareness Month Background
Introduced by Reps. Ed Royce (R-CA) and Jane Harman (D-CA), the House of Representatives passed House Resolution 55 on December 8, 2009. The resolution established May as an awareness month for Prader-Willi syndrome (PWS).
"This important resolution marked a real turning point in the fight against PWS," said Lauren Schwartz Roth, Ph.D., former President of the Foundation for Prader-WilliResearch (FPWR). "In addition to establishing an awareness month, the resolution recognizes the importance of awareness and early diagnosis and recognizes the efforts and commitment of patient advocacy groups such as the FPWR. We are deeply appreciative to Reps. Royce and Harman for their hard work and support."