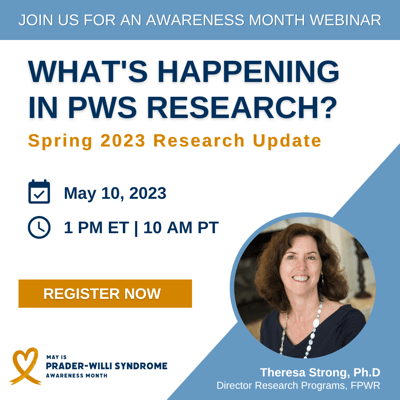 May is PWS Awareness Month. A time to raise awareness and advance research so we may find new treatments for Prader-Willi syndrome (PWS). By coming together this month, we can amplify our impact and propel treatments for PWS forward faster.
Since 2010, PWS Awareness Month has mobilized the PWS community to raise awareness and educate others in their communities and across the country. We invite you to join us this year and signal your commitment to PWS research.
Visit our PWS Awareness Month page for inspiration, educational resources, and fundraising ideas to help you with your awareness activities, and be sure to sign up for our PWS Awareness Month emails to receive a daily PWS fact that you can share to help build awareness.
Get involved and rally your friends and family to take part. PWS research is packed with more promise than ever before! With your help, we will find the treatments we are seeking. Help us amplify progress this month by getting involved, donating, and helping raise the critical funding we need to accelerate treatments for PWS. In celebration of awareness month, every donation will be matched up to $150,000.
Join the conversation online using #PWSAwarenessMonth.