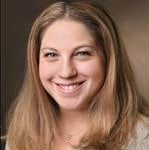 Are you excited about the upcoming FPWR conference this October in New Orleans? We are! And here is just one more reason this year's conference should not be missed: Dr. Jessica Duis.
Dr. Jessica Duis is a geneticist at Vanderbilt University with an unbridled passion for people with PWS. Trained in both pediatrics and genetics at Johns Hopkins Hospital, she also spent a year specializing in epigenetics research, focusing her bench and clinical work on PWS. She hopes to develop a truly translational approach to bringing new treatments to individuals with PWS and has recently authored "
A Multidisciplinary Approach to the Clinical Management of Prader–Willi Syndrome
" in which she documents comprehensive medical care considerations for individuals with PWS.
"When I started the multidisciplinary clinic at Vanderbilt, it became clear I needed to understand all aspects of Prader-Willi syndrome." Dr. Duis explains, "In large part, this goal was shaped by meeting so many families in need through the clinic. It was clear the community was relatively underserved. It was also palpable to me how large the thirst for knowledge was in this community and how little guidance there was to make sure everyone got up-to-date and equal care."
"We do not want to create the expectation that people need to be seen by a specific provider to get the best care," says Dr. Duis.
"This care guideline is one small step forward in that direction." Dr. Duis' publication aims to document medical considerations, guide physicians on labs for consideration, and to provide evidence for some of the many management recommendations circulating in the community. "We wanted providers to know everything we consider at the multidisciplinary clinic at Vanderbilt when thinking about caring for an individual with PWS. It is also meant to empower families and bring up the issues and the treatments they hear about through support networks. It is a critical starting point to educate providers on what is known and what is upcoming."
Dr. Duis will be joining us at the 2019 FPWR Family Conference and presenting 2 sessions, one for ages 0-2 and a second session for ages 3 and up. Topics covered will include general care, supplements, genetics, behavior management, therapy and more about her multidisciplinary approach.