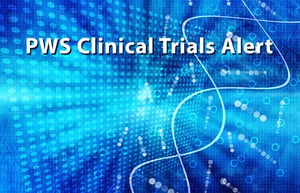 Several NEW PWS trial opportunities are now available. FPWR maintains the latest clinical trial information so that you can stay abreast of trial opportunities. Some trials require in-person visits while others can be completed remotely. Some trials are testing new drugs while others are intervention (non-drug) or natural history studies, like the PWS Weight Study described below.
FPWR does not endorse or recommend any specific study. Our goal is to provide information to help members of the PWS community decide whether participation in a clinical trial is right for them and their loved one with PWS. Anyone considering participating in a clinical trial should discuss the matter with his or her physician.
CURRENTLY RECRUITING
Text Message Based Study to Assess Weight Changes in PWS (ages 12 and up)

This study will measure weight in individuals ages 12 and up over the course of 6 months in order to develop a baseline of weight gain in PWS. This study is conducted 100% through text messaging so no in-person visits are required. Receive a weekly text message reminding you to measure the patients weight and report the weight back via text! Open to US and Canadian residents. Patients should not be concurrently enrolled in other clinical trials. Enrollment ends August 1st so sign up today! Learn more >>
Does Your Child Poop?
Changes in gut microbes may lead to obesity, but the specific role of gut microbes in weight control in Prader-Willi Syndrome (PWS) and childhood obesity is not yet fully understood. Stool samples from both individuals with PWS and healthy controls ages 0 - 17 years are needed. Learn more >>
Cannabidiol in PWS (ages 8 - 17)
Insys Therapeutics is conducting a Phase 2 study of Cannabidiol (CDB) to evaluate whether the use of CBD, provided as an oral solution, can help control hyperphagia and compulsive behaviors. The first of several study sites is now open in Tacoma, WA and enrolling patients 8 to 17 years old. Additional sites will open soon. Learn more >>
DCCR for the Treatment of Hyperphagia in PWS (ages 8 and up)
Soleno Therapuetics has opened its first trial site at Seattle Children's Hospital for its Phase 3 study of DCCR in PWS. This study is recruiting patients ages 8 years and older for a 15 week study measuring the efficacy of DCCR for treating hyperphagia. An additional 10 - 15 sites are expected to open soon. Learn more >>
Intranasal Oxytocin vs. Placebo for the Treatment of Hyperphagia in PWS (ages 5 - 17)
This is a randomized, double blind Phase 2 study of intranasal oxytocin in PWS. The study is now enrolling patients ages 5-17 years old. Travel to the Montefiore Medical Center, Bronx, NY is required for 5 on-site visits in addition to 2 phone call visits. Learn more >>
Mindfulness-Based Intervention for Temper Outbursts (ages 13 - 30)
The study is looking for individuals with and without PWS ages 13 to 30 years who have either a mild intellectual disability or typical IQ. This study will be conducted remotely via phone, email and video-conference and is, therefore, open to families both within and outside of Australia. Learn more >>
Oxytocin and the Autonomic Nervous System in PWS (ages 13-30)
Patients ages 13-30 are needed to participate in a study aiming to understand the nature of the oxytocin abnormality in PWS. The study will be conducted over a 2 hour visit at either the University of Sydney in Camperdown, NSW or the Royal Children's Hospital in Parkville, Victoria. Learn more >>
PRETEND Remote Play-Based intervention Study (ages 3 - 9)
This 8-week telehealth intervention program focuses on building play skills, emotional understanding and regulation, and social skills. The study involves two in-person visits, one at the beginning and one at the end, that would be conducted in the family's local area and then the 8-week intervention, which is all done via remote videoconferencing. The study team will be visiting Chicago the end of July as well as is planning to visit Boston and the tri-state area this summer. If you are in those areas and interested in participating in the study, contact the team! Learn more >>
Eye Tracking - Developing Objective Biomarkers of Hyperphagia (ages 3 - 12)
This study requires a single in-person visit. Eye tracking technology will be used to measure how children process images of food vs. objects. The aim of this study to to determine if eye tracking can help us better understand and measure hyperphagia objectively. For this study, both children with PWS and neurotypically developing peers are needed, ages 3-12. This study is being done in collaboration with the team at Vanderbilt University. The study team will be visiting Chicago the end of July as well as is planning to visit Boston as well as the tri-state area this summer. If you are in those areas and interested in participating in the study, contact the team! Learn more >>
GLWL Phase 2 Study Aiming to Address Hyperphagia (ages 16 - 65)
Site locations are now open in San Diego, Gainesville, Nashville, Cleveland, Edmonton and Montreal. Eligible patients need a BMI between 27 and 60. Study is 18 weeks in length. Learn more >>
CLINICAL TRIALS OVERVIEW
A multitude of factors come in to play when determining whether to participate in a clinical trial. To help make it easier for you to see which trials you may be right for you, we've created an easy to read matrix which compares common variables such as age and BMI requirements, study sites and estimated start dates (screen shot below). We're updating this matrix all the time. See the full PWS clinical trials matrix here.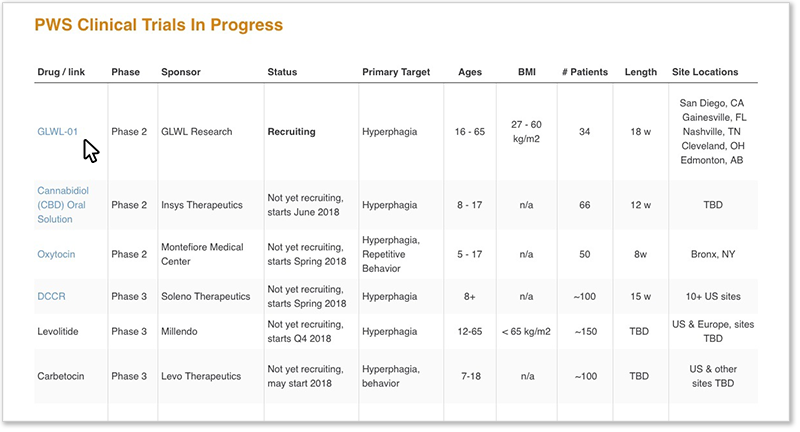 DONATION OF TISSUES NEEDED
Scientists need samples to study PWS – without your contributions, these studies can't make progress!
Got baby teeth? Share them with Dr. Reiter. Fresh baby teeth are needed, particularly from those with PWS by UPD. You must have a kit ahead of time. Click here for details.
Post-Mortem Brain Donation. Organ donation is a highly personal decision that has the power to accelerate research and transform the lives of countless families affected by PWS. You can make a tremendous difference in research into Prader-Willi syndrome by participating in this program. In the event of a death, contact the 24-hour hotline number: 1-877-333-0999 for immediate assistance. Learn more.
---
While we are pleased to share with you these opportunities for participating in PWS clinical trials, FPWR does not endorse or recommend any specific trial. Please contact the study coordinators directly for important details about each study and to answer any questions you may have. Some trials may have funds available to support travel to study sites.