Study Purpose
Individuals with Prader-Willi Syndrome (PWS) exhibit many behaviors that are consistent with a compromised Social Engagement System. Atypical function of the Social Engagement System results in problems associated with state regulation (e.g., impulsivity, tantrums, and difficulty with change in routine), ingestion (e.g., difficulties in sucking at birth, hyperphagia), coordination of suck/swallow/breathe, intonation of vocalizations, auditory processing and hypersensitivity, and socialization.
This research study will be a collaboration between researchers at Indiana University and Integrated Listening Systems (iLs), and will evaluate the effects of the "Safe and Sound Protocol" (SSP) on the behavior of children with Prader-Willi Syndrome. Children who participate will receive the home-based SSP (along with complete instructions), and parents will be asked to complete online questionnaires and upload a brief speech recording of their child before and after the child begins the intervention. The questionnaires will include topics of motor functioning, sensory issues and social behavior.
Participation in this research is completely voluntary, but we hope that by collecting this type of information, we will learn more about children with Prader-Willi Syndrome, along with the effectiveness of the intervention on different domains that are important to you and your child.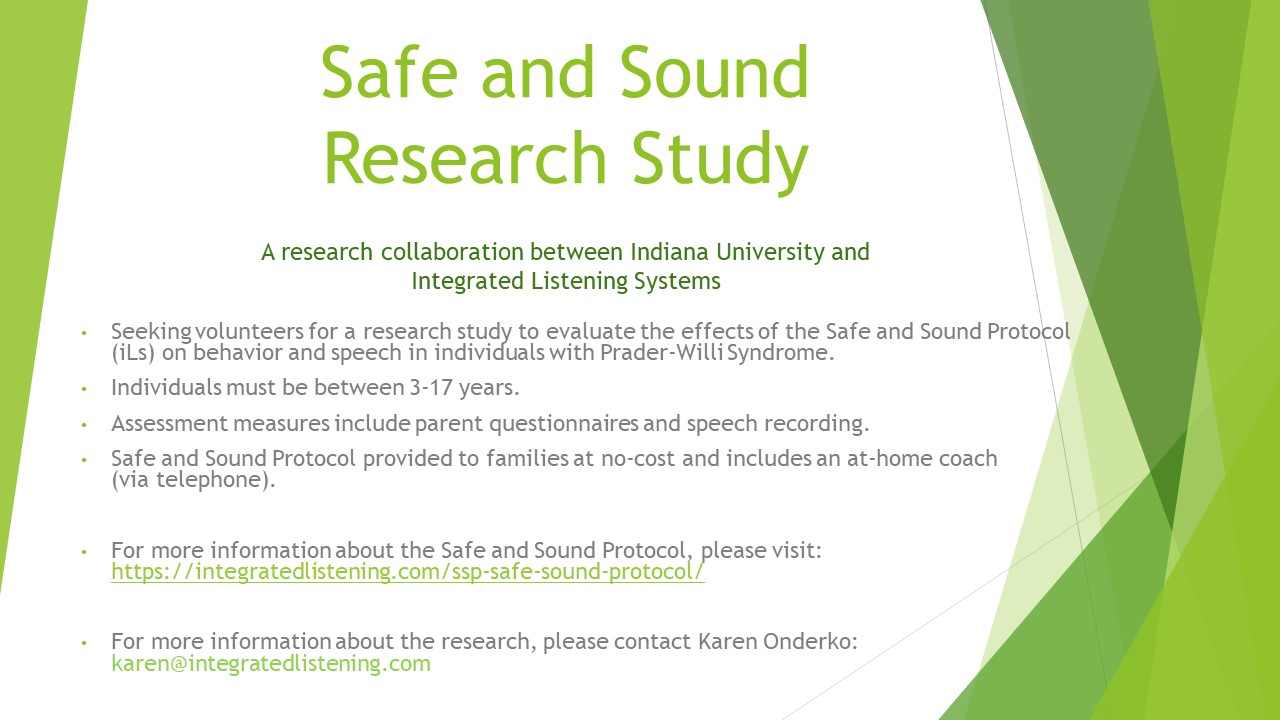 Recruitment Criteria
Study Type: intervention, all patients will receive treatment
Eligible Ages: 3 to 17 years
Trial Details
Trial Id: NCT03871751
Duration: 1 week
Status: recruiting
Countries: United States
Additional Details: This study will be conducted remotely, no in-person visits are required
Contact Information
If you are interested in receiving more information, please send email to Karen Onderko (Integrated Listening Systems, iLs) at karen@integratedlistening.com