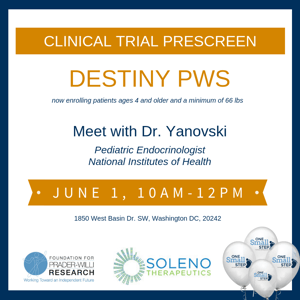 Dr. Yanovski and colleagues from the National Institutes of Health will be joining us at our One SMALL Step walk on June 1st to prescreen potential participants for the DESTINY PWS DCCR Clinical Trial. This trial is enrolling patients ages 4 and older who weigh a minimum of 66 lbs. Learn more about participating in this trial and speak 1 on 1 with a qualified study team member during this prescreen event.
Walk Details
This year's One SMALL Step walk will take place June 1st at the FDR Ceremonial loop (1850 West Basin Dr. SW, Washington, DC 20242). Registration begins at 10 am and the walk begins at 10:30. Bring a picnic for your family and spend time with other families from the area after the walk.
One SMALL Step is a free family-friendly fundraising event with 100% of proceeds supporting critical PWS research. Bring your family and friends, start a personal fundraising page, or simply show up the day of the event. How can you get involved?
You can visit our event page for more information. We hope to see you there. Let's make 2019 the best year for PWS research!