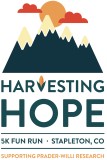 We will be hosting the first Thanksgiving Day Race for Northeast Denver on Thanksgiving Day, November 26, 2015 at Central Park in Denver, CO (Stapleton Neighborhood). The race will feature a timed 5K Fun Run/Walk and a kid's fun run, free for children under the age of 10. We are anticipating over 300 participants and expect that number to increase over the coming years. How it all began…
A few years ago, a group of local residents decided to come together as a community for the joy of running on Thanksgiving Day. By word of mouth alone, the 2014 event attracted more than 100 runners! With such a crowd, the race organizers began dreaming of a way to give the event a purpose. Meanwhile, two Stapleton moms were dreaming of a way to raise both awareness and funds for Prader-Willi Syndrome (PWS), a chromosomal disorder affecting both of their children, ages 1 and 3.
What is PWS…
PWS is the leading cause of genetic life-threatening childhood obesity, and there is no cure. A rare genetic disorder, it occurs randomly in approximately one out of every 15,000 births. While the symptoms of PWS are varied and dramatic, the most notable symptom is extreme and unrelenting hunger coupled with a cruel, slow metabolism and low muscle tone. Because of the insatiable hunger, PWS is a life-threatening medical disorder.
The Goal…
We have joined forces to raise funds for the Foundation for Prader-Willi Research (FPWR), an organization whose mission is to eliminate the challenges of PWS through the advancement of research.
Our collective goal is to create an event for Northeast Denver with a focus on families, active lifestyle, and community engagement. Our hope is that the Harvesting Hope 5K not only raises money to find a treatment for PWS, but that it also raises awareness of the overwhelming rise in childhood obesity in America today. We believe wholeheartedly that community and family involvement is key in cultivating healthy lifestyles, and this race is dedicated toward achieving that goal with a fun, Thanksgiving tradition.
We would like you to consider being a sponsor and joining us in harvesting hope in the fight against childhood obesity and PWS. 
Please view sponsorship tiers here: Sponsorship Package 2015 Final. 
To learn more or register to run, please visit: www.harvestinghope5k.com.