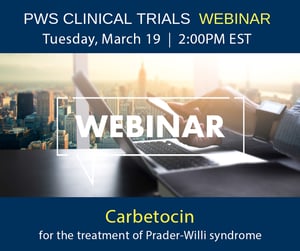 Join us Tuesday, March, 19th at 2 PM Eastern for a LIVE webinar with Levo Therapeutics.
Levo Therapeutics in now enrolling patients ages 7 to 18 for their study of Carbetocin for the treatment of Prader-Willi syndrome. If you are interested in learning more about this trial, join us for a live 20-minute webinar to learn more about the study, what you can expect if you choose to participate, and eligibility criteria for participation. Time will be reserved at the end of the webinar for questions.

Can't make it to the live webinar? A recording of the webinar will be shared with all registrants.