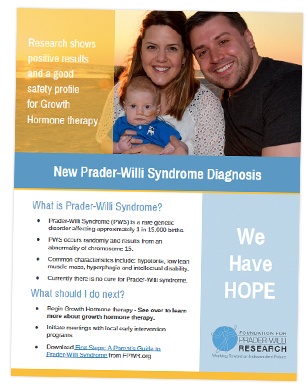 In the first days after a diagnosis of Prader-Willi Syndrome (PWS), we know that life can quickly become overwhelming as you try to learn everything you can about what's happening to your baby and what treatment options are best.
One of our first recommendations after a new diagnosis is to begin growth hormone therapy as early as possible. Research supports its benefits for PWS treatment, and it has a consistently reassuring safety profile.
In this easy-to-follow one-pager, we offer an overview of human growth hormone treatment for PWS, including its benefits for:
Growth and body composition

Development and behavior

Cognitive performance
We also discuss its positive research results, possible side effects and guidelines for use. And we provide introductory information about PWS and what other first steps to take.

We hope you find this brief growth hormone guide useful as you begin your journey with PWS.