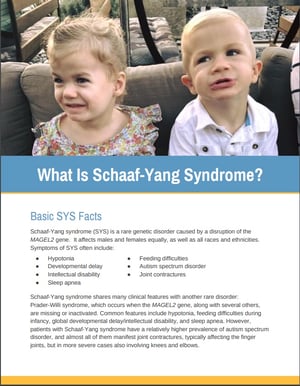 Schaaf-Yang syndrome (SYS) is a rare genetic disorder caused by a disruption of the MAGEL2 gene. SYS affects males and females equally, as well as all races and ethnicities. It shares many clinical features with Prader-Willi syndrome.
Getting the facts is an important first step in showing support for people dealing with SYS. By downloading this one-page fact sheet, you'll get a quick overview of:
Common SYS symptoms, including hypotonia and autism spectrum disorder
Differences and similarities between SYS and PWS
Research into treatments that offer hope for the future
How you can help!
To get the fact sheet, just fill out the form.