Accelerating Research for Schaaf-Yang (SYS)
The Foundation for Prader-Willi Research (FPWR) is the only organization in the world dedicated to advancing Schaaf-Yang syndrome (SYS) and Prader-Willi syndrome (PWS) research. At the heart of our mission is accelerating research that will ultimately lead to treatments and a cure for SYS and PWS.
We are dedicated to driving progress in research from discovery through the development and optimization of safe and effective treatments, while also fostering the creation of valuable resources that facilitate and accelerate the entire drug development pathway. Our primary focus is on supporting research endeavors that hold translational potential, meaning they have the capacity to lead to the development of effective treatments or even a cure for SYS.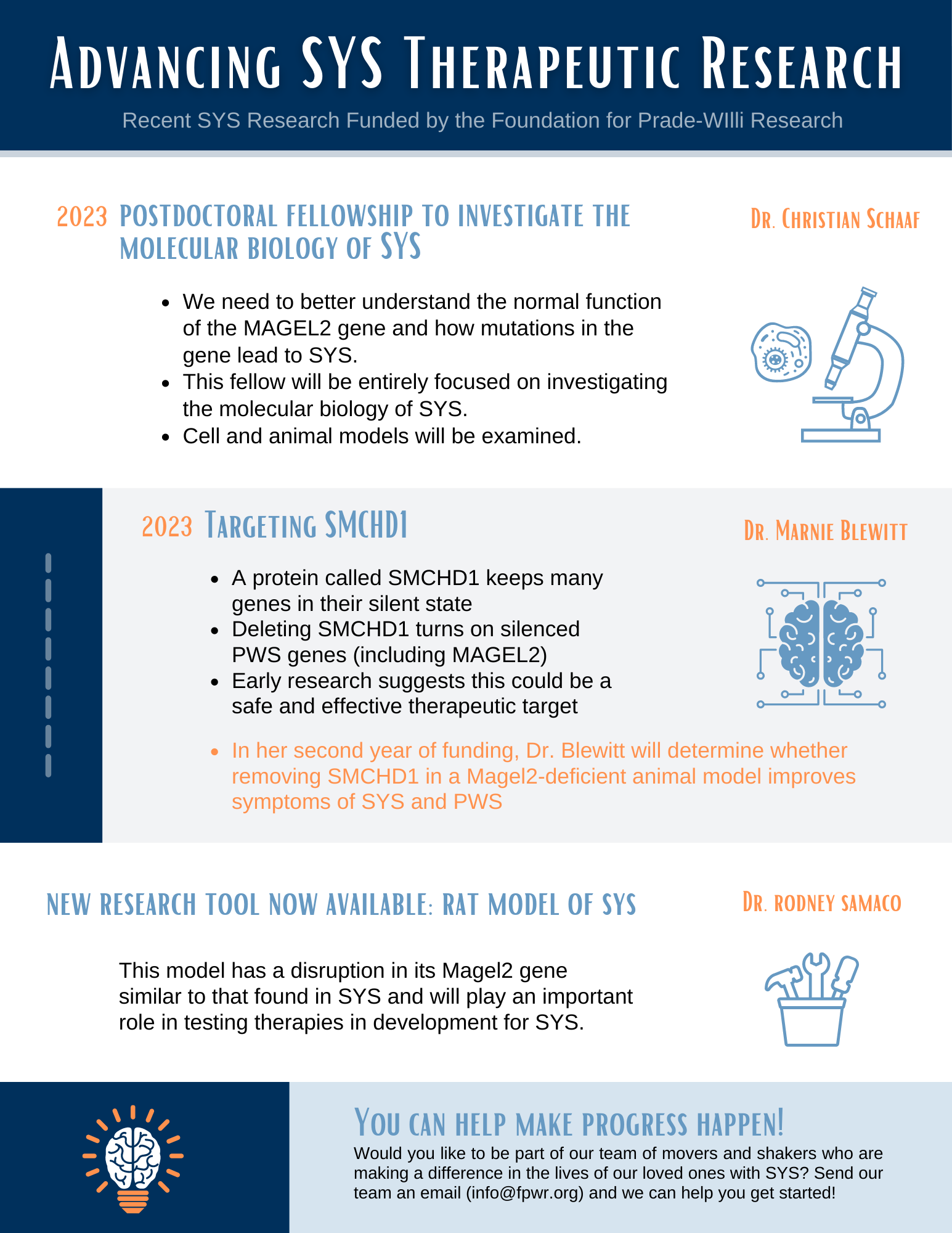 What We Fund
By prioritizing translational research, we aim to maximize the impact of our funding by directing resources towards projects that have the greatest potential to improve the lives of individuals affected by SYS. We recognize the importance of bridging the gap between scientific discoveries and tangible solutions, and our comprehensive approach ensures that our support spans the entire research continuum, from early-stage investigations through drug development and the optimization of clinical care.
Through strategic investments and by fostering collaborations, we strive to accelerate the translation of promising scientific findings into practical applications that can benefit patients and their families. Our commitment extends beyond funding alone, as we actively develop and provide crucial resources that empower researchers, enabling them to overcome challenges and achieve significant milestones along the journey towards effective therapies and, ultimately, a cure for SYS.
About The Drug Development Process
Drug development for new therapies in any disorder, including SYS, follows a step-by-step process, beginning with research and discovery. To treat and ultimately cure SYS, we must grow our knowledge base of the disorder. This entails identifying and understanding the differences between people with SYS and typical individuals all the way down to the cellular level. We look at cells from a person with SYS and compare them to typical cells: this helps indentify specific pathways that could be targeted with drugs or other treatments.
Highlighted Projects:
3-Year Postdoctoral Fellowship to Investigate the Molecular Biology of Magel2
Promising discoveries are moved to the next stage of the development process: preclinical testing. In this stage potential drugs or interventions are tested in SYS cells or animal models to see if they can restore normal function.
Highlighted Projects:
When a drug shows promise in preclinical studies (cells and animal models), the next step is to move them into human clinical trials. Phase one trials primarily focus on ensuring the safety of the drug, while phase two evaluates both safety and effectiveness. Phase three is typically the final trial and requires a larger volunteer base to confirm the safety and efficacy observed in previous trials.
To expedite the entire drug development process, the Foundation for Prader-Willi Research (FPWR) supports research at every stage and facilitates the development of tools and programs that aid researchers along the way.
Highlighted Projects:
You can help advance SYS research.