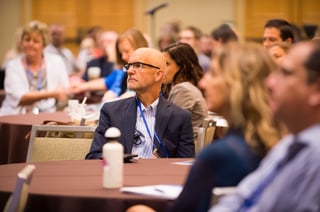 This October, parents, caregivers and medical professionals from across the country will once again be coming together to connect, learn, and be inspired at the Foundation for Prader-Willi Research's Annual Research Symposium and Family Conference: We Can, We Will. The two-day family conference brings together over 200 members of our PWS community allowing you to network with researchers, question the experts and brainstorm with other amazing parents who are committed to eliminating the challenges of PWS.
To arm you with the latest strategies and to share what has been learned in recent behavioral research studies, we have invited several of the top experts in the world to speak on the topic of behavior. Attend a panel discussion with behavioral experts: Anastasia Dimitropoulos, Elizabeth Roof, Kate Woodcock and Lauren Roth, then choose among several breakouts focusing on:
Social Functioning in PWS
ABA Therapy
Task Switching / Transitions
Also, back by popular demand, we have sessions on:
Nutrition 101 with Melanie Silverman
Speech Therapy
Highlights from the PWS Research Symposium
Updates and information on PWS Clinical Trials
2 sessions just for parents of newly diagnosed children
Specialty sessions for parents of children with Schaaf-Yang and USP7 syndromes
And More!
With premier experts in their fields and the backdrop of Las Vegas, this year's conference promises to be an event to remember! Register soon! We have a killer deal on rooms ($139/night) but they are limited, and you will only get the discount code after you register for conference! To learn more and register, please visit www.fpwr.org/events.
---

Can't get enough of the science? Come a day early for our PWS Scientific Symposium, Thursday, October 4th.
---
Hear What Past Conference Participants Say ...
"We had a great time at our first Prader-Willi conference. We learned a lot and best of all we met some great new friends going through the same struggles we are. Can't wait for next year!" —Blythe and Travis Gregg, SC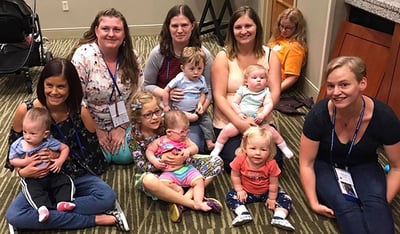 "The future looks FULL of hope and promise. I feel alive again. A spark and drive have returned. I want the best for Makenna and all those living with PWS. The immediate bond that comes with spending time with these other parents who "get it" feels good. I met many for the first time but feel I have known them for years." —Lisa Lamb, AZ
"Great weekend discovering the latest and greatest in PWS research. The scientific and medical communities are well on their way to helping our loved ones live an independent life." —Rachael Fischer, CO.

Win a Trip to the 2018 Conference
Fundraisers who create an FPWR fundraising page before August 1, 2018, will receive 1 entry for every $500 raised towards a trip to the FPWR conference in Las, Vegas, NV! The drawing will take place in August 2018. The winner will receive up to $750 towards the purchase of one round trip flight to the conference, two nights stay and one conference registration! Learn more about this opportunity here.