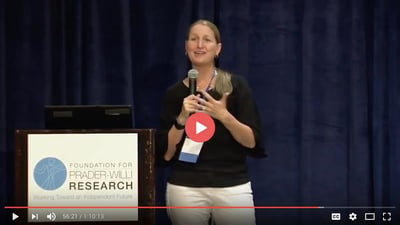 This blog provides a brief summary of Standards of Care for PWS, a presentation given by Dr. Jennifer Miller at the FPWR 2017 conference.
In case you don't have time to watch the full video, we've captured some of the key points in the notes below.
Dr. Jennifer Miller, a pediatrician and researcher at the University of Florida, has studied hundreds of people living with PWS and is the most widely respected clinician working in our field. Her 70-minute session included 50 minutes of presentation and 20 minutes of Q&A from the audience, who were largely parents of children with PWS. Read below for an overview of the topics she covered.
You can watch the full Standards of Care for PWS presentation by Dr. Miller here.
Objectives
PWS – the basics of appetite and weight

Diet and supplements: Current recommendations & what we still don't know

Growth Hormone (briefly)

Endocrine Issues

Research Studies
PWS – The Basics of Appetite and Weight
There are seven nutritional phases that people with PWS typically go through. Researchers don't yet know why these phases occur and what the triggers are:

Phase 0
Occurs in utero

Less growth in length and weight than unaffected siblings
Phase 1a
No desire to eat

Can last 3-12 months
Phase 1b
Normal appetite and weight

Lasts until 18-36 months
Phase 2a
Weight gain without a change in calories

18-36 months until age 5
Phase 2b
Ages 5-8

Increased interest and awareness of food

Not hyperphagic

Will get full
Phase 3
Average age of onset is 8-9 years

Classic PWS phase of the insatiable appetite

Can feel full but it's very, very rare

Constantly thinking about food
Phase 4
Rare

Happens in adulthood

Appetite decreases again back to 2b
Diet and Supplements
Diet in PWS is tied to everything from cognitive development to mood, and each person is unique and has their own dietary needs. As a general starting point, doctors recommend a mix of 40 percent or less of complex carbohydrates, 30 percent fat and 30 percent protein, with as much fiber as possible, around 20 grams.
A word about sweetness: While it's tempting to sweeten a child's water because they won't drink it plain, it's not worth the health risks in the long run, including weight gain and metabolic dysfunction.
Supplements include vitamins, minerals, oils, prebiotics and probiotics. Again, every child is an individual, and not every child needs supplements to thrive. Parents should check with their pediatrician and endocrinologist before starting any supplements – and not buy something because they saw it online.
Supplements and oils, when used correctly, have a range of behavioral and health benefits, including improved daytime energy, better language function and a reduction in compulsive behaviors. They can also protect against certain health risks.
Growth Hormone
Growth hormone has demonstrated benefits for all people with PWS, from patients as young as two weeks to those as old as 65 years. Benefits include increased muscle mass, decreased fat mass and improved cognitive function.
The downside: It is extremely difficult to get growth hormone approved by insurance companies once a patient is done growing. (Note from FPWR: we are working on this!)
Endocrine Issues
Thyroid: About 20 percent of individuals with PWS can have hypothyroidism, in which the thyroid gland doesn't produce enough thyroid hormone. Doctors recommend having children's thyroid checked twice a year up to age 3.

Adrenal: Have checked in cases of frequent illnesses or sickness that's out of proportion to the illness

Gonads: Monitor during puberty and infancy

Blood sugars: Check HbA1c annually after the age of 10
Research Studies
PWS is an excellent model for studies in obesity, which has attracted the attention of pharmaceutical companies. The thinking in the research community is that if you can fix the hunger in Prader-Willi syndrome, you can fix the hunger in anyone in the general population.
Research is currently being conducted involving:
Oxytocin

Carbetocin

Diazoxide

Setmelanotide

AZP-531

CBD

Microbiome

Fecal transplants

Beloranib research has been stopped due to too many adverse events
The session ended with a 20-minute Q&A with the audience.
You can watch the full Standards of Care for PWS presentation by Dr. Miller here.