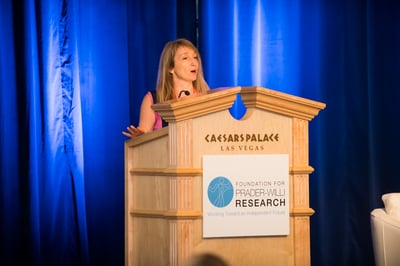 You won't want to miss these speakers at the 2019 FPWR Family Conference this October in New Orleans, Louisiana.
Are you ready to join like-minded game-changers with direct access to the people, knowledge, and inspiration you need to help your child at the lowest price of the year?
Want to take home tangible ideas that you can work on with your child?
This year's conference is the place to be. We have invited many of the top PWS experts in the world to discuss therapeutic interventions you can use at home! We have speakers for every age group, from infant to adult, who will share what has been learned in recent and ongoing research studies. Highlighted experts include Dr. Jessica Duis, Dr. Nirbhay Singh, Dr. Elisabeth Dykens, and Patrice Carroll covering such topics as:
Standards of Care for PWS with Dr. Duis

Workshop- Mindfulness for Parents

Practical Tips for Motor Development

Sensory Solutions for Everyday Struggles
IEP's for Student Success

At Home: Behavior Strategies
And you will definitely want to attend our Clinical Trials Panel and hear exclusive updates on trials happening right now!
Check out our website to learn more about our speakers!
With premier experts in their fields and the backdrop of New Orleans this year's conference promises to be an event to remember! Register now during our Mardi Gras Sale, going on February 1- March 5. Prices are being cut from $225 (regular price) to $150*, from February 1 to March 5. After that, tickets will go up to their regular price. This is our biggest sale of the year, and you will not want to miss it!


We have a killer deal on rooms ($150/night) but they are limited, and you will only get the discount code after you register for the conference! To learn more and register, please visit www.fpwr.org/events.

We look forward to seeing you in New Orleans.