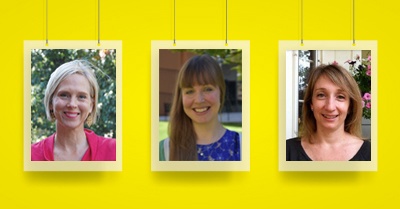 For every FPWR Family Conference, we introduce new panels, topics or activities, and this year I'm excited to announce our first-ever panel with three of the world's most relevant PWS behavior experts.
Moderator Lauren Roth will lead panelists Elizabeth Roof, Kate Anne Woodcock and Anastasia Dimitropoulos in a discussion on what they've learned in recent trials on behavior and what is being done to help us all overcome behavior challenges in our loved ones with PWS.
We're thrilled to bring such a high-caliber group of PWS behavior experts together for the first time, and we're equally excited about the other sessions they're involved with throughout the conference.
PWS Behavior Panel
The panel is scheduled for Friday afternoon as an overview for the other behavior-related sessions later in the conference. You'll be able to hear from the PWS behavior experts about the latest research findings, and we'll have the opportunity to ask them questions, so come prepared!
PWS Behavior Experts
Moderator Lauren Roth, Ph.D.
FPWR Research Team
In addition to moderating the behavior panel, Lauren will participate in:
FPWR Research Town Hall. The FPWR Research Team will discuss highlights from our Research Plan, go over recent achievements and detail what we're doing to develop treatments.

Multi-Stakeholder Collaboration: How the PWS Clinical Trials Consortium is Advancing Trials for PWS
Elizabeth Roof
Senior Research Specialist, Vanderbilt Kennedy Center
Elizabeth has decades of experience working with children and adults with PWS, and since 1995, she has personally evaluated more than 325 individuals with PWS. She currently coordinates five research programs with children and adults, and she is a frequent speaker at local, national and international conferences on behavioral interventions and effective parenting.
She has given feedback on issues such as family and school interventions, medication recommendations, and residential placement. And her areas of interest are a whole-person approach to mental health management and prevention of psychiatric and behavior problems in PWS.
In addition to the behavior panel, Elizabeth will participate in:
Multi-Stakeholder Collaboration: How the PWS Clinical Trials Consortium is Advancing Trials for PWS

Improving Social Functioning in Children and Adults with PWS. Elizabeth and Anastasia will discuss their latest multi-year research studies focused on strategies to address the social challenges that people with PWS experience. People with PWS often have a strong desire for friendships and social connection but can struggle with making and maintaining friendships, as well as developing the necessary social skills.
Kate Anne Woodcock, Ph.D.
Behavioral Psychologist, Centre for Applied Psychology, School of Psychology, University of Birmingham
Kate's research focuses on young people who are facing difficulties linked to neurodevelopmental disorders, including people with PWS. Her team is currently developing intervention strategies for behavior challenges in PWS, such as caregiver-led behavioral support strategies, cognitive training intervention programs and early intervention strategies.
In addition to the behavior panel, Kate will participate in:
Towards Reducing and Preventing Problematic Resistance to Change. Individuals with Prader-Willi syndrome often experience difficulties when things change unexpectedly in routines, plans or expectations, also known as resistance to change. By understanding some of the reasons for the difficulties, we can develop strategies to help existing patients become better at managing change and potentially develop ways to prevent resistance to change from developing in others.
Anastasia Dimitropoulos, Ph.D.
Associate Professor of Psychology, Case Western University
Anastasia's research examines the cognitive, behavioral and emotional characteristics of people with intellectual and developmental disabilities. Much of her work has focused on characteristics of PWS such as food and nonfood repetitive behavior, mechanisms of hyperphagia, and autistic symptomatology.
Anastasia has an undergraduate degree from Emory University and a doctoral degree in developmental psychology from Vanderbilt University. She obtained postdoctoral training in functional neuroimaging and clinical populations at the Yale Child Study Center under the direction of Robert Schultz.
In addition to the behavior panel, Anastasia will participate in:
Improving Social Functioning in Children and Adults with PWS
FPWR Family Conference
Registration is now open for the 2018 FPWR Family Conference, Oct. 4-6 in Las Vegas. The conference offers a once-a-year opportunity for our community to learn, connect and network with experts like Lauren, Elizabeth, Kate and Anastasia. The PWS Behavior panel is at 2:45 p.m. on Oct. 5. See you then!