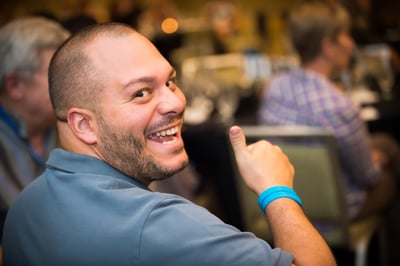 For the second year in a row, we're looking forward to holding Schaaf-Yang Syndrome Workshops at the FPWR Family Conference. Please join me in welcoming SYS families again this year!
In 2017, families with a diagnosis of Schaaf-Yang syndrome (SYS) gathered with us to share research information and insights. Schaaf-Yang syndrome is a genetic disorder that's caused by a disruption of the MAGEL2 gene on chromosome 15. The same disrupted gene is also missing in PWS, which occurs when MAGEL2 and several additional genes on chromosome 15 are missing or inactivated.
Conference sessions marked "SYS Families" are either specific to SYS or will contain PWS information that's also relevant.
Schaaf-Yang Syndrome & PWS
Schaaf-Yang syndrome is named for Drs. Christian Schaaf and Yaping Yang, two colleagues at Baylor College of Medicine who together identified the first patient, symptoms and common features. We're thrilled to have Dr. Schaaf join us at the conference again this year.
Because MAGEL2, the disrupted gene in SYS, is one of the key genes involved in PWS, we've funded a number of studies to understand how MAGEL2 functions, and how loss of MAGEL2 function causes the symptoms that are associated with SYS and PWS.
As you're planning which conference sessions to attend, keep in mind that Schaaf-Yang syndrome shares several clinical features with PWS, including hypotonia, feeding difficulties in infancy, developmental delay/intellectual disability, and sleep apnea. Patients with SYS also have a higher prevalence of autism spectrum disorder, and almost all of them have limited movement in their joints, including their fingers, knees and elbows.
Schaaf-Yang Syndrome Workshops
On Friday and Saturday, we'll have several SYS-specific sessions, as well as PWS sessions on research updates, ensuring optimal nutrition, addressing behavior challenges, and improving speech that we think will also be helpful for SYS families. And, of course, we invite everyone to join us for the Conference Welcome, Welcome Reception and lunch subsessions.
Friday's SYS-specific sessions are:
SYS - What do we know?
Dr. Schaaf will give an update on what's been learned about the disorder from its first 150 patients.
Parents to Parents: SYS Families
This session is an opportunity to connect with other families who have loved ones with SYS.
Saturday's sessions:
Breakfast
We'll host a subsession for SYS Families.
Update on the SYS Research Plan
SYS and PWS share many characteristics, but there are also distinct differences, and the SYS Advisory Group has been working to develop their own research plan. This session will be led by Dr. Ryan Potts, whose lab at St. Jude Children's Research Hospital focuses on the cellular functions of MAGEL2.
Schaaf-Yang Syndrome and Sleep
Learn more about the sleep disorders that are most common in PWS and SYS, how they're treated and the impact of poor sleep on overall health and well-being. Session speaker Dr. Joanna E. Wrede is a specialist in Pediatric Sleep Medicine and Neurology at Seattle Children's Hospital in Seattle, and Assistant Professor of Pediatrics and Neurology at the University of Washington. She is also part of the multidisciplinary Prader Willi Syndrome Clinic at Seattle Children's Hospital.
Update on the SYS Phenotyping Study
The topic description for this session is pending.
FPWR Family Conference
We're so encouraged by the growth of our conference, and we can't wait to see everyone soon! The 2018 FPWR Family Conference is Oct. 4-6 in Las Vegas, and registration is open now.