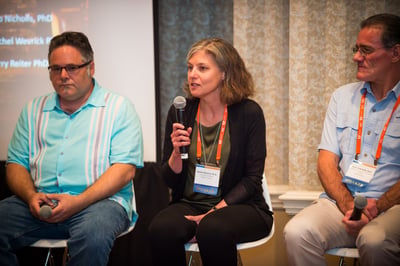 We cannot wait for this year's FPWR family conference, and what would an FPWR conference be without research!
This annual gathering is full of movers, shakers, thinkers and doers where you can ask researchers the questions you've had on your mind. You can even talk to them at the welcome reception or on breaks. It is your chance to get personalized advice for your loved one.
The research presentations at the conference will also be a great opportunity to learn more about what FPWR is doing with the funds that our donors and fundraisers are contributing.
Research sessions at this year's conference will include:
Research Symposium Synopsis: If you aren't attending the Research Symposium on Thursday, October 3, you can get a summary at this session, where FPWR Director of Research Dr. Theresa Strong will recap the highlights.
Fireside Chat: PWS research is moving at breakneck speed. This discussion will give you a more general understanding of the current research happening in the field for PWS.
Interview with the FPWR Research Team: Hear updates on the FPWR Research programs, achievements to date, and what we are doing to develop treatments for our loved ones with PWS. This interactive session will give you a chance to ask your burning questions to our FPWR Research team. Panelists: Theresa Strong, Nathalie Kayadjanian, Jessica Bohonowych, and Lauren Roth.
Research Outcomes: What Can the Microbiome Tell us About PWS? We know that the microbiome is an important piece to understanding PWS. The team at Johns Hopkins will discuss their FPWR Funded study results on the microbiome.
Clinical Trials Panel: There are more PWS clinical trials investigating treatments for PWS than ever! Stay up to date and learn the latest in current and upcoming clinical trials directly from trial representatives. Time will be reserved for Q&A.
Learn more about the FPWR 2019 family conference and register here.