A special blog contribution from Stephanie McDade.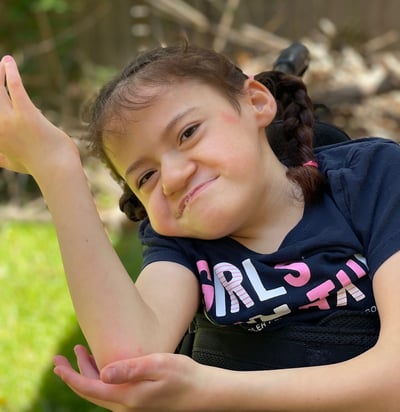 Last week Gibson rode a tricycle. She pedaled and steered on her own for a good five minutes on the sidewalk of our city block.
This is real progress for a 7-year-old who doesn't walk independently and is so racked by spinal deformities she can't sit upright without special seating and straps. Gibson has such severe Autism that with past attempts on this used adaptive trike, she was more interested in the crumbly rubber on the handlebar than pedaling and exploring her surroundings.
But on this sunny spring day, Gibson was like any kid out for a bike ride, enjoying the warm day and observing her world. She was beaming with pride too, as she should; she's come a long way.
When Gibson was born, her survival was uncertain. Her twin brother Seamus nuzzled into me and quickly started breastfeeding, but Gibson couldn't suck a breast or bottle. She struggled to regulate her temperature and breathe properly. She was whisked away to the nursery and soon after the NICU. My babies were nearly full term, there shouldn't have been issues. The doctors didn't have answers.
Our journey to parenthood took 10 years. It was marked by miscarriages, expensive fertility treatments, two failed adoptions, and finally, jubilantly, pregnancy. Now, our happy ending was fracturing. I couldn't hold back tears the day Seamus and I were discharged. Here was one infant coming home to a new crib, baby clothes, and bright hopes for the future, while the other twin was left in a hospital two hours from home, a tube in her nose, wires on her toes, monitors beeping, and her future unknown.
Gibson would spend 10 weeks in the NICU. She underwent surgical placement of a gastrostomy tube and a painful procedure to extend her jaw, which improved her breathing, before being discharged. It would be three more months before a genetics team found a match: Schaaf-Yang syndrome (SYS), a disorder so rare that Gibson was only the 35th person worldwide diagnosed. SYS is a disruption of the Magel2 gene, the same gene that is deleted in the more common disorder Prader-Willi syndrome (PWS). The syndromes share some similarities, but SYS is more severe.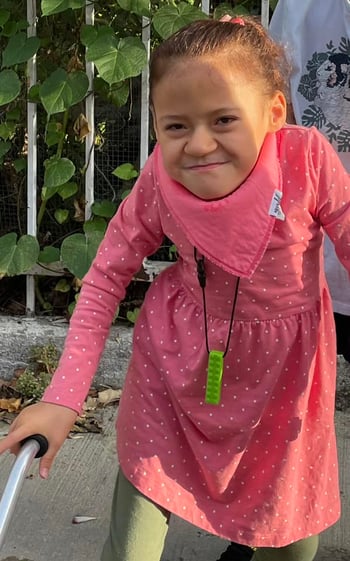 We discovered a small community of SYS parents on Facebook, where we found advice, support, and stories of children facing challenges like Gibson. Soon after, our group teamed up with the Foundation for Prader-Willi Research (FPWR), an organization that raises funds to research therapies and treatments for Magel2 gene disorders. They invited the SYS community to the 2018 conference. We met PWS parents devoted to fundraising. And when we listened to the researchers' reports and realized how those fundraising dollars are used for research and trials that actually improve patients' lives, we had to get involved.
It's not easy. Fundraising requires a lot of time, a commodity I lack given my child's many needs. It's also awkward asking people for money. But whenever I do it, the outpouring of support and the encouragement we receive renews our hopes time and again.
We see the benefits of fundraising and research firsthand. Three years ago, Gibson started growth hormone injections, a therapy that was researched and trialed through FPWR. Her muscle tone and stamina greatly improved, enabling her to crawl further, walk with assistance, and now, ride a tricycle for a few minutes. And she gets stronger every day!
However, there is much work to be done. Like Gibson, many SYS patients face challenges such as Autism, cognitive delays, joint contractures, spinal deformities, sleep apnea, swallow difficulties, and speech impairments. Many also suffer seizures. More research is needed to develop treatments for these symptoms too.
Gibson's future worries me. Risky and complicated spine surgery is on her horizon. Not long after that will be the transition to adulthood and the question of how much independence she will manage. But with the support of the SYS and FPWR communities and the amazing donors that support us each year, we are confident she has a greater chance at success.