Current Standards of Care for People with PWS
Learn about current standards of care for people of all ages with Prader-Willi syndrome. Dr. Jessica Duis will share her recommendations for caring for your loved one including information on supplements, behavior and effective therapies.
Workshop: Mindfulness for Parents
In this interactive workshop for caregivers, Dr. Nirbay Singh will assist parents and caregivers in reducing their own stress, burnout and compassion fatigue that arises from longterm caregiving, and to successfully help those in their care. Space will be limited and pre-registration for this session will be required.
Research Outcomes: Behavior Evaluation and Family Support
Elisabeth Dykens is the brainchild of the PWS Profile and Hyperphagia questionaires. She has done extensive research to learn more about PWS and behaviors. Come listen to her latest work and get up to the minute ideas!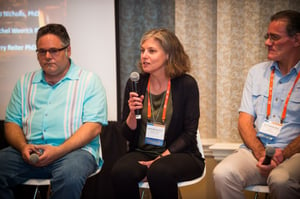 Science Fireside Chat
Research is moving at breakneck speed. In this panel discussion, FPWR-funded researchers will keep you up to date on the latest research happening in the field for PWS.
Research Symposium Synapsis
Can't get enough of the science? In this session, Dr. Theresa Strong will provide highlights from the PWS Research Symposium held Thursday, October 3rd.
Motor Milestones - Practical Tips for Feeding, Fine Motor, and Gross Motor Development
Newly diagnosed families this session is for you! Pediatric occupational therapist Ashley Waguespack with Sensory Solutions will discuss what to expect in the infant and toddler years, as well as give you tools to support healthy development!
IEP's for Student Success
Get equipped with the tools and strategies needed for working with school professionals. Hear directly from school principal and mother of a child with PWS, Katy Chambers, as she works with you to make sure your child with PWS receives appropriate and effective education!
At Home and School Behavior Strategies
Come learn more about behavioral issues seen in kids with PWS and take away strategies you can implement at home or at school. Patrice Carroll of Latham Centers will share how to manage behaviors at home, when to worry and when is it just too much to manage on your own!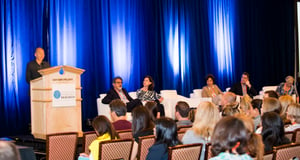 Clinical Trials Panel
There are more PWS clinical trials investigating treatments for PWS than ever! Stay up to date and learn the latest in current and upcoming clinical trials directly from trial representatives. Time will be reserved for Q&A.
Sensory Solutions for Everyday Struggles
Have you heard about sensory integration therapy but aren't sure what it is all about? Our expert Occupational Therapists, Ashley Waguespack and Jessica Boudreaux from Sensory Solutions Therapy, will answer all of your questions as well as discuss home program activities you can do when you get home!
Research Outcomes: What Can the Microbiome Tell us About PWS?
We know that the microbiome is an important piece to understanding PWS. The team at Johns Hopkins will discuss their FPWR Funded study results on the microbiome.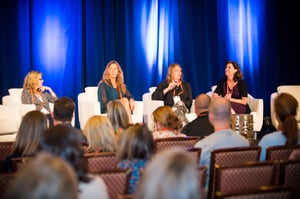 Interview with the FPWR Research Team
Hear updates on the FPWR research programs, achievements to date, and what we are doing to develop treatments for our loved ones with PWS. This interactive session will give you a chance to ask your burning questions to our FPWR research team. Panelists: Theresa Strong, Nathalie Kayadjanian, and Jessica Bohonowych.
Additional sessions will be posted as they are confirmed.