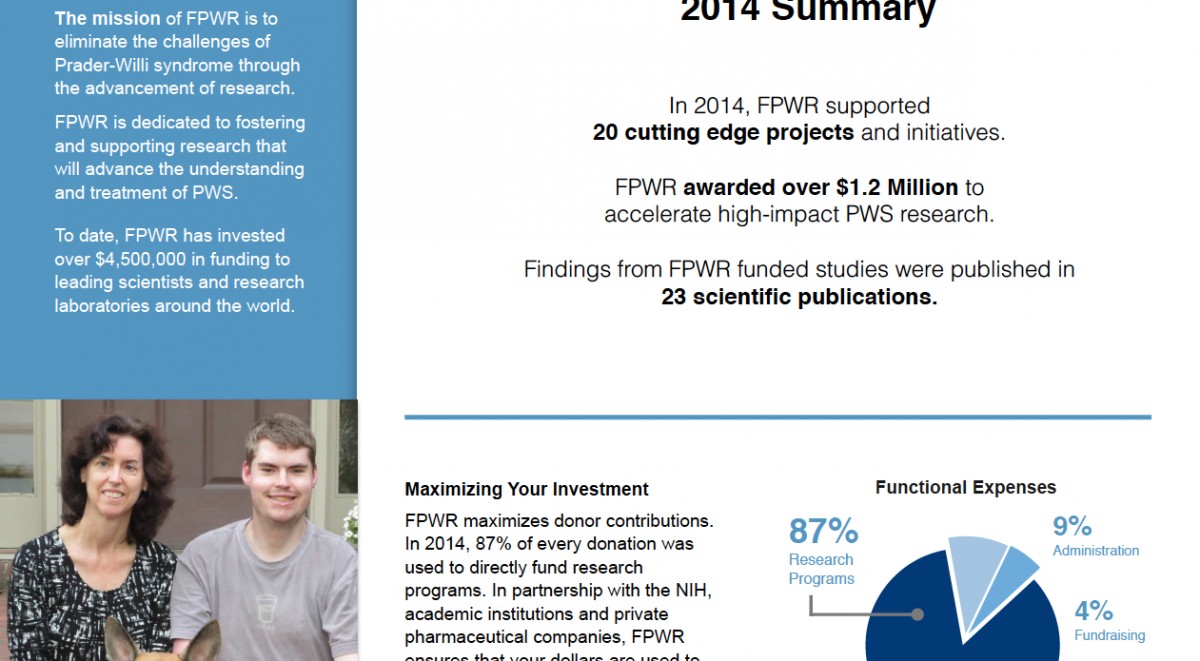 This past year FPWR was able to support 20 research projects and initiatives – a new record for our small organization! Thanks to the keen guidance of our scientific advisory board and volunteer review panel, our portfolio of grants represent the best ideas in the world and will advance the science of PWS as well as work towards the development of novel therapies for those impacted by the disorder. You can visit our list of funded projects at any time for the latest information on our current projects.
Highlighted Accomplishments
While it is incredibly difficult to fully describe the accomplishments of an entire year, here are a few highlights we are particularly proud of:
FPWR funded three new clinical trials to test novel therapeutics for PWS.  Preliminary results from these trials are expected in 2015.
FPWR investigators Dr. Bouret and Dr. Stuber have advanced the understanding of the normal brain circuits that control hunger and satiety. They are currently investigating how these circuits are disrupted in animal models of PWS.
FPWR has developed key resources (new animal models, cellular models, bioinformatics) which have been adopted throughout the scientific community – these resources are critical for efficiently advancing future investigations.
FPWR investigator, Dr. Leibel (Columbia University), produced the world's first human hypothalamic neurons in a dish which will allow for a deeper understanding of these critical brain neurons. This breakthrough will allow Dr. Leibel's lab to directly examine the function of these neurons in comparison to those from individuals with PWS and will provide critical insights into why the hypothalamus doesn't function appropriately in PWS.
FPWR mobilized collaborative relationships with pharma, key advocacy groups, academia, regulatory agencies, other non-profit organizations, and patients/caretakers in the PWS community to accelerate clinical trials.
FPWR joined the National Organization for Rare Diseases (NORD) and was invited to join the Clinical Trials Transformation Initiative where we participated in the CTTI Expert Meeting on Best Practices for Effective Engagement with Patient Groups around Clinical Trials.
Maximizing Your Investment
FPWR maximizes donor contributions.  In 2014, 87% of every donation was used to directly fund research programs. In partnership with the NIH, academic institutions and private pharmaceutical companies, FPWR ensures that your dollars are used to effectively accelerate research and advance potential therapies to treat the many challenges of PWS.
Read the full Impact Statement