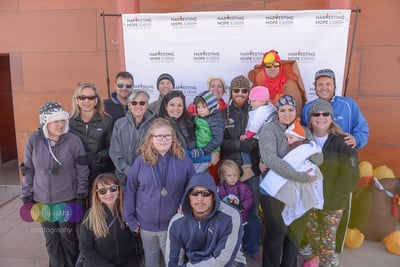 While most of us spent this last Thanksgiving morning prepping a feast, watching football or entertaining family, Rachael Fischer and Julie Foge rose before the sun to host more than 850 runners for the 2nd annual Harvesting Hope 5K race.
The event took place in Stapleton, a suburb of Denver, and drew participants from 15 states! This incredible effort raised more than $50,000, and a whole lot of awareness, for Prader-Willi syndrome research.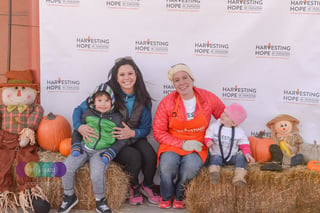 Both Rachael, mom to Jude (age 4) and Julie, mom to Eliza (age 2), wanted to give their children living with PWS the opportunity to participate in a fitness-focused tradition on Thanksgiving Day. With a lot of planning, help from their friends, local businesses and lead sponsor Choozle, their vision turned into a reality and has grown tremendously in just two short years.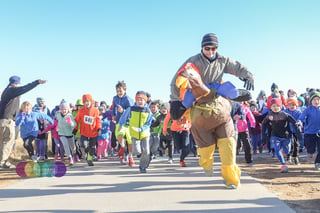 This incredible event brings together friends and family for a day of giving thanks away from the dining table. With the option to run or walk, the course takes runners through the beautiful paths surrounding Central Park in the Stapleton neighborhood. As a family-focused event, kids aged 10 and under are also invited to participate in a free 1K fun run.
In addition to the race activities, the event boasts a Kids' Zone with games, bounce houses, balloons and prizes. The Harvesting Hope 5K has quickly become an event that the entire community looks forward to and has received awesome news coverage, such a recent story on CBS News: Mothers Of Children With Prader-Willi Syndrome Organize Run To Take Focus Away From Food On Thanksgiving.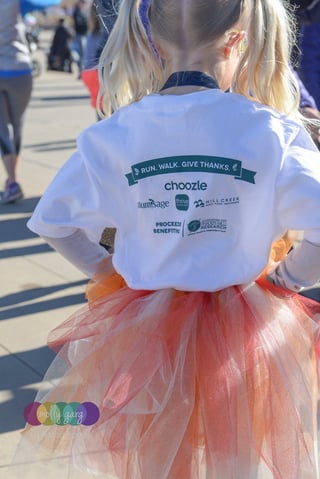 We thank our awesome, supermom hosts, their families and supporters for creating such an incredible annual event. It is only through the efforts of incredible volunteer advocates that we will spread the FPWR mission and vision and help all people living with PWS lead fuller, more independent lives. Thank you Rachael and Julie – you are an inspiration!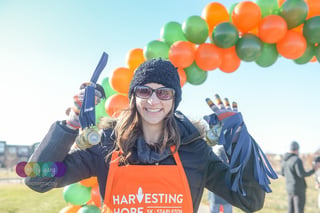 To get involved with this event, please visit the Harvesting Hope 5K website.
Thinking of hosting your own event? Call Jacqueline Mizon, National Events Manager, at (760) 560-8681 or email her.