There has never been a more critical time to keep research pushing forward and we need your help! We recognize that life has gotten busier and that it might feel like there is just not enough minutes in your day to host an event. Our team has put together a few different virtual opportunities for our fundraisers, that take the work off your plate and allow your supporters to participate safely! We provide the resources and materials, manage the registrations, and handle the logistics!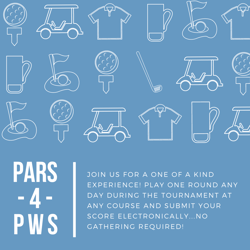 Virtual Golf Competition: Pars For PWS Research
During a set period of time (typically two - 4 weeks), golfers can golf from any course on any day in a scramble format. Teams of 2,3, or 4 participate to win awesome prizes! Golfers simply register for a fee on our site and input their score. The software will take into account the course and start tee and it will calculate a score based on difficulty. As golfers submit their score, the leaderboard gets adjusted and the friendly competition begins. Sponsorship opportunities and upgraded registrations (swag bags), make this a great way to reach out to a wide variety of your network.
Check out this month's Virtual Golf Tournament: Pars for Peyton or host your own!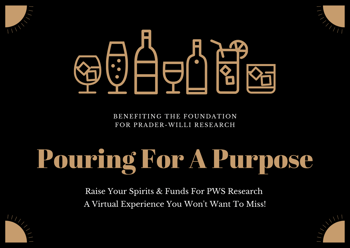 Virtual Cocktail Experience: Pouring For A Purpose
With holiday parties looking a little different this year, this private cocktail experience is a great way to connect with friends, clients, and business colleagues. FPWR provides everything you need to "raise your spirits" and have a great time! Each supporter will receive a "cocktail in a box" shipped to their door. They can register for a household or they can host a small gathering of their own to participate. The week of the event, each supporter will receive a personal invite to join your virtual bar experience via zoom. This is a great opportunity for sponsors! We can add branded napkins, drink stirring sticks, flyers, and anything else you'd like!
Interested in getting your group involved? Email jacqueline.mizon@fpwr.org.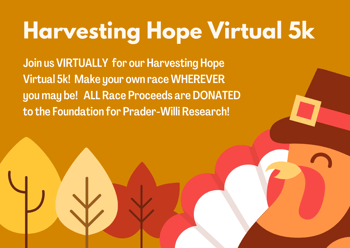 Harvesting Hope Virtual Race
Help us harvest hope this Thanksgiving season! Supporters register to participate in a virtual turkey trot on or around Thanksgiving Day. In addition to registering, they can set up their own fundraising pages or purchase apparel related to the race. Every participant receives a bib, medal, and shirt that they can photograph and share while they are participating.
Register for the Harvesting Hope Virtual Race here.
These opportunities are great as a standalone event or you can put a few together. As an example… a virtual golf tournament with a 'Pouring for a Purpose' awards ceremony.
For more information and to get started with these opportunities or an idea of your own, please contact jacqueline.mizon@fpwr.org.