There has never been a more critical time to keep research pushing forward. We need your help to raise the funds needed to advance PWS research. Whether you have never asked for donations or you are a veteran fundraiser, here are 4 fun and creative ideas that can be used to raise dollars for research this year and keep the FUN in FUNdraising. We set up everything for you, all you need to do is invite your friends and family and enjoy a fun filled virtual event.
For more information or to get started, please email jacqueline.mizon@fpwr.org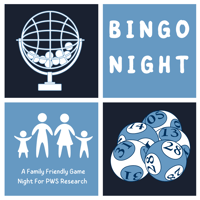 Virtual Bingo:

Grab your friends and family for a fun filled night of bingo! With the help of FPWR, we can coordinate a bingo caller for your event. Players can register by making a donation to participate. With video conferencing to keep everyone connected, this is a great and interactive way to get the entire family involved. Players play for awesome prizes and can keep the party going by playing more than one round.
---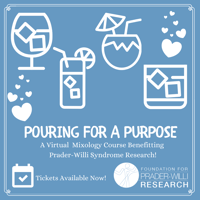 Pouring A Purpose - A Virtual Cocktail Experience:
For this fun event, a professional mixologist will guide you through a fun and interactive cocktail course. Each supporter will receive a "cocktail in a box" shipped to their door and a personal invite to join the virtual event. Guests can "raise their spirits" and up their craft cocktail game during this fun filled evening. This is a great option for virtual dates nights, birthday "parties", and a girls night in.
---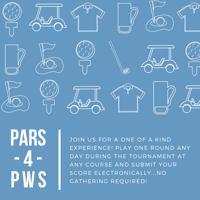 Pars For PWS - A Virtual Golf Tournament:
This virtual tournament allows your supporters to play a round of golf at ANY course of their choosing. NO GATHERING required! Simply set the dates for your
tournament and your friends and family can choose when and where to play. Scores are entered into our tournament website allowing your participants to compete for a variety of prizes.
---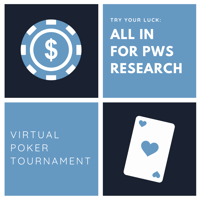 All In For PWS Research – A Virtual Poker Tournament:

Host a Poker Tournament on one of the many online platforms. Players can register by making a donation to participate. You can pair your game with video conferencing to keep everyone connected. You will be able to see your table mates and figure out if they are bluffing. Better work on your poker face....
---
For more information and to get started with these opportunities or an idea of your own, please contact jacqueline.mizon@fpwr.org.