The last day of February is Rare Disease Day. This special guest blog by Rebecca was originally published on Rare Disease Day in 2016, and we're republishing to share with you this year. If you're inspired by her story, please consider making a donation to our Rare Disease Day Match Campaign — your donation will be matched by a generous donor!
In my wildest dreams, I never thought this day would hold such profound meaning for me. Yet when your beautiful child is born and swiftly diagnosed with a disorder that randomly affects one in 15,000 births, Rare Disease Day immediately becomes a permanent part of the fabric of your life.
Lately it's hard for me to imagine that there was a time when I had not heard of Prader-Willi syndrome (PWS). It seems nearly impossible that I lived over two-thirds of my life completely ignorant to something that is now such a huge part of my every day.
When my son Kieran was first diagnosed with this rare disorder, I made a promise to him that I would never let it define him. And to this day, it certainly has not, nor has it held him back from trying and/or doing anything his peers have embarked on.
The reality is that Kieran is truly rare in so many wonderful ways. I like to think that he is literally one in a million. And after a crash course in complex genetics, it turns out that he actually might be, for even among the PWS community, his sub-type of the disorder is highly uncommon.
Kieran's rareness goes way beyond his chromosomal make-up and most certainly contributes to the unbelievably special little being that he is. Kieran is a true gem. A rare and sparkling one. The kind whose rarity you do not fully appreciate until you have it in your possession. The beauty of Kieran's rareness is palpable and can be felt daily, both at school, at home and in between.
The way in which Kieran's smile can win over anyone he meets within a few seconds, is rare.
The strong hug Kieran offers at the end of a long, hard day (simply because he can tell you need one) is rare.
The fact that each night Kieran never fails to remind us to give him his nightly shot so that he can stay healthy, big and strong, is rare.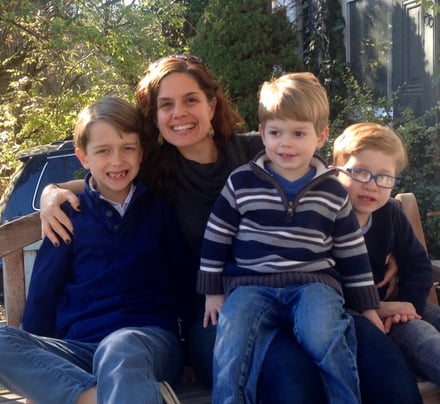 The way Kieran can turn everyday errands into what he views as a great adventure, is rare. The reality that Kieran was once so weak that he could barely open his eyes yet is now counting, spelling, reading, writing, telling jokes, climbing stairs and keeping up with his two brothers (most of the time!) is rare.
And maybe most importantly, Kieran's never-ending optimism, his ability to face each new challenge with strength, resiliency and an ear-to-ear grin is certainly rare.
Some nights, before I go to sleep, I sneak into Kieran's room and simply watch him. I sit and silently stare at his little chest as it rises and falls with each breath. I think about all the phenomenal things he's accomplished. I imagine all the wonderful milestones that may be a very real part of his future given the steep acceleration in PWS research that we're seeing on the horizon.
I sometimes wonder what's going through his mind, what rare and magical moments are taking place in his dreams. With each breath he takes, I think about how grateful I am for all of the incredible people in Kieran's life who continue to love and support him. That despite the sometimes difficult nature of his rare disorder, he is surrounded by sincere hope and promise from so many that continuously cheer for him.
There is no doubt that Kieran is both literally and figuratively a rare and beautiful being. And while I will continue to fundraise for treatments to help him overcome the many challenges that are thrown his way, I will also spend all upcoming Rare Disease Days celebrating him and his rareness, for without it, Kieran would be a very different soul. And while I would give absolutely anything to eliminate his daily struggles, I also want to keep him just the way he is."
Do you have a story of hope to share with others about your experiences with PWS? Send it to us!