This study has completed enrollment.
Study Purpose
This phase 2 randomized double blind 8-week treatment trial of intranasal oxytocin (IN-OXT) will assess IN-OXT's affect on: eating behaviors, repetitive behaviors, weight and body composition, quality of life, and salivary OXT and hormone levels. Data from the study will add to the current knowledge that OXT is an effective treatment for hyperphagia as well as other symptoms of PWS.
The study is recruiting patients ages 5 to 17 years with PWS and will take place at the Montefiore Medical Center in Bronx, NY. It will take about 12 weeks to complete the study. The study requires 5 in-person visits (screening, baseline, week 4, week 8 and week 10) plus 2 phone calls (week 2 and week 6).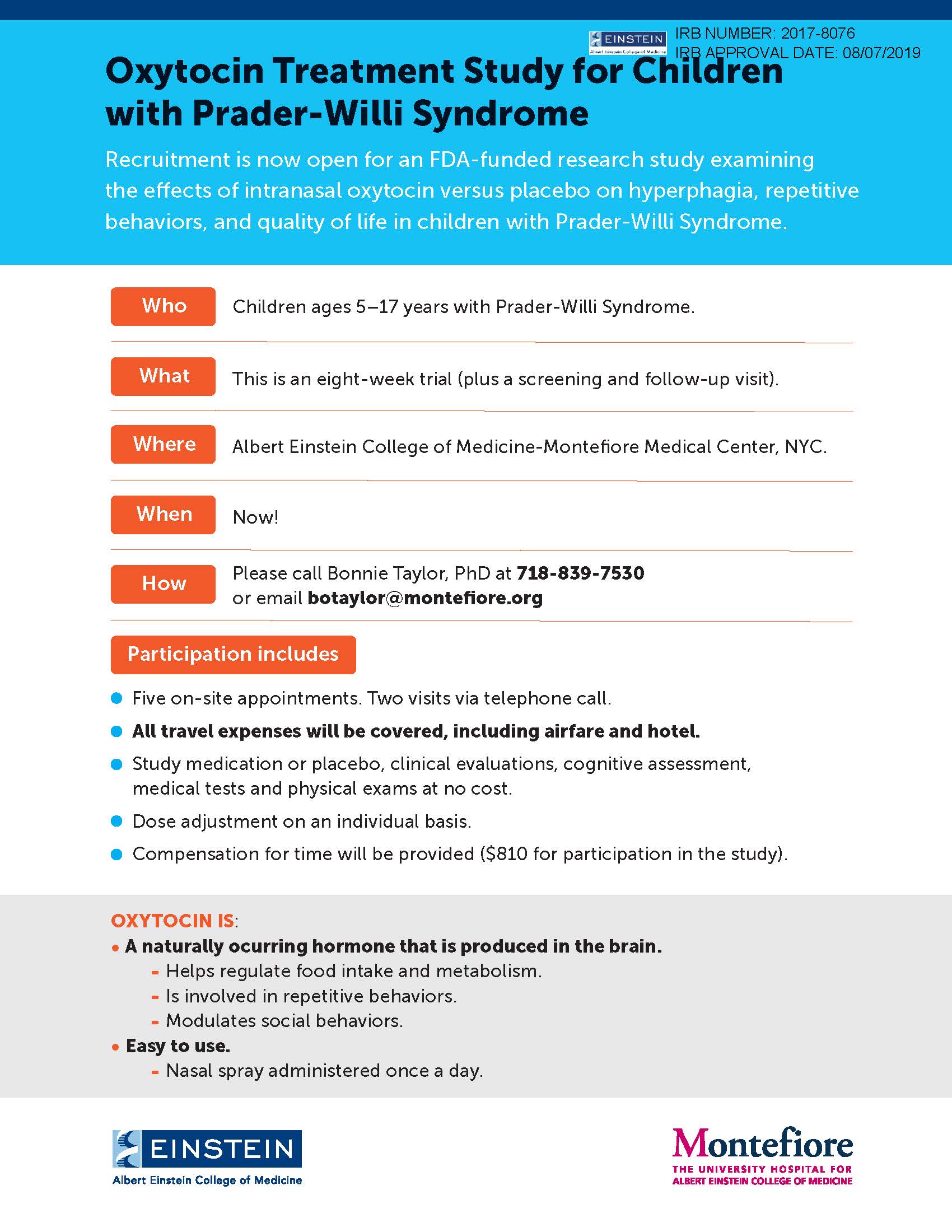 Learn more about this study in this recorded webinar:
Recruitment Criteria
Study Type: Randomized, double-blind, placebo-controlled
Eligible Ages: 5 to 17 years
Other Criteria:
Trial Details
Trial Id: NCT03197662
Phase: 2
Duration: 12 weeks
Status: recruiting
Lead Sponsor: Montefiore Medical Center
Countries: United States
Additional Details: Patients will be reimbursed $150 for each in-person visit and $30 for phone call visits with a total reimbursement of $810.
Eligibility Criteria
Inclusion Criteria:
Male or female pediatric outpatients aged 5 to 17 years
Must be in PWS nutritional phase 2b or 3 as determined by PI
Must be on growth hormone treatment and have been receiving stable doses of growth hormone treatment for at least one year prior to screening date. Treatment cannot have been interrupted for more than one week within 3 months of screening.
Diagnosis of PWS confirmed by exam, genetic testing and patient medical records.
A score of at least moderate severity on the Hyperphagia Questionnaire for Clinical Trials at both screening and baseline visits.
Stable dosages of hormone treatments (including testosterone and estrogen supplements) for 4 weeks prior to randomization and for the duration of the study.
Stable dosages of metabolic treatments that could affect appetite (including metformin) for 4 weeks prior to randomization and for the duration of the study.
Physical exam and laboratory results that are within the normal range for individuals with PWS.
Presence of a parent/caregiver/guardian that is able to consent for their participation and complete assessments regarding the child's development and behavior improvement throughout the study.
Exclusion Criteria:
Exposure to any investigational agent in the 30 days prior to randomization.
Child not receiving growth hormone treatment
Children weighing less than 40 lbs
Children with unstable Type 2 Diabetes confirmed by Hemoglobin A1C levels at screening
Children with unstable medical co-morbidities at baseline.
Children with active upper respiratory infections at screening.
A primary psychiatric diagnosis other than ASD, including bipolar disorder, psychosis, schizophrenia, PTSD or MDD. These patients will be excluded due to potential confounding results.
Pregnant or lactating patients or patients who will not agree to use a double barrier method of contraception. IN-OXT has not been studied in pregnant or lactating women.
Females using an estrogen-based contraceptive. As an alternative to an estrogen based contraceptive, subjects will be counseled to use progesterone-based contraceptives; cervical cap; cervical sponges; or spermicidal foam in combination with a condom. Subjects will need to use a double barrier method to be in the study.
A medical condition that might interfere with the conduct of the study, confound interpretation of study results or endanger the subject's well-being.
A known diagnosis of Rett's Syndrome of Childhood Disintegrative Disorder or marked sensory impairment such as deafness or blindness.
Subjects who have changes in allied health therapies, behavioral or educational interventions within four weeks prior to randomization other than those associated with school holidays.
Subjects who have had changes in medications or medication doses of risperidone, apriprazole, other antipsychotic medications, clonidine, guanfacine, stimulants or anti-convulsants within four weeks of randomization.
If you are interested in learning more about this trial, find the trial site nearest to your location and contact the site coordinator via email or phone. We also strongly recommend that you consult with your healthcare provider about the trials that may interest you. More information on this study is available on the study information page at clincaltrials.gov.
This Study is enrolling at the following sites:
Montefiore Medical Center, Albert Einstein College of Medicine
Bronx, New York, United States, 10467
Principal Investigator: Eric Hollander, MD
Contact: Bonnie Taylor
email botaylor@montefiore.org
phone: 718-920-2909