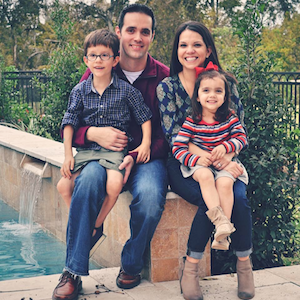 Our FPWR community has no shortage of amazing fathers. We honor your selfless commitment to supporting your children and helping to insure a brighter future for them. We asked Josh Gilliam, dad to Jackson, to share his FPWR story in honor of all dads doing incredible things for PWS research, and their children who will benefit from its outcomes:

"When Jackson was diagnosed [with PWS] we had the choice to either sit around and wait for all the bad stuff that the doctors told us was going to happen, or we could fight for him. We poured our heart and soul into getting Jackson the best treatment with the best doctors, the best therapy, basically anything we thought he needed to make sure he had the best life possible.
As we went down this path we began to realize that no matter what we did, eventually there was going to come a day that Jackson was hungry all the time. It didn't matter how early he walked, how well he spoke or how well he did in school, if there wasn't a treatment for the hunger, Jackson would never live independently. Our biggest dream for our son is to live a fulfilling and independent life so we began to focus on supporting research by teaming up with FPWR.

In 2011 we participated in our first One Small Step for Prader-Willi Syndrome walk which benefits the Foundation for Prader-Willi Research. We had over 50 friends, family and co-workers walk with us and raised over $20,000 for PWS research. Since then, Team Jackson has participated in 4 more walks and raised almost $200,000!! We are incredibly grateful for the support we've received and the money we've helped raise to advance PWS research. Although we've been able to help raise a significant amount of money, we've always felt we could do a little more, go a little bigger, raise a little more money and awareness...which is why we decided to host the 1st Annual Live Life Full Texas gala in Houston this year. The Live Life Full galas have been incredibly successful over the last couple of years in NYC, Chicago and Philadelphia and we know we can bring that success to Texas. On October 1, I hope you will join us as we take the next step in supporting FPWR.

We are confident in FPWR, the research they are funding and truly believe there is a treatment out there for the hunger, we just need to raise the money to find it. As a dad who fights every day toward this reality, I encourage you to join us."
Do you have a story of hope to share with others about your experiences with PWS? Send it to us!