A special contribution by guest blogger, dad, and One Small Step host Adam Larson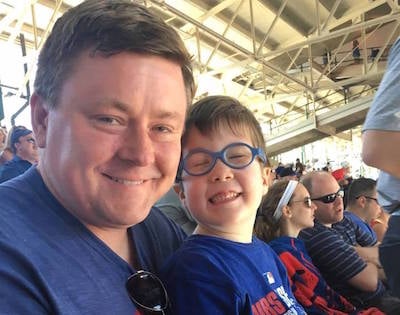 An expecting father has crystal clear vision. You are at the moment when all you will ever amount to is about to be tested. All of your talents will be called upon and you feel in total control. Nobody can really tell you anything in those final days counting down to the arrival of your child. No more advice. No more preparation. It is time and you know that with your help your child is going to achieve things that no generation of your family would have thought possible. This kid is going to succeed. You are going to be there making sure your child makes all the right moves, never makes a mistake you made. You are there and you will teach. You will provide. No matter the problem, there will be a solution because you are going to be there. Dad is here. You will love.
When they come rushing into the delivery room it doesn't feel right. You aren't very experienced in delivery rooms so you try to reason and be calm. Better to not show that you're scared because you're about to be father and fathers aren't afraid. Just tell us the problem and we'll fix it.
Your amazing looking son was born just minutes ago and you need to touch him but they're keeping him on that table across the room. Is there a problem? Can I help? Maybe there's a lot to check and they just need more time. These tones they're speaking in are cold and full of weight. More nurses appear and is this another doctor? I guess there's a lot to check with a newborn and you can't be too careful.
"Everything is going to be okay, sir. Your son will be fine."
Is he?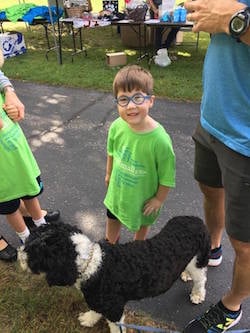 The diagnosis of Prader-Willi syndrome comes on many different timelines. Some learn right away that their baby has problems and that floppiness, the surreal lack of muscle tone, is not going to clear up any time soon. You might find out weeks later once someone finally pieces together the many problems that have kept the baby in the NICU. Or you might not find out for years as the varied symptoms of this complex syndrome can mask each other and the full picture isn't revealed to you until your child has seen birthdays go by. We were the lucky ones and found out very early that our son's genes were not complete.
No matter when you find out that your child has PWS, there's only one response. You first hear the words Prader and Willi from a doctor who has probably never previously seen a case or maybe a nurse who isn't even sure how to pronounce it. This is a rare disease that many at the hospital have only read about. Soon you'll know more about it than most pediatricians or therapists, but today all you know today is that they're holding back and not telling you everything. You rush to the internet to find out all you can. On a brutally harsh and honest computer screen you learn about uncontrollable hunger. Locks on cupboard doors. Chains, padlocks and alarms on the refrigerator. You read the vicious words "cognitive delay." You see the pictures. The cruelty of this syndrome is utterly devastating and your vision of parenthood is laid to waste.
The only response is to cry.
Those first days of the diagnosis are the darkest days of my life. You go from the joy of having a son and all the wonderful promise that came with it to being told that your son will achieve nothing. School will be too much for him to handle. He will live with you well until adulthood and you might one day send him to a group home. You're no longer setting lofty goals. The term now is outcome and you are only trying to find an acceptable one. He will not carry on your family name the way you've always hoped in your most stereotypical American daydreams. He might not even live to see middle age.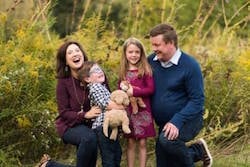 How do you let go of a child's dreams? How do you put aside the ambitions and goals you've always had in your mind's eye? You realize that the truth is, they were never your child's dreams, but rather your own. He doesn't know that he is different or what any of this means. He still has time to make a life and find his happiness and you will do everything you can to help him reach that hilltop. It won't look like you thought it would. It might not seem like much of a destination but to your child it is everything. It's not what you had in mind, but nonetheless it is happiness. You will give him that life even if it does take enormous pain, struggle and hard work to get there.
Prader-Willi Syndrome is particularly cruel in the way it ruins dreams. It can threaten the fabric of loving but unsuspecting families. The daily battle against PWS means the family that lives with it is struggling at all times. While a non–PWS family is relaxing and enjoying the mundane, easy daily activities that are so often taken for granted, the PWS family must remain vigilant. We get no rest. We get no days off. We must always guard against allowing anything to slip. No days can be sacrificed and we must find ways to win, or at least survive, every hour.
I know that I will have a say in my son's outcome and my family will survive. He (we) will not fall to some destiny without a fight. It may end in tears and it may not. But it will not end without the fight of my life. Graham probably will never know all of things he will miss out on. His normal and his happiness will be different than mine. But I will do all I can to give him all of the beautiful experiences this world has to offer. All I need is a little help.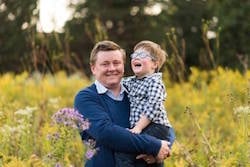 The Foundation for Prader-Willi Research is the family that I will fight this battle with. It is a family that is bonded through shared love and clear vision. This group will never quit on our children no matter what obstacles are put in our way and no matter how many times we are told to just accept the outcome that is ahead. We fight for each other's children as hard as we fight for our own because each of us will never accept what we are told is our fate. The families of FPWR know that amazing things can happen if you believe and work for them. It is a group of people with hearts full of love and hope. I am so proud to call these people my friends and I support the work of this group with all of my talents and ambition.
We work together for the cause of research. We know there will likely not be a total cure for PWS in my son's lifetime. But what research will do is solve some of the puzzle. We can find ways to treat the hunger. We can find ways to help the cognitive battle. We can locate the tools that will allow our children to do a little better in school, to achieve just a bit more, to live a better life. Every project that FPWR funds brings our family, and so many others, a bit closer to a fulfilling life. Every mile we walk and every dollar we raise will bring us closer to those dreams we once had.
Graham surprises us every day with what he is capable of. He always finds new ways to make his family laugh and tries so hard to do the normal things that he sees other kids doing. I'm done feeling sad about his syndrome and no longer define him by PWS. He is an amazing boy with some extra challenges. I know now that Graham will take his challenges head on and achieve so much in his life. I am so proud to be his father and I will always be there fighting at his side, and doing all I can to help him live the wonderful life he deserves.