Soleno Therapeutics has provided an update following recent interactions with the U.S. Food and Drug Administration (FDA) regarding the development of once-daily DCCR (diazoxide choline) extended-release tablets for the treatment of Prader-Willi syndrome (PWS).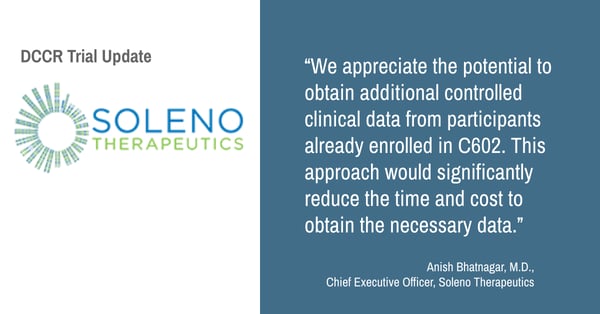 On January 20, 2022, the Company received official meeting minutes from the December 21, 2021, Type C meeting with the FDA's Division of Psychiatry. The purpose of the meeting was to discuss the adequacy of the data submitted by Soleno to the FDA in October 2021 to support a potential New Drug Application (NDA) submission for DCCR for the treatment of PWS, as well as possible ways to generate additional controlled clinical data. The FDA indicated they were receptive to a study design involving participants currently enrolled in Study C602, the Company's ongoing open-label extension study to generate the additional control data necessary to support an NDA. The Company expects to submit a study proposal shortly and, if acceptable, intends to initiate the study thereafter.
"We appreciate the constructive dialogue with the FDA and the potential to obtain additional controlled clinical data from participants already enrolled in C602. This approach would significantly reduce the time and cost to obtain the necessary data," said Anish Bhatnagar, M.D., Chief Executive Officer of Soleno Therapeutics. "Importantly, we are continuing our preparations for an NDA submission for DCCR while the additional data are being collected."
Study C602 is an open-label extension study comprised of patients who completed DESTINY PWS, an international, multi-center, randomized, double-blind, placebo-controlled study of DCCR.
DCCR is a novel, proprietary extended-release dosage form containing the crystalline salt of diazoxide and is administered once-daily. The parent molecule, diazoxide, has been used for decades in thousands of patients in a few rare diseases in neonates, infants, children and adults, but has not been approved for use in PWS. Soleno conceived of and established extensive patent protection on the therapeutic use of diazoxide and DCCR in patients with PWS. The DCCR development program is supported by data from five completed Phase 1 clinical studies in healthy volunteers and three completed Phase 2 clinical studies, one of which was in PWS patients. In the PWS Phase 3 study, DCCR showed promise in addressing hyperphagia, the hallmark symptom of PWS, as well as several other symptoms such as aggressive/destructive behaviors, fat mass and other metabolic parameters.
DCCR is one of a number of PWS therapeutics in development.