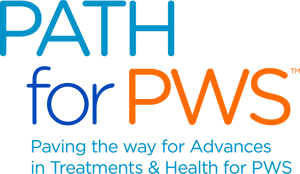 The Foundation for Prader-Willi Research (FPWR) and Zafgen are pleased to announce that enrollment is now open for PATH for PWS, a natural history study intended to better understand serious medical events in Prader-Willi syndrome (PWS) and evaluate how PWS-related behaviors change over time. The data from this study is intended to inform the development and clinical trial design of potential new treatments for PWS. Those interested in participating can find more information about the study and how to enroll at www.PATHforPWS.com.
Enrollment is now open for the four-year study using the Global PWS Registry, which is powered by the National Organization for Rare Disorders' (NORD) IAMRARE™ Registry Program. To be eligible for the study, participants must have a confirmed diagnosis of PWS, be at least 5 years of age, live in the United States, Canada or Australia, and be enrolled or willing to enroll in the Global PWS Registry. The primary caregiver of the enrolled person with PWS must have access to the internet to enter study data and consent to being contacted by registry staff.
"We strongly encourage all caregivers to consider enrolling their loved one with PWS in the PATH study. The more individuals who enroll, the better we can understand PWS for future research and effective treatment to fulfill the high unmet need," said Theresa Strong, Ph.D., Director of Research Programs, FPWR and one of the lead study investigators.
Clinic visits will not be required, as the information will be provided through internet-based surveys at initial study entry and then again every 6 months. The data will be analyzed to evaluate the incidence of serious medical events, prescription medication use associated with medical events of interest, patterns of hyperphagia-related behaviors, as well as additional areas of importance to the PWS community such as changes in body weight, management strategies for hyperphagia and characterization of traits and actions common to individuals with PWS.
For people with PWS, caregivers and healthcare providers with questions about the PATH for PWS study or enrollment information, visit www.PATHforPWS.com or contact us via email.