A special contribution by Amanda Dunn, Host of HopeFull: Funding a Cure for Prader-Willi Syndrome, Cincinnati, OH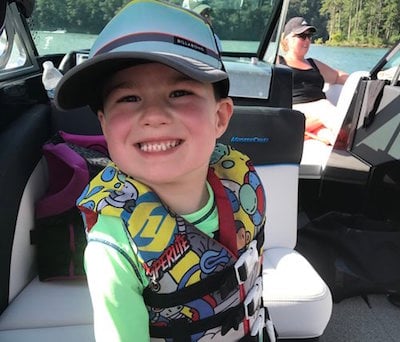 For our 5-year-old son Aaron, it all starts with a hug.
Not just any hug. He has a signature, enthusiastic hug. It's clear just how capable and happy he is by the strength of that hug — and he offers it to everyone he meets. It's one of the things that has powered our fundraising for PWS research and brought our community together to secure a "hopefull" future for people with PWS.
Shortly after he was born, Aaron was diagnosed with Prader-Willi Syndrome. Despite the enormous challenges of living with PWS, Aaron has grown and developed into a strong, loving and exuberant kid with the help of his family, friends, team of doctors, therapists and teachers.
Meet Aaron
Aaron's only five, but if he were older, here's how he might introduce himself:
"I love giving hugs, riding the bus, playing pretend, my brother and being a helper. I also have Prader-Willi Syndrome.
"It's not easy having a rare genetic disorder, but I don't let it slow me down. Prader-Willi Syndrome is something that I have, but it isn't who I am. In a lot of ways, I'm just a normal kid. It's definitely harder for me to be active, but I enjoy playing outside and riding my bike. This year, I wake surfed for the first time, and it was so fun!"
Hopefull Cincinnati
On Sunday, November 5, 2017, our family and my incredible work family at The Brand Experience will be hosting our first Hopefull Event, benefiting the Foundation for Prader-Willi Research. FPWR is making strides to eliminate the many challenges of living with PWS, and for one day in Cincinnati, we're rallying support to show just how hopefull we are about the work FPWR is doing and Aaron's future.
The event has raised almost $30,000 so far, and we're well on our way to meeting — and exceeding — our $35,000 goal!
We have Aaron, his hugs, and our amazing community to thank for that.