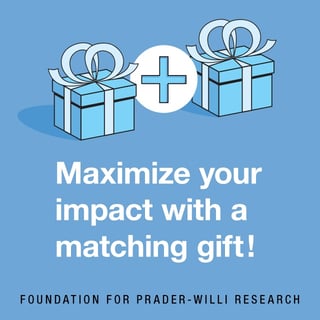 We need your help and there has never been a better time to DOUBLE your impact! From now until Thanksgiving, EVERY donation made to our organization will be MATCHED by Leon and Irina Shaulov.

Scientists funded by the Foundation for Prader-Willi Research are making unprecedented progress in uncovering the underlying cause of many PWS symptoms, paving the way for new drug treatments so that our children may one day, live FULL and independent lives. None of this would be possible without your generous support.
How can you amplify your impact?

Every donation made between now and Thanksgiving will be MATCHED dollar for dollar with NO LIMIT. Thank you for being a part of this exciting time!