PWS Mental Health Workshop Draws Top Clinicians and Scientists from Around the World
On March 1-3, 2015, approximately 45 top mental health professionals from around the world gathered in Bethesda, Maryland to discuss behavior and mental health in Prader-Willi syndrome (PWS). Slightly more than half of the group were experienced PWS clinicians or scientists, while the remainder had expertise in mental health research for other neurodevelopmental disorders.
The goal of the meeting was to develop a research strategy to advance the science of mental health in PWS. Mental health and behavioral problems remain a major challenge for individuals with the syndrome and their families and caretakers, with significant impacts on quality of life. Workshop participants sought to identify and prioritize key research questions, as well as highlight current opportunities and needs. Recommendations were made with respect to resource development, collaborative opportunities, and targeted research initiatives. A full report of the Mental Health Workshop can be found on our website.
This workshop was made possible through the financial support of the Foundation for Prader-Willi Research, FPWR Canada and PWSA-Colorado.
Live Life FULL Chicago!
Nearly 200 party people have purchased tickets for the upcoming Live Life Full Gala in Chicago.Will you be there?
Need a hotel? The Marriott Hotel Chicago Downtown, Autorgraph Collection is offering a group rate of $189/night on a limited basis,Reservations must be made by this Friday, March 20th.
Sponsorship packages and tickets are still available. Questions? Feel free to contact Hannah.Berger@fpwr
.org

G
reat news! On Tuesday, April 28, 2015, FPWR will team up with BTIG for the 13th annual BTIG Commissions for Charity Day, an event whereby the net commissions generated by BTIG are donated to client selected nonprofit organizations. All-star athletes, top-recording artists, celebrities from film and television and cultural icons join BTIG to raise funds for a variety of charities worldwide, many of them supporting children in need. Since inception of the event, BTIG has donated over US$30 million to hundreds of charities. If you work in the institutional trading space, please use this opportunity to raise additional funds for FPWR.
To designate FPWR as the charity of your choice, visit www.btigcharityday.com and click "nominate". Thank YOU and thank you BTIG!
It's time to take One Small Step!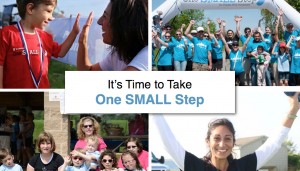 "The enjoyment that I receive from the OSS event in San Antonio has many facets. First, I am always humbled by the generosity of our donors. Second the event acts as reminder to my family that we are not alone in this challenge to improve the lives of people afflicted with PWS. Thirdly, as a dad it has allowed me to show all my children that they can always make a difference in someone's life. Participation in worthwhile causes whether big or small has its inherent rewards." - Sergio Viroslav, #1 OSS Fundraiser for 2014
Whether you have attended or hosted an event or are new to our community, we encourage you to take One Small Step with us this year! Event hosts are given every resource to make the experience as easy as possible: step-by-step fundraising guides, event planning checklists, your very own fundraising site and access to FPWR staff every step of the way!
Over the past 5 years One SMALL Step has grown from raising $250,000 to $1,500,000 a year, becoming the Foundation's primary revenue source for funding cutting-edge research and allowing FPWR to greatly expand our programs. FPWR has become the largest PWS Research funding source in the world - and this is a direct result of your One SMALL Step fundraising efforts!
Not quite ready to host a walk? You can create your own fundraising page to support the OSS walk nearest you. Click here to search the list of events registered in the United States.
Questions? Contacts seasoned OSS host and FPWR's official One Small Step Coordinator Dana Capobianco at DanaCapobianco@gmail.com.

FPWR Annual Conference: It Starts With Us
You will not want to miss this educational and empowering event! Parents, caregivers and medical professionals are invited to learn the latest in PWS research while meeting others in the PWS community. The two day program includes presentations by Dr. Jennifer Miller, Dr. Jeffrey Zigman and Elizabeth Roof, experts in relevant therapies, and a second day dedicated to clinical trials information! For more details, visit fpwr.org.