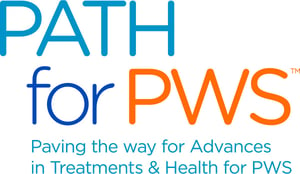 FPWR and Zafgen have partnered to execute a four-year study that will advance the understanding of natural history and medical events in people with Prader-Willi syndrome.
The PATH for PWS study (Paving the way for Advances in Treatments & Health for PWS) is a non-interventional, observational study of serious medical events in PWS, intended to inform development and clinical trial design for potential new treatments for PWS.
A news release has been posted here.
The PATH for PWS Study brings together multiple stakeholders including: Zafgen and patient groups — FPWR and PWSA (USA) — as well as key PWS clinicians Dr. Jennifer Miller, Pediatric Endocrinologist at University of Florida, and Dr. Shawn McCandless, Medical Geneticist at Children's Hospital Colorado. The study includes measures of specific PWS behaviors, which will be monitored over time.
FPWR's Director of Research Programs, Theresa Strong, Ph.D., is the lead study investigator. "It is critical that we continue to build on the body of knowledge to improve care and explore new treatment options for PWS," Theresa says. "The PATH for PWS study will allow us to collect and analyze important health information that will inform PWS clinical trial design, new and better treatment options, and additional resources for families and physicians."
FPWR CEO John Walter adds that "the Institute of Medicine refers to natural history studies in rare diseases as the pillar(s) of epidemiologic research on rare conditions, and FPWR will continue to support such foundational research. We encourage caregivers of adults and children living with PWS to consider participating in the PATH for PWS to contribute to the actionable information available to our community."
"We are confident that those with PWS will benefit from this study, now and in the future, in many ways including, but not limited to, patient care, treatment best practices, and clinical trial design and readiness," says Steve Queior, CEO, PWSA (USA).
Interested In Participating In The PATH Study?
Every six months, caregivers of people with PWS enrolled in the study will be asked to provide an update on any serious medical issues experienced and related medical procedures or prescriptions, as well as information about conditions often associated with PWS such as hyperphagia. Clinic visits will not be required, as the information will be provided through internet-based surveys and questionnaires. The data will be analyzed to evaluate the incidence of serious medical events, prescription medication use associated with medical events of interest, patterns of hyperphagia-related behaviors, as well as additional areas of importance to the PWS community such as changes in body weight, management strategies for hyperphagia, and characterization of traits and actions common to individuals with PWS. The analyses will also to help the Prader-Willi research community identify potential areas for future study.
To be eligible for the study, patients must have a confirmed diagnosis of PWS, be at least 5 years of age, live in the United States, Canada or Australia, and be enrolled or willing to enroll in the Global Prader-Willi Syndrome Patient Registry. The primary caregiver of the enrolled person with PWS must have access to the internet to enter study data and consent to being contacted by registry staff and allowing registry staff to enter specific data on their behalf. Participation in clinical trials and other non-interventional studies will be permitted while enrolled in PATH for PWS.
Enrollment for the four-year study is anticipated to begin in September 2018. Until then, people with PWS and their caregivers can enroll in the broader Global PWS Patient Registry at www.pwsregistry.org.
Would you like to receive notifications when the study is open and enrolling participants? Join our interest list here.
For updated information on PWS clinical trial opportunities and to sign up for a monthly PWS Clinical Trial Alert, visit our PWS Clinical Trials page.