A special contribution by guest blogger Becky McWilliams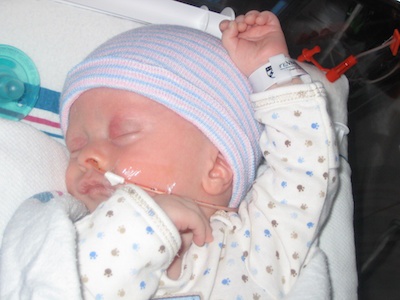 When I became pregnant with my second child, I had endless dreams.
I dreamt about whether this mysterious little being would be a girl or another boy. I dreamt about the relationship that he or she would develop with our then 3 year old son, Jackson. I dreamt about all of the miraculous things that this little life would achieve. My dreams were filled with happiness. My dreams were filled with promise. My dreams were filled with hope.
The moment when my doctor told me that "the baby wasn't growing correctly" is forever etched into my memory. Following this, a short period of repeated ultrasounds and static growth scans led to an unexpected and emergency delivery of this anticipated little being at a mere 33 weeks. The result; a 4 pound, 1 ounce magical baby boy that doctors immediately suspected something was "very wrong" with.
The whirlwind of emotions following Kieran's birth are still, almost 7 years later, too painful to process at times. At 10 days old, a handful of complex genetic tests confirmed the suspected diagnosis of Prader-Willi Syndrome. After many hours spent googling PWS (against the advice of doctors) I slowly surrendered those happy, hopeful and promising dreams to the sadness, fear and uncertainty that was overpowering them.
I can vividly remember holding Kieran's teeny body one lonely night in the NICU. His eyes could barely open and his body lay heavy and limp on my chest. My beautiful little boy had a feeding tube coming out of his tiny nose, an IV inserted into his precious foot, and more wires attached to his fragile body than I could count or make sense of. I remember staring at this spectacular little soul and feeling a deep sense of both love and fear. Not knowing what else to do, I simply wept. I wept for so many things that night as I sat there with my beloved Kieran in the dark and sterile NICU. I wept for the uncertainty of his life at that moment. I wept for the instability of his future. I wept for Jackson, who, for 6 weeks, was not allowed into the hospital to meet his much anticipated little brother. I wept for what I knew was the long, winding, and uphill road ahead of us. And mostly, I wept for all of those dreams that felt as if they had been swiftly stolen from me.
Throughout the first year of Kieran's life, I spent many more moments in solitude and sadness. Having always been an eternal optimist and an individual who could find a silver lining in almost any situation, these feelings of depression and desperation were very new to me. Over time (and with a lot of support) I began to channel this heartache into the only two things that still felt close enough within my reach to grasp: a sincere hope in Kieran's future and the belief that he, and that we as a family, could and would still achieve our many dreams.
As Kieran began to gain physical strength, as he slowly began to meet milestones and morph into an exceptional little boy, I found my spirits continually lifting. I noticed how I was beginning to feel hopeful about Kieran's life; embracing the belief that it would prove to be so much more than the challenging and bleak future that I had previously read about.
With each new achievement, I found myself making many promises about the tough road that lay ahead. I promised to believe that PWS would not define Kieran. I promised to embrace the belief that Kieran would lead a healthy and full life. I promised to approach each future challenge with both grace and stamina. I promised to support the efforts of FPWR and all that they were doing to vastly change the research landscape for this very rare disorder. And most importantly, I repeatedly promised Kieran, that I would never doubt his abilities, and the sincere power they held over any of his disabilities.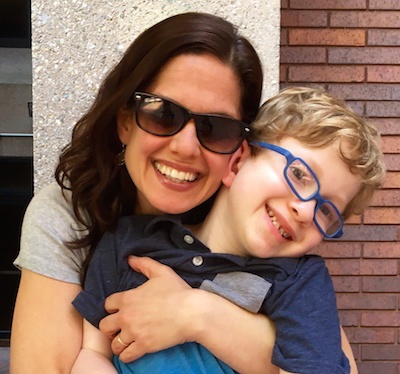 And so here we are today.
Kieran is on the cusp of turning 7 years old. To say that he has changed is a vast understatement, for that tiny, fragile being that he once was is now at this point, completely unrecognizable.
Over the past 7 years, Kieran has grown into a sweet, kind and sensitive son, brother, grandson, cousin and nephew, who literally lights up any room and melts every heart with his warm, optimistic and genuine smile.
Kieran has become a true comedian, whose jokes are both hysterically funny and whose laughter is truly infectious.
Kieran has transformed into a sincerely compassionate and empathetic brother, who is always the first to rush over to Jackson or Julian to check on a skinned knee or to offer a warm and consoling hug.
Kieran has blossomed into a strong blue ribbon equestrian who, five years ago when he began weekly therapeutic riding lessons, could not sit up independently on his horse Squirt, yet now, is trotting proudly around the ring.
Kieran has bloomed into a vivacious Kindergarten student, whose favorite activities include providing "free" medical check-ups for his friends, lovingly reading books to his stuffed animals and exuberantly practicing his counting skills.
Kieran has developed into an ambitious dreamer who has recently decided that he'd like to be a stomach doctor when he grows up, for the sole intention of "helping to make people feel better."
And just recently, Kieran has developed a vibrant and fierce independence whose most commonly uttered phrases include "no thanks, mom, I can do it myself," "I am a big, strong and brave boy," and "I don't eat bread or noodles because they have too many carbs." : )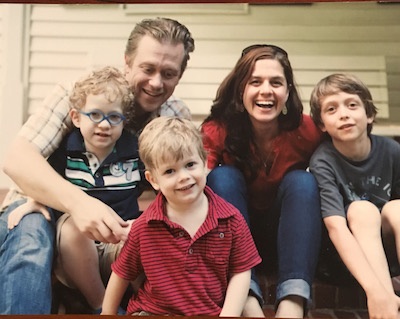 As Kieran has gotten older and as this magical, miraculous, spectacular little being has become a truly amazing and remarkable little boy, I've noticed those initial positive, happy and hopeful dreams slowly returning to me. While these dreams have changed in nature, and are often accompanied by pangs of uncertainty, they continue to provide me with a true sense of optimism for Kieran's future.
I wish more than anything that I could go back to that lonely night in the NICU when I sat cradling Kieran in my arms and simply weeping. I wish that I could travel back to that dark day and tell myself that this little being would prove to become a truly profound sense of joy for me. That each continued milestone met, each subsequent mountain climbed, each future achievement attained would only be the beginning of all of the outstanding things that were (and are still) yet to come.
I think it's safe to say that for all who know him, Kieran's very existence is a shining light, a beacon of inspiration and a true reminder of the power of continued strength and determination. And for me, his forever proud and unconditionally loving mom, Kieran is a constant reinforcer of just how much capacity I have within me to continue to dream, believe and achieve.
Do you have a story of hope to share with others about your experiences with PWS? Send it to us!