A special contribution by guest blogger Heather Osterman.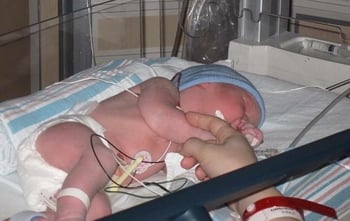 Max came into the world with a bang...or more accurately, a limp body, not breathing, and blue. I went from being induced, since Max was quite cozy where he was, to a long labor, to an emergency c-section, to a team running in seconds after birth to help him breathe and survive.
I remember them announcing his arrival, and then the nurse whispering in my ear, "not to be alarmed, but there is a team coming in to help your son."
I just kept asking, "is he going to be okay?!"
Finally, a small cry, and a quick visual of Max, and off he went to the NICU, and the doctor and team continued on to close me up, while Steve and I were in shock as to what had happened, as I just lay on the table in surgery.
Max was transferred to Lurie's Children's Hospital in Chicago, and spent almost 2 months there. So many tests, a G-Tube to help him eat because he silently aspirated, so it was too dangerous for him to eat by mouth.
We left the hospital with no real answers, because with PWS, and the different variants, the main being Deletion and UPD, UPD is only seen in a genetic blood test, only if you know what you are looking for. That was Max.
It would take almost 2 years to hear the words, Prader-Willi Syndrome. In those 2 years, we had seen some progress, and we thought, well, he is delayed, but he will get there. Those 3 words changed our lives in an instant, and forevermore.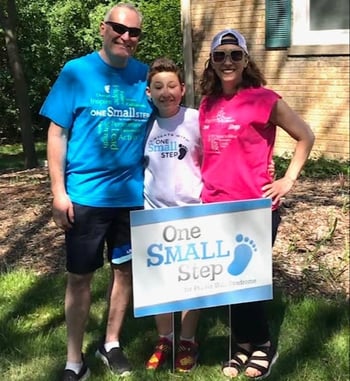 We were given a very long and daunting list of things Max would suffer, what he would not be able to do, like having children, living on his own, growing properly, and hunger...and as he got older, it would only grow harder. GUT PUNCH.
My coping mechanism, find an organization! Find hope! I could NOT just sit here and watch this life happen to Max.
I found FPWR, and with it a family of people like us. I was not sure what I expected to see and find, when my husband, Steve and I got in the car and drove to our first Research Conference. That weekend changed the course of our lives, and set us on a course to find answers, to raise money and awareness for research in hopes that one day our son would live an independent life, and thrive!
This summer will be our 11th Annual Walk for PWS, and we continue to grow our community support each year. This platform has allowed me to take control of this disease in a way I never thought possible. It empowers me to feel as though I am helping to change Max's future, to do my best to allow him to live life to the fullest, whatever that will look like.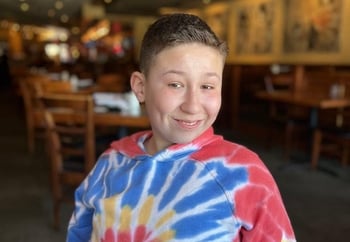 I am a different person than I was before Max was born, but I know I am a better self, with more strength and power than I ever knew I could have.
Max just turned 13 years old. Max is thriving. Max is happy. I hate the struggle that Prader-Willi Syndrome has brought him, but he shows me everyday what a true superhero looks like!