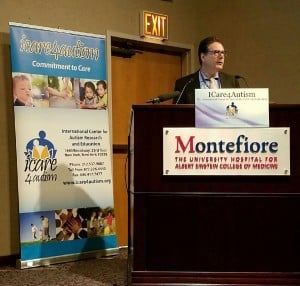 In a recent talk at the 2016 ICare4Autism conference, leading autism researcher Eric Hollander presented his work on experimental therapeutics in autism spectrum disorder and Prader-Willi syndrome (PWS). Dr. Hollander is the recipient of an FPWR grant titled Oxytocin vs. placebo for the treatment of hyperphagia in Prader-Willi syndrome.
In this project, Dr. Hollander's group is conducting a treatment study of intranasal oxytocin vs. placebo in children and adolescents with both PWS and symptoms of ASD. They hypothesize that ocytocin will have a positive effect on eating, repetitive behaviors, and social cognition. The study is taking place in New York and is currently recruiting participants. More details including inclusion/exclusion critiera and contact information can be found here.
Dr. Hollander's talk at ICare4Autism was highlighted in YahooFinance.
For updated information on PWS clinical trial opportunities and to sign up for a monthly PWS Clinical Trial Alert, visit the
PWS Clinical Trials page
.