—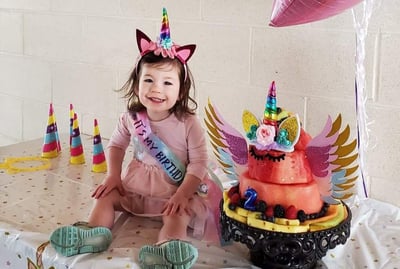 A special contribution by guest blogger Jacquelyn K.
Jacquelyn shared her story via our Stories of Hope Questionnaire.
How has your child exceeded your expectations?
She has met every goal and overcome every challenge thrown her way—and mostly on a typical timeline. As of today, at age 2.5, we are officially on an "annual" schedule with all 8 of her specialists. She is a typical kid with no health concerns or reasons to litter our calendar with extra appointments.
Who has helped you in your PWS journey?
Mostly myself. Upon receiving the diagnosis, I threw myself into everything I could get my hands on. Other than our endocrinologist, I find myself educating our doctors and therapists because they have only treated a handful of PWS patients (if any). I've had difficulty building relationships with other parents, but I've learned a tremendous amount about myself and my ability to adapt and evolve to not only meet, but to exceed the needs of my child.
Think of a time you surprised yourself with your ability to do the impossible—tell us about it.
In general, every day. My husband and I both work full‑time and very demanding jobs, but are able to make every appointment and therapy session. When I try to put on paper how we accomplish the things we do, It is difficult to describe. Specifically, every time we win with insurance. They are such a beast and make life exceedingly difficult. I'm proud of myself for learning the ins and outs of their system to accomplish what is best for her.
What would you say to inspire a parent whose child has recently been diagnosed with PWS?
You will adapt and evolve like you never knew was possible. This child, this diagnosis will challenge you and it will change you for the GOOD of humanity.
What gives you hope for the future?
Two things:
FPWR and the research that is being conducted and funded.

My daughter continuing to exceed not only the expectations of her diagnosis, but the expectations that we have for her (which are beyond the diagnosis).
What are you thankful for?
The doctors on our team, my family support and having a job that is flexible and understanding with our journey.
What positive life lessons have you learned from having a child with PWS?
I have spent my entire life preparing to be her mother, even though I had no idea. PWS has challenged me and changed me to not only be a better mother, but to be a better human being.
What does this quote mean to you?: "Until you have a kid with special needs, you have no idea of the depth of your strength, tenacity and resourcefulness."
THIS—I couldn't say it any better.