Levo Therapeutics, announced today that it has received a Complete Response Letter (CRL) from the U.S. Food and Drug Administration (FDA) regarding its New Drug Application (NDA) for LV-101 (intranasal carbetocin) as a treatment for hyperphagia, anxiousness, and distress associated with PWS.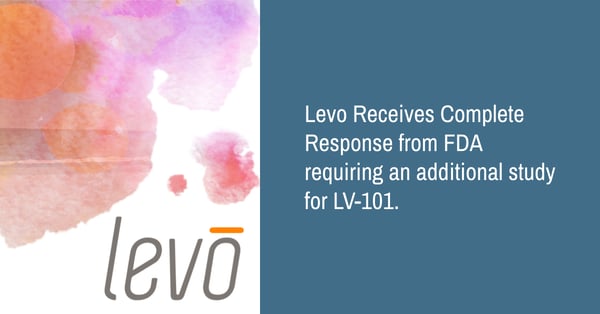 FDA's Division of Psychiatry concluded that, while LV-101 appears to be generally safe and well-tolerated, the efficacy data available for the proposed 3.2 mg dose of LV-101 were insufficient for approval. To address this issue, FDA recommended that an additional clinical study be conducted to confirm the results of the 3.2 mg dose. Levo is currently in discussions with FDA regarding the design of this new study and continues to provide carbetocin to existing study patients.
"We are disappointed by the outcome of FDA's review of our application and the continued lack of treatments for the most significant symptoms of the syndrome," said Sara Cotter, CEO of Levo Therapeutics. "We are hopeful that our discussions with FDA regarding the next study will be productive and that we can initiate enrollment of a confirmatory study later this year."
"As the highest enrolling site in both the phase 2 and phase 3 PWS studies of intranasal carbetocin, we have seen the exciting potential of this therapy," said Elizabeth Roof, M.A., of Vanderbilt University. "We are committed to again being a part of the next study of carbetocin and look forward to collecting the data needed to enable access to this important treatment option."
"We remain steadfast in our support of carbetocin and all potential treatments for our community," said Theresa Strong, PhD, founding member and Director of Research Programs at the Foundation for Prader-Willi Research. "We hope that, going forward, FDA will recognize the tremendous unmet need and exercise the flexibility it has when considering new products for rare, serious diseases such as PWS."
"Currently, there are no therapies approved by FDA to treat the most challenging aspects of PWS, namely the constant hunger and distress that substantially impact patients and families," said Paige Rivard, MBA, CEO of the Prader-Willi Syndrome Association USA. "PWSA | USA remains committed to advocating for treatments for the PWS community and we urge the PWS community to consider enrollment in the next study of this important potential treatment."
Caregivers who are interested in being contacted as details become available are encouraged to provide their information at www.pwsstudy.com.
Carbetocin is one of a number of PWS therapeutics in development.