A special contribution by guest blogger and One SMALL Step Washington, DC, co-host Dominique Deleage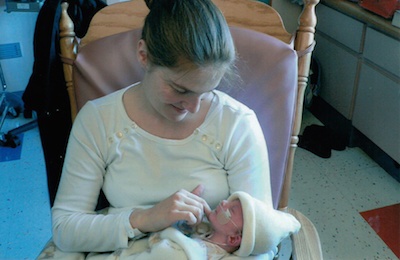 Our son Charlie is now 10 years old. We found out that he had PWS when he was three weeks old. We had never heard of the disorder. I still remember the phone call from our pediatrician. We were finally home after spending twelve days in the pediatric unit, where we saw a parade of specialists who were trying to find out why Charlie was so floppy, and why he wasn't feeding properly.
Since some of the doctors had listed really scary sounding degenerative disorders, Prader-Willi Syndrome didn't sound as bad, but it was still a shock to hear that our infant had a lifelong condition, the worst of which being that he would be hungry. It sounded bizarre and shocking all at once.
Those first few months are a bit of a blur. Although we were out of the hospital, we still had a lot of doctors appointments with pulmonology, gastroenterology, endocrinology and genetics. We had speech therapy to help with his feeding problem and physical therapy to help with his weak muscles. He wasn't waking up at night to feed, so we had to set the alarm clock so we could feed him when he needed it, even though his body couldn't tell us that on its own.
Then little by little, things settled. We had fewer doctors visits, and we settled into a rhythm for therapy. We managed. And we got to thinking we didn't just want to witness how PWS was changing Charlie's life. We wanted to try and do what we could to make it better.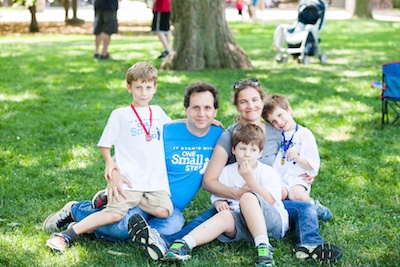 First, we met with some PWS families. Everyone was so welcoming, and so open about their successes and hopes, but also their fears and struggles. It was encouraging, and it felt great to be part of a community. Then, when Charlie was eight months old, we hosted our first fundraiser for research with friends and a few other PWS families. It was forward looking and it was hopeful. It got us in touch with other forward looking families. It felt good!
Over the years, Charlie has had numerous setbacks, delays and difficulties. He was able to hold his head up at six months, sit at nine months, crawl at twelve and walk at eighteen. His feeding tube was no longer needed and removed when he was seven months old. He started daycare at nine months, then preschool at two years old, in a special education classroom. Still, language eluded him, and despite extensive efforts at school and at therapy, we couldn't get him to control his sound production, and he wasn't interested in sign language or picture based communication systems. Toward the end of his preschool years, following the advice of his teacher and several friends, we got him tested for autism and he tested positive. Very.
This was another hard piece of news to take, but it opened many doors for us. First off, he was able to go into an ABA (Applied Behavior Analysis) classroom starting in Kindergarten, and this was the right placement for him. And we were able to access many resources and therapies offered for children with Autism. It made us realize that with great awareness and in depth research, a lot can be achieved!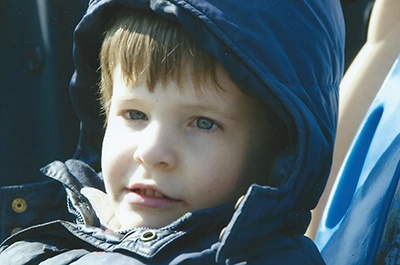 Nowadays, we are hopeful for the future. Charlie is in fourth grade, and he has made tremendous progress. Although spoken language remains difficult, he's able to communicate with us easily, using a combination of sign language, gestures, and increasingly his communication app on his iPad. He has learned his alphabet, knows his numbers up to 50, can focus on his work at school for longer periods of time, interacts with his family, teachers and peers. He can swim and ride a bike.
Charlie is also a celebrity at school and he is very popular: everyone from the principal to the kindergarteners recognizes him and greets him when they see him at school, and at the grocery store, the coffee shop. In fact, he is the most requested kid in his buddies program, where fifth- and sixth-graders choose to come play with their autistic classmates instead of recess. He even celebrated his birthday with friends for the first time this year, and thoroughly enjoyed it. It's exciting to see so much improvement.
At home, we try to stay active, and include Charlie in our activities as much as we can. Charlie tried to ski with us. We have been ice skating. We go on hikes. We tried him at rock climbing. And of course, we go to the pool and the water park, always Charlie's favorites!
Sure, it's not sunshine and rainbows every day. We still struggle with a lot of repetitive behaviors, and of course, he is hungry, always. We have outfitted our kitchen with locks and control his diet diligently. This has reduced his stress levels, and ours. It works for us. Overall, we have a good life, and Charlie is a really happy kid!
In the end, we are also hopeful because we see so many kids and adults overcome the many obstacles of PWS. It's a sign of future things to come. And we are hopeful because we see research advance at an increasingly rapid pace, including treatments and medications that are in the last stages of approval, treatments and medications that were not available when Charlie was born. And we enjoy our strong community of supportive and dedicated PWS families.
In years to come, we still look to research to help us with the hunger, and with the OCD behaviors, because we believe it will make his life better. And we continue to organize fundraisers, year after year since that very first one, to make sure research continues in ways that will help him in the future, hopefully not too distant future!