A recently published paper explores a novel gene therapy approach for PWS, delivering a 'growth hormone' for brain cells, called brain-derived neurotrophic factor (BDNF). The study, Hypothalamic AAV-BDNF gene therapy improves metabolic function and behavior in the Magel2-null mouse model of Prader-Willi syndrome, was led by Dr. Lei Cao at the Ohio State University, and was funded by FPWR.
BDNF is known to play an important role in neuronal development, and is important in pathways associated with metabolic function, energy expenditure, and behavior. Levels of BDNF have been reported to be decreased in individuals with PWS, and prior work in mouse models of obesity (non-PWS) has shown that boosting the levels of BDNF stimulates metabolism, decreases obesity, and increases lean muscle mass. Therefore, the goal of this study was to determine if increasing BDNF would have a similar impact in a mouse model of PWS.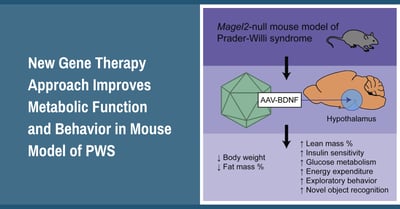 The researchers used a novel gene therapy method to deliver a single dose of a BDNF producing viral vector directly into the hypothalamus brain region of PWS (Magel2 deficient) mice. The results showed significant improvements to a variety of endpoints associated with metabolism including reduced weight gain and fat mass, along with increased lean mass and energy expenditure. In addition to physical improvements in body composition, there were also improvements to insulin sensitivity and glucose metabolism. These are important endpoints because they are related to diabetes, which is a high risk in adults with PWS. Interestingly, in addition to metabolic improvements, mice who received the BDNF treatment also showed improvements to behaviors associated with cognition, socialization and depression (this was shown in female PWS mice).
The results from this work are encouraging in a few ways. First, the study supports the hypothesis that reduced BDNF plays a role in metabolic dysfunction in PWS, and that increasing the amount of BDNF can improve metabolism and reduce fat. Therefore the BDNF pathway may be an important target in developing new therapies for PWS. The study also suggests that BDNF may help with some of the social, behavioral and cognitive challenges in PWS. Finally, this project shows positive proof of concept results for this novel gene therapy approach in a mouse model. There is still much work to be done, but these results provide both a target pathway and a gene therapy technique for ongoing future studies.