A special contribution by guest blogger Alice Shapley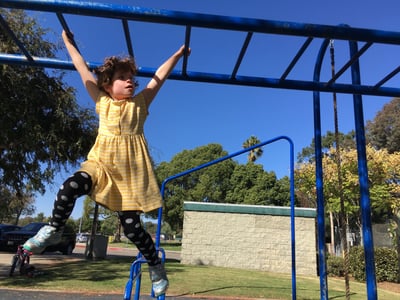 Our beautiful and amazing 7‑year‑old daughter Anna has Prader‑Willi syndrome (PWS). There are so many things for which I am incredibly, deeply proud of Anna, but today I want to talk about the role of hard work—something that I believe many PWS families know quite, quite well.
First, a little background about Anna. She came into the world on November 30th, 2012, at 38 weeks gestation. She arrived after what seemed to be an uneventful first pregnancy. In retrospect, some of the tell‑tale signs of PWS were present in the final couple of months: excess amniotic fluid—a bit, but not enough to get the doctors very alarmed, relatively low movement in general, and low movement during non‑stress tests (again, not enough that doctors were really worried). During the final non‑stress test on November 30th, Anna's heart rate dipped precipitously, and the doctors decided that she needed to come out right away. After a last‑minute C‑section that evening, and Apgar scores typical of healthy babies, Anna went to sleep. Basically for the next month. She was unable to feed by mouth and almost died the next morning of hypoglycemia, causing her to be admitted to the NICU, where she stayed for 5 weeks.
The time in the NICU was soul crushing, as we spent each day desperately trying to figure out how to feed Anna by mouth, and the doctors struggled to figure out why she was so sleepy and floppy. So many inconclusive medical tests, so much pumping breast milk, so much time holding Anna trying to will away whatever was making her first few weeks so rough. In retrospect it's still a mystery to me why Anna herself was such a mystery to the UCLA doctors. Indeed, she presented all of the classic symptoms of PWS: hypotonia (low muscle tone), extreme sleepiness, weak suck, weak cry, such that even a quick google search (which we were not in the mental state to perform ourselves) should have yielded a diagnosis. We finally left the NICU armed with a strategy for feeding Anna by mouth using a special squeeze bottle and lots of tapping on the base of the bottle to keep Anna's attention—but without a diagnosis. That diagnosis came two weeks later, over the phone no less, on the basis of a chromosomal microarray analysis run just before we left the hospital, which revealed the tell‑tale deletion on chromosome 15—i.e., the missing paternal genes that are imprinted (i.e., silenced) on the maternal side, wreaking so much havoc in the bodies of individuals with PWS.
Looking back on Anna's first couple of years of life, I'm flooded with memories, both heartbreaking and joyful, but a common thread is just how hard we all worked—most of all Anna—to reach those important early milestones. Some milestones were the standard set that all babies achieve, but some, like the ones related to feeding, were quite specific to PWS. For example, working with Anna's occupational therapist, we completed daily exercises to strengthen Anna's mouth muscles so that by the time she was about 5 months old she could drink an entire 5‑6 ounce bottle without assistance. More generally, in weekly physical and occupational therapy sessions, Anna worked so incredibly hard on things that come almost automatically to most babies: raising her head in tummy time, rolling from front to back and (much harder) back to front, sitting up with stability, getting into a sitting position from lying down, building up the arm strength to crawl, pulling up to stand, cruising, session after session of walking assisted on a treadmill to finally, finally take those momentous first steps between 19 and 20 months old, climbing stairs, and jumping. Every single milestone required extensive practice, repetition, concentration, devotion, patience, and determination.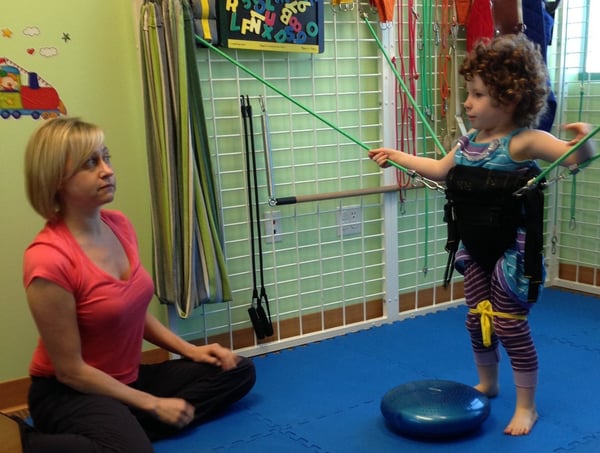 Part of me grieves the fact that Anna had to work so hard to achieve these capabilities, when other babies and toddlers of the same age so effortlessly climb around their houses and local playgrounds like agile little monkeys with infinite energy; the fact that she did not even possess enough strength in her arms initially to support her weight to be able to crawl; the fact that so much of the first year of Anna's life was spent in deliberate effort to catch her up in these key developmental stages, to the exclusion of just hanging out and relaxing (I wish I'd been able to feel more relaxed and less full of worry). Another part of me is intensely proud of the way in which Anna overcame her low muscle tone and difficulties in motor planning to start catching up with her peers. Yet another part of me tenderly recalls the extreme jubilation experienced when each of these important milestones was conquered, simply because it had previously seemed so insurmountable.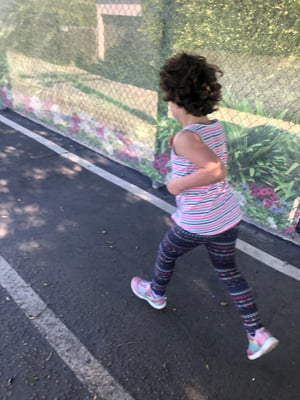 Fast‑forward to today, and we can see how the amazing work ethic instilled in Anna during her early years has carried her on to achievements that we wouldn't have dared to dream about when she was a tiny baby who couldn't even hold her head up. At age 4, Anna started racing every day with older boys in her preschool class, and impressively held her own with the (typical) 5 year olds because she was willing to participate day after day in the races. At age 5, Anna decided that she would learn to swing on the monkey bars and practiced over and over again until she was swinging with the best of the kindergarteners, building up the callouses of a seasoned veteran along the way. At age 6, Anna decided that she was going to really start reading, and religiously went over the same "Pete the Cat: Pete at the Beach" book again and again until she got the hang of it (now she's reading chapter books).
Most recently, during the current coronavirus shelter‑at‑home period, Anna decided that she wanted to learn to tie her shoes (with no help). Again, with unmatched concentration, and trying again and again and again, she indeed taught herself how to tie the laces on her running sneakers. At Anna's IEP meeting last week, Anna's first‑grade teacher gushed about what a pleasure it is to have Anna in class, how she works so hard and is performing at grade level right along with her peers. Homeschooling our kids during the school closure, I can see up close how hard Anna works when she sets her mind to it, blazing through page after page of her phonics workbook, and carefully writing out the answers to math word problems.
Looking ahead, Anna wants to run a 5K with me to raise funds and awareness for the Foundation for Prader‑Willi Research (FPWR). She was really excited to see me run a Turkey Trot for FPWR back in November 2019, and the seed was planted in her mind for next year. We've already started training—first, by running around the track at school and, now that school is closed, around our block. 5K is still a ways off, but I am confident that Anna will be able to run 1K before we know it.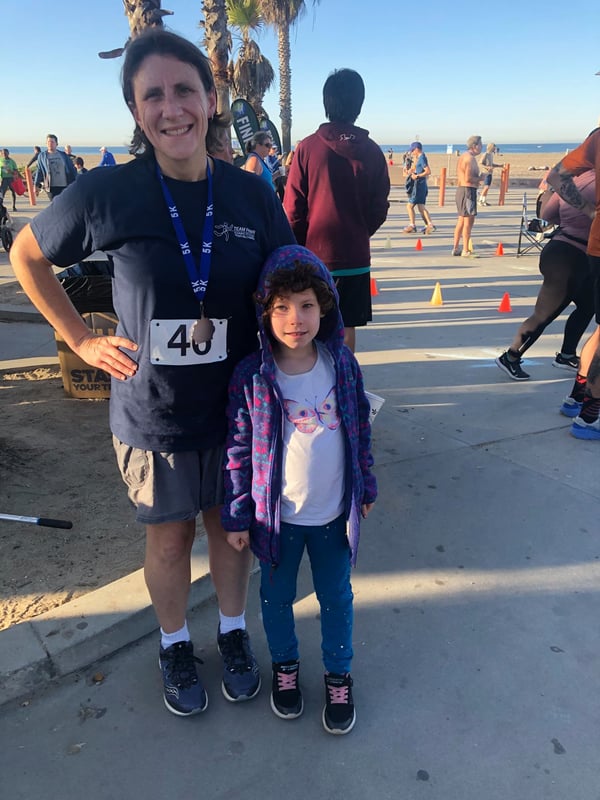 Once she sets her mind to something and starts working hard at it, I know that absolutely nothing can stop her.