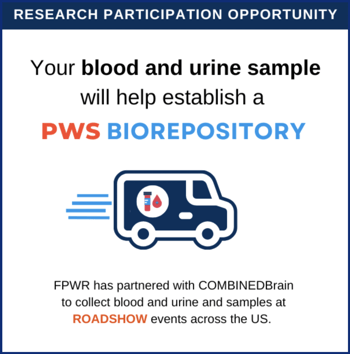 The Foundation for Prader-Willi Research has partnered with COMBINEDBrain to establish a biorepository of blood and urine samples that will help speed treatments for people with PWS and other neurodevelopmental disorders.
Biorepositories play a crucial role in rare disease research, acting as central location to collect, store, and distribute samples such as tissues, blood, and cells from individuals. Samples collected for our PWS-COMBINEDBrain Biorepository will be made available to researchers across the world to support biomarker discovery and molecular investigations, and will ensure the long-term availability of these rare disease samples for future research. We are particularly excited about the possibility of identifying biomarkers for PWS, because these may be useful in measuring the effectiveness of new treatments in PWS clinical trials.
We need your help to gather blood and urine samples from people with PWS and SYS.
We have a unique opportunity to collect these samples in collaboration with the COMBINEDBrain team. They will be collecting specimens at conferences and meetups across the country between now and the end of the year. You can visit the team at a roadshow event near you and donate a specimen for deposit into the PWS-COMBINEDBrain Biorepository.
People diagnosed with PWS, SYS, and other neurodevelopmental disorders can provide a blood sample at NO COST at any of the following events:



For more information and to sign up for one of our roadshow events, please email Lisa Matesevac at FPWR:

lisa.matesevac@fpwr.org