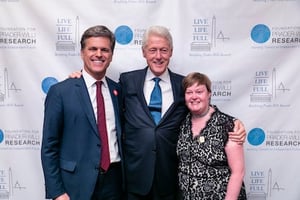 On Wednesday, October 10th, the inaugural Live Life Full DC took place at Army Navy Country Club in Arlington, VA. The event raised nearly $300,000 for PWS research and included guest speakers President Bill Clinton, Special Olympic Chairman, Tim Shriver, and Gold Medalist Special Olympic Swimmer, Meghan Michie.
The event was hosted by Mary & Ian Alberg with the help of their honorary committee members Kristin White, Dominque Deleage, and Rachel Petterson.
You can watch the gala program in full in the video below.
Click here to watch speaker highlights from the gala program.
During his presidency, Clinton did all he could to secure the funds needed to complete the Human Genome Project, which provided a complete and accurate sequence of the entire human genome and made the data freely available for study. While speaking at the Live Life FULL event, President Clinton shared that he first become aware of rare disease through two personal encounters, one with an athlete friend who suffered from a rare neurological disease, and a second friend whose young son stopped developing at 9 months old. These relationships opened his eyes to the impact of rare diseases, and to the large number of people in our country who are affected by them: 30 million Americans have a rare disease, about 1 in 10 people, or 10% of the US population.
"I see parents loving their children and there is nothing worse in life than seeing your child have a problem you think there isn't anything you can do about. But tonight you should feel good because there is something you can do about it, and this [evening] is an example of something we can do!" said President Bill Clinton.
We would like to express our immense gratitude to our hosts, Mary and Ian Alberg, as well as the gala committee, sponsors, donors, and attendees for their generosity and support at the inaugural Live Life Full DC Event on October 10, 2018.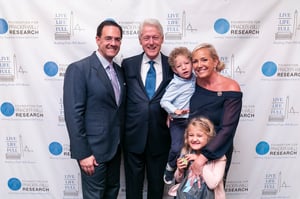 "There is no value that needs to be cherished more than the unlimited love of parents for their children..." — President Bill Clinton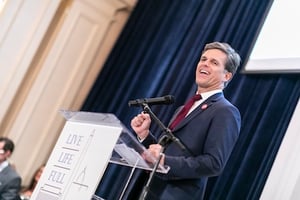 "We are here for a country that rallies together to support all of our children… We are here to affirm the gifts of all children…" — Timothy Shriver


A few photos from the magical evening:
We look forward to the Live Life Full DC Events in the future. Events big and small help us to fund our mission: to eliminate the challenges of PWS. To find out more about upcoming events or to inquire about hosting an event of your own, please email Jacqueline Mizon.