A special contribution by guest blogger Charlotte Kellar.
Charlotte shared her story via our Stories of Hope Questionnaire.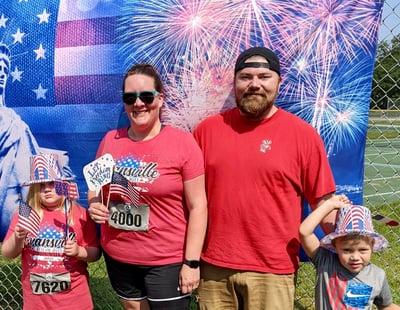 How has your child exceeded your expectations?
Let me count the ways … To doubt your own child is one of the worst feelings in the world. Unfortunately, when you're handed a laundry list of "cannot"s at four weeks of age, it's too easy to do. I knew Cadence would be facing lifelong challenges. What I didn't know was the fierce grit, unwavering determination, and ridiculously positive attitude with which she would do so.
Who has helped you in your PWS journey?
Of course, our families. They love Cadence unconditionally and have been so supportive of everything we do to support her. We also have a wonderful care team at University of Wisconsin Hospitals and Clinics. But I would be remiss not to shout-out the vast majority of the PWS community, namely those engaged with FPWR. They were the first people we looked to, very early on, for a glimpse of what our journey with Prader-Willi syndrome would look like. They instantly gave us hope.Think of a time you surprised yourself with your ability to do the impossible — tell us about it.
In 2020, I ran two 5Ks. One in support of PWS research and the other simply because Cadence asked me to. I am not a runner and will never claim to be, and tackling not one but two 5Ks was difficult for me and way beyond my comfort zone. But, such is life for those battling PWS. My daughter really inspired me to push past it.
What would you say to inspire a parent whose child has recently been diagnosed with PWS?
I always say the first days are the hardest days. Take a moment to breathe and process, arm yourself with knowledge and support from reputable sources, and then go enjoy your child just as you'd originally planned.
What gives you hope for the future?
Research. Development. Clinical trials. My daughter's spirit.
What are you thankful for?
My family. My education. Gainful employment. Having the desire and means to be an assertive advocate. This community.
What positive life lessons have you learned from having a child with PWS?
I've learned that everyone has "their thing," and some things are just bigger than others. People really do fight invisible battles you know nothing about, and they do it with heart, grace, and perseverance. I've learned that your faith — in whatever you put your faith in — truly is stronger than your fear.
What does this quote mean to you?: "Until you have a kid with special needs, you have no idea of the depth of your strength, tenacity and resourcefulness."
For me, personally, I think I had some idea of these characteristics within myself. What I didn't know is just how often I would be forced to call on them. I would also add "instincts" to that list. Trusting my PWS gut has enabled me to do so much for Cadence throughout her 7 years.
What does this quote mean to you?: "Most people see what is, and never see what can be."
Unfortunately, I think this is true. Even in circles where you wouldn't expect it to be. It quickly becomes our instinctual job as parents to shift that mentality. To advocate for a future for our children that we know is possible.