** NOTE ** Since recording this webinar the minimum age has dropped to 4 years old
A new study, ZEPHYR, is now enrolling patients ages 4 to 65 years to determine the safety and efficacy of livoletide for the treatment of hyperphagia in PWS. A live webinar was conducted on April 16th sharing details of the study, what you can expect if you choose to participate, and eligibility criteria for participation. The presentation is about 20 minutes in length, followed by 15 minutes of Q&A. You can watch the complete presentation by clicking on the embedded video. In case you don't have time to watch the full video, we've included a full transcript below.
Details on this study and a list of trial locations can be found on our clinical trial directory.
Webinar Transcript
Susan Hedstrom, FPWR:
Today's webinar is the fourth in our series of clinical trial webinars and we are happy to have you joining us today. As you know, there are many clinical trials currently enrolling PWS patients for their studies. Some of these trials are investigational drugs, others are behavioral interventions. An overview of PWS clinical trials are available on fpwr.org and I encourage you to visit this site to learn more about the opportunities that are available.
We are fortunate to have so many PWS clinical trials available to us. This year alone, we will require more than 500 participants to fill these clinical trials! I know you are joining us today because you want treatments for your loved one and these trials are the first step. It will require the effort of the entire PWS community to help complete these trials and I encourage you to learn more about these opportunities, discuss them with your physicians and determine if an opportunity may be right for you and your loved on with PWS.
Today's guest presenters are joining us from Millendo Therapeutics and will be sharing more information with you regarding their study of Livoletide. We will be collecting questions from the audience throughout the webinar and will answer all of your questions after the short presentation. Without further delay, I give you Julia Owens, CEO of Millendo Therapeutics.
Julia Owens, CEO, Millendo Therapeutics:
Hi, I'm Julia Owens, CEO of Millendo Therapeutics. I'd like to thank the Foundation for Prader-Willi Research for the opportunity to present the ZEPHYR study, on livoletide for the treatment of hyperphagia in Prader-Willi Syndrome. I'm joined today by my colleagues, Mike Yeh, VP of medical affairs, Soraya Allas, VP of clinical development, and Ryan Zeidan, SVP of development.
I'm going to be making some forward looking statements in this presentation based upon our management's current beliefs, but of course, things can change and may not work out as we expected. Also, we may not update you specifically about the changes. The best way to keep up to date is to look at Millendo's website or our most recent filings with the SEC.
Greetings from Millendo! We're a 35-person biotech located in Ann Arbor, Michigan. I've included in the corner a picture of Michigan Stadium, or the Big House, because Millendo was born from work done at the University of Michigan. The legendary football coach, Bo Schembechler, became involved in rare endocrine diseases, specifically adrenal cancer, because his wife, Millie, died of adrenal cancer. He raised money to fund research into rare endocrine diseases at the University of Michigan. From this research, Millendo was started. The name is a combination of "Millie" and "Endocrine"
While we're going to talk mostly about Prader Willi syndrome today, you should know that Millendo is also seeking to develop treatments for other rare endocrine diseases like congenital adrenal hyperplasia and endogenous Cushing's syndrome. I'm now going to ask Mike Yeh, our head of medical affairs, to talk about livoletide and the ZEPHYR trial.
Mike Yeh, Head of Medical Affairs, MIllendo:
Thank you, Julia. Let's start by talking about why we think livoletide might work for hyperphagia in Prader-Willi syndrome.
Your stomach produces a hormone called acylated ghrelin, or AG, which causes your brain to think that you're hungry. Some of you may have heard of this referred to simply as ghrelin. We know that AG is the most potent appetite stimulating hormone produced outside the brain. We also know that it stimulates fat deposition and induces insulin resistance, which means that your body doesn't respond as well to insulin as it should. In contrast, your body also makes UN-acylated ghrelin, or UAG. UAG seems to have the opposite effects of acylated ghrelin in some very important ways. UAG inhibits AG-induced food intake, inhibits fat deposition, and improves insulin sensitivity. We also know that UAG levels are relatively low in people with PWS who are experiencing hyperphagia, especially when compared with AG levels. So, we've invented livoletide, which takes a portion of the UAG molecule and puts it into a ring so that it lasts longer in the human body.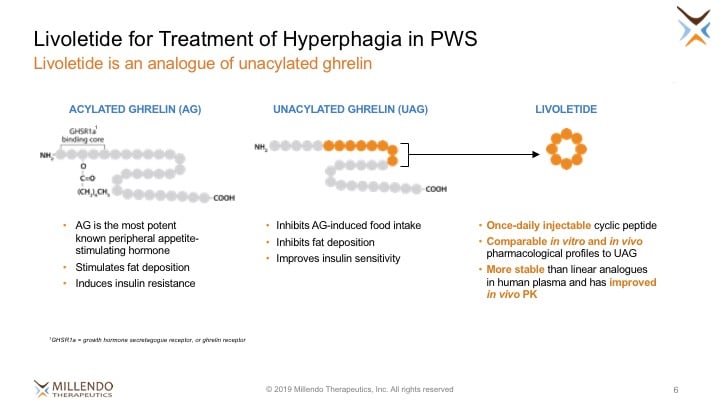 Livoletide is injected once daily using a small volume syringe with a short ultra-fine needle. We believe that livoletide can replace the deficiency in UAG that we see in people with PWS and that this can help reduce hyperphagia. And we've already tested livoletide in the largest Phase 2 study done in PWS to date.
Here we see the key results of our Phase 2 clinical trial in PWS which was published last year. [slide below]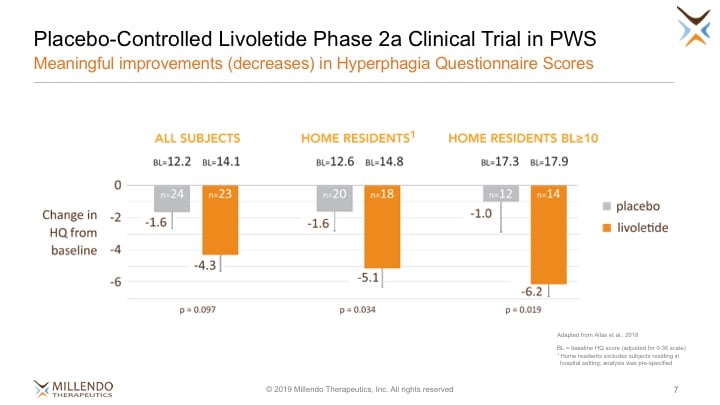 What is shown on the slide are average changes in the degree of hyperphagia as measured by the Hyperphagia Questionnaire. The lower the bar below 0, the more improvement there is. The bars show the average degree of change in HQ score over two weeks in the group that received placebo in grey and livoletide in orange. Placebo looks like study drug but has no active ingredients. Across all three graphs, you see that the livoletide groups show more improvement over two weeks than the placebo. When you only include subjects living at home, so that they had a consistent caregiver doing the assessments, you see an even greater degree of difference. And when you take patients living at home who have a high degree of hyperphagia at the start, you see that the difference is even greater. So, we have some evidence that livoletide reduced hyperphagia in a robust clinical trial.
Let's talk about livoletide's safety. Livoletide has been well-tolerated in human clinical trials to date across 100+ subjects. The Phase 2a study showed no serious adverse events or discontinuations due to adverse events. There were also no clinically significant findings with respect to vital signs, physical exam or safety labs. Injection site reactions were the most frequent adverse events and were more frequently observed in the placebo group than in the livoletide group. In nonclinical studies, livoletide has had a favorable safety profile in studies up to 9 months long and at doses about 100 times human clinical doses.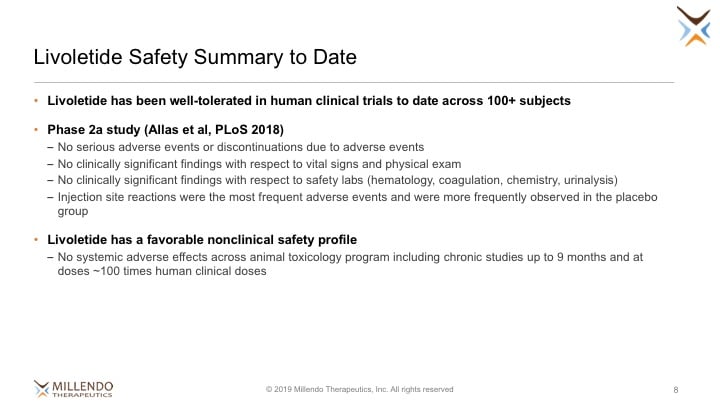 These encouraging efficacy and safety data led us to design the ZEPHYR study which is underway now.
The ZEPHYR study is a large, long-term clinical research study for people with Prader-Willi syndrome (PWS). The study is designed to answer the following questions:
What are the effects of livoletide on hyperphagia (insatiable hunger) and food-related behaviors in people with PWS?
What are the effects of livoletide on body weight, waist circumference, and fat mass?
How safe and well-tolerated is livoletide?
Study participation involves:
Up to 14 months to complete the study
Up to 9 clinic visits and a phone call
Injections of livoletide into the abdomen daily
150 people with PWS will be enrolled. Once we reach 150 participants, the study will be closed.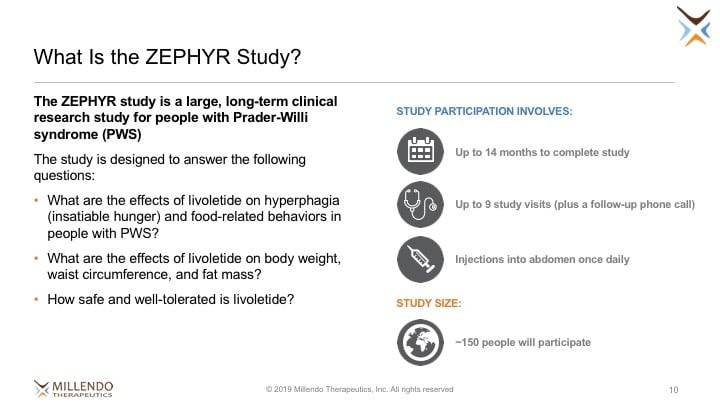 We've tried to make the criteria to enter the study as broad as possible. The main inclusion criteria include:
Ages 4 to 65
Diagnosis of PWS confirmed by DNA methylation test
Evidence of increased appetite or hyperphagia
Person with PWS has a consistent primary caregiver who will be able to evaluate the participant and perform study-related activities throughout the study
BMI ≤ 65 kg/m2
Growth hormone treatment permitted if doses are stable
Diabetes medications (including insulin) permitted if doses are stable
The main exclusion criteria include:
History of chronic liver disease
Type 1 diabetes mellitus
HbA1c > 10%
So, people with normal BMI or with type 2 diabetes are fine to participate.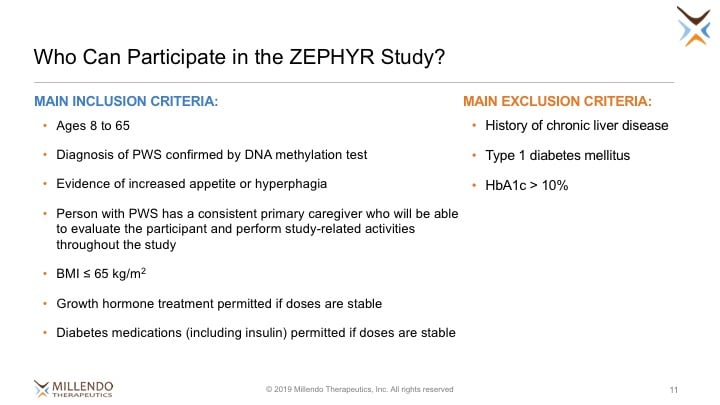 The ZEPHYR study is broken up into four parts. The first is screening, which takes 2 to 4 weeks and has one clinic visit. In the screening portion, study participants will undergo some assessments to confirm they can participate in the trial. Then comes the Core period, which lasts 3 months and has 4 visits: In the core period, participants will be randomized to either a low or high dose of livoletide or to placebo. You'll have a 2 out of 3 chance of receiving livoletide. In the extension period, which lasts nine months and has four visits, everyone will receive livoletide, even if they started on placebo. Finally, there's a phone call one month after the extension period is over.
It's important that during the trial, a consistent caregiver is available to answer questionnaires at each visit. In addition to physical exam, most visits will require fasting bloodwork followed by breakfast. Some visits will require ECG and DXA scan. An ECG is a non-invasive test of the electrical activity of the heart and a DXA scan is a special X-ray that measures the bone, fat, and muscle composition of the body.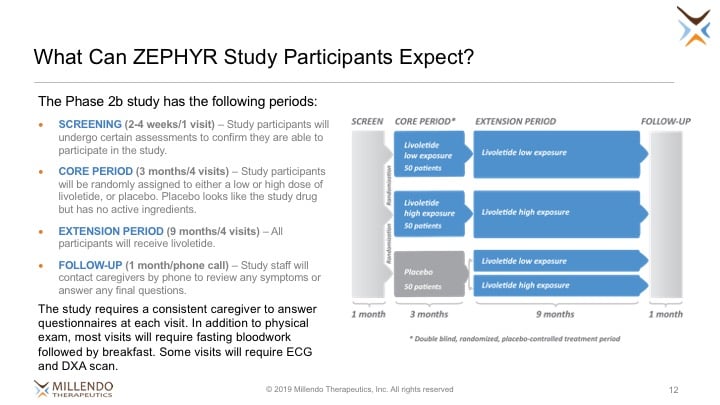 There is no guarantee that being in the ZEPHYR study will help be effective in treating hyperphagia, but what we learn from this study may help treat others in the future. A comprehensive list of potential risks of study procedures and the investigation medication is included in the study consent form. It will not affect your medical care if you decide not to participate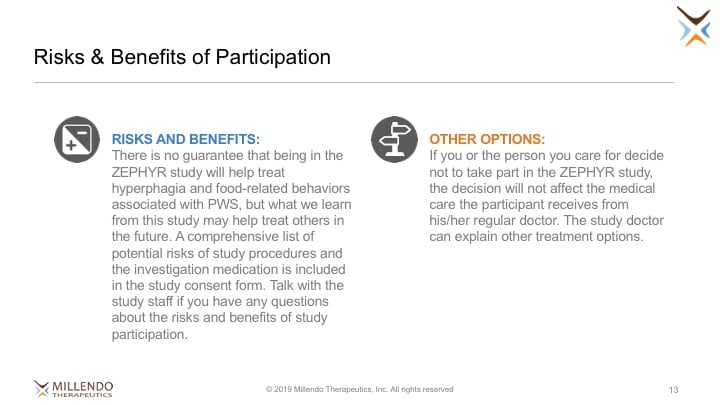 We understand that it's a tremendous commitment for you to participate in a clinical trial. To try to make things as easy as we can, we will be working with Scout clinical services to offer a full range of trial participant and family assistance services. These include flight and rail travel arrangements, ground transportation, and hotel accommodations. For out of pocket expenses like food or parking, Scout offers debit cards or quick reimbursement. Scout also offers 24/7 travel assistance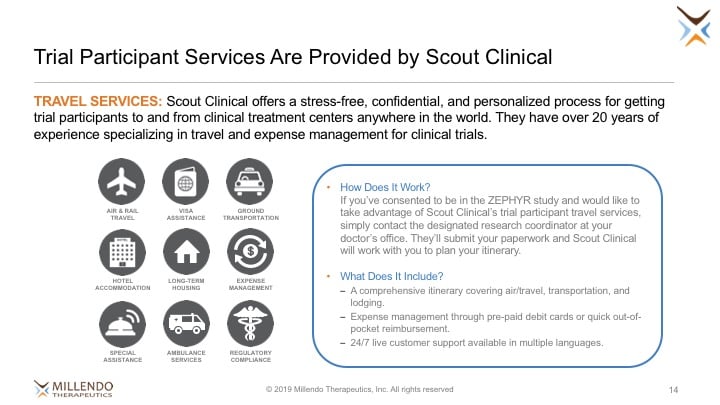 We expect to have about fifteen sites in the US and will also have sites in six countries in Europe. On this slide, we list the sites that are recruiting in California, Minnesota, and Tennessee. We also list the sites that are opening to recruitment soon in Alabama, Kansas, and Washington. Finally, on the right are sites that are expected. We are working to have those sites open as soon as possible. Not all of our expected sites are listed. For the latest information, please visit our website at www.Millendo.com or go to clinicaltrials.gov.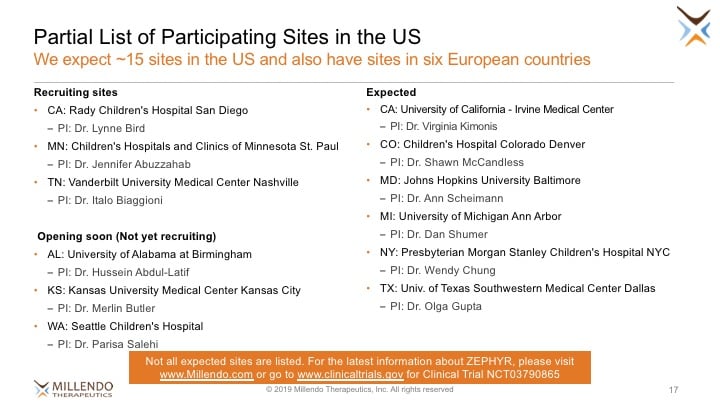 To learn more about the ZEPHYR study, please contact:
Europe: Nadège Tremel +33 472 18 09 30 tremel@millendo.com
US: Robin Schmidt +1 734-845-9438 schmidt@millendo.com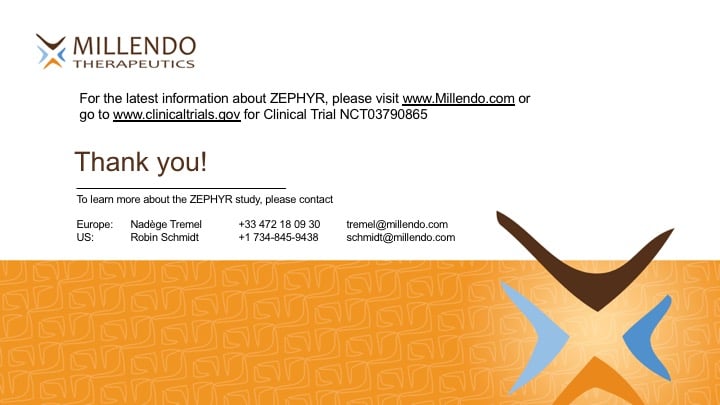 ---
Webinar attendees were invited to ask questions of the panelists. Below are the questions presented and the responses.


---
Q. What are the common side effects we might experience during trial participation?

A. The most common side effects have been related to local reactions at the injection site of both livoletide and the placebo. The rate and severity of the injection site reactions were similar in the livoletide and placebo groups and did not lead to anyone stopping treatment. There were also some reports of GI side effects like diarrhea in the livoletide group. Overall, livoletide has been very well tolerated in our clinical studies to date.
Q. Why do you think this drug will help with hyperphagia?

A. Livoletide acts similarly to a hormone found naturally in the body called unacylated ghrelin or UAG. We know that people with PWS who are hyperphagic have a steep drop in their levels of UAG relative to their levels of acylated ghrelin, or AG. We also know that AG causes feelings of hunger while UAG is known to inhibit the hunger caused by AG. We believe that livoletide can replace the deficiency in UAG that we see in PWS patients and that this can help reduce their hyperphagia.
Q. Can I travel with this medication? Does it require refrigeration or special storage?

A. Yes, you can travel with livoletide, but it needs to be refrigerated. And it needs to be on ice in an insulated bag with ice packs to keep it at cooler temperatures. Once you arrive at your destination, or at home, you should store it in the refrigerator. We will supply everything you need to travel with livoletide, such as cooler bags and ice packs. If you need to fly with livoletide, we can also provide you with a note for airport security to allow you to bring livoletide on ice on board an airplane. It is important to protect livoletide from extremes in temperatures as much as possible. Livoletide should not be frozen, or left in a hot car or sitting in direct sunlight.

Q. Will this injection be available in a pen device similar to what many of us use with Growth Hormone?

A. At the start of the trial no, but we are actively working to develop a pen at this point.

Q. My loved one is not overweight, can he participate?

A. We realize that about a third of people with PWS are not overweight. So, your loved one with PWS could still be eligible even if not overweight. It really depends on the degree of hyperphagia.

Q. My child does not steal food and sometimes leaves food on his plate, is he eligible?

A. As we all know, hyperphagia can be expressed in many different ways. Just because a person with PWS doesn't exhibit these specific behaviors doesn't mean that they're not eligible for our study. The best way to tell if your child is eligible for our clinical trial is to contact your local site to be evaluated.

Q. If a person is currently living at home but may be placed in a group home later this fall, would that preclude eligibility? Can a patient transition between living situations during the trial.

There is a requirement that during the trial, that we try to keep a consistent caregiver evaluating the patient during the course of the core period. So if there is going to be a transition, they may not be able to satisfy that condition and may not be eligible for the trial.

Q. If the patient is already in a group home, can they participate?

There will be certain requirements that they will need to meet related to their setting where they are being seen such as the caregiver having consistent interaction with the patient and these will be gone over at the time of your study visit. It will really vary on a case to case basis but it is not preferred for a patient to be in a group home placement.

Q. So if a patient is in a group home setting and the parent is interested in participating, they should contact their nearest study site to review with the study coordinator and determine if this study is the right fit for them?

A. Exactly.

Q. Would you consider eligible an adult with PWS if they live independently, not at home?

A. It is important for the patient to have a caregiver that is interacting with them on a daily basis so it would really depend on the setting, and who they are interacting with and whose care they are under. That would need to be discussed with a physician to assess eligibility for the study. We advise going to the local site and having them evaluate the patient and take a look at it on a case by case basis. We would hate for someone to assume the answer is no and then lose out on a chance to participate.

Q. Who can deliver the injection? Does it need to be a consist caregiver or assigned to a specific person?

A. It does not need to be assigned to a specific person. It can be given by the same person or different people. The procedure for administrating the drug will be taught at one of the visits. It's fairly simple as far as these type of procedures go. Of course if you are new to this it can be a bit daunting at first.

Q. When will specific sites open? How can someone stay up to date on site information?

There are various processes that are happening at each of these sites that define the timing of when they will be open. The best way to stay up to date is to check clinicaltrials.gov - it is updated on a daily basis and when sites open it will be reflected there. I would also like to stress that we are a small company and you will see an email address for Robin in the US Nadege in Europe as well as their phone numbers, go ahead and give them a call or drop them a line and we will take care of you.

Europe: Nadège Tremel +33 472 18 09 30 tremel@millendo.com
US: Robin Schmidt +1 734-845-9438 schmidt@millendo.com


Q. In the placebo controlled period, 1/3 will receive placebo, 1/3 will be on one dose and 1/3 will be on a higher dose. When we go to the extension period, who gets what dose?

A. People who are on drug will continue on the same dose and people who are on placebo will be split into one of the two doses. So everyone will receive livoletide during the extension period, either at the low or high dose. Placebo patients will be assigned randomly to receive either the low or high dose during the extension.

Q. Scout provides services for patients. Are hotel and transportation paid for through the study?

A. Yes. Scout will arrange, and pay for in advance, air and rail travel as well as hotels and ground transportation. They will arrange cars to get people to and from the hotel to the study site. And that is all paid for ahead of time. if you want to be reimbursed for that, you can do that, but for most people it is just easier to have scout pay for everything ahead.

Q. Why is there a minimum eligibility age of 8 years old and would you consider taking on younger patients?

The study is currently open for patients ages 8 and over because hyperphagia is prevelant at this age, especiallly hyperphagia with significant behaviors. We are considering opening the trial for younger patients down to the age of 4. That will be a second step. This is still under negotiation. with the health authorities.

Q. Is there a safety record with this type of molecule?

We have tested livoletide in a phase 1 program in obesity and patients with type two diabetes. In addition we have tested livoletide in a PWS study. The most common adverse events across the phase 1 and phase 2a program was injection site reactions. We have tested this at levels 100 times as seen in human clinical doses and have not seen any effects in animal models.

Q. This study is evaluating livoletide on hyperphagia so clearly a person would need to have measurable hyperphagia in order to participate. How severe must the hyperphagia be?

The best way to tell is to go to your local site and have them evaluate your loved one for hyperphagia.

Q. Can the person with PWS be using other medications such as Concerta and oxytocin?

In general any medication should be stable for at least 3 months before entering the study. We are not excluding patients. To generalize a bit, medications for phycological or behavioral issues are ok as long as they have been stable for three months. Same thing goes for medications for diabetes. Growth hormone needs to be stable for 1 month.

Q. Would a person be excluded if they have had some form of bariatric surgery?

A. No. This is not part of the exclusion criteria.

Q. Can a participant enroll in a site that is open now and then transfer to a site that is closer once they have opened?

The logistics of that would have to be discussed with the physician. There may be some logistical barriers to doing that. the best thing to do is to contact the physician at the site nearest to you to discuss.

Susan Hedstrom:

I would like to thank the team from Millendo Therapeutics for joining us today and answering questions from our community members. If you are interested in learning more about this clinical trial, or others, you will find a directory of clinical trials at fpwr.org which includes contact information for each trial site. You can reach out to the trial site nearest you to enroll, or to ask any further questions you may have regarding participation. Clinical trial information can also be found at clincialtrials.gov.

Thank you again for joining us today! Please continue to spread the word about these trial opportunities so we can enroll them as quickly as possible!