A new study is now enrolling patients ages 4 and up to determine the safety and efficacy of Diazoxide Choline Controlled Release (DCCR) for the treatment of hyperphagia in PWS. A live webinar was conducted on February 26th sharing details of the study, what you can expect if you choose to participate, and eligibility criteria for participation. The presentation is about 15 minutes, followed by 15 minutes of Q&A. You can watch the complete presentation by clicking on the embedded video. In case you don't have time to watch the full video, we've included a full transcript below.
Details on this study and a list of trial locations can be found on our clinical trial directory.
Webinar Transcript
Susan Hedstrom, FPWR:
Welcome everyone to today's webinar. This webinar is the second in our series of clinical trial webinars and I am happy to have you joining us today. As you know, there are many clinical trials currently enrolling PWS patients for their studies. Some of these trials are investigational drugs, others are behavioral interventions. A list of trials is available on FPWR.org and I encourage you to visit the site to learn more about the opportunities that are available.
Our community has been waiting a long time for these treatment opportunities and we are fortunate to have so many opportunities available to us this year. I know you are joining us today because you want treatments for your loved one and these trials are the first step. In order to bring any treatment to market, we need to enroll these trials so that they can collect the data necessary to show efficacy for the FDA. It will require the effort of the entire PWS Community to help complete these trials and encourage you to learn more about these opportunities and to determine which opportunity may be right for your family and your loved one with PWS.
Today's guest presenters are from Soleno Therapeutics and they'll be sharing more information with you regarding their Phase 3 study of DCCR which stands for Diazoxide Choline Controlled Release tablets. We will be collecting questions from the audience throughout the webinar and will answer all of your questions after their short presentation. Without further delay, I give you the team from Soleno Therapeutics.
Anish Bhatnagar, Soleno Therapeutics:
Thank you, Susan for inviting us to provide an overview of our DESTINY PWS study to the members of the PWS community.
I am Anish Bhatnagar, CEO of Soleno Therapeutics, which is a biotech company located in Redwood City, California. We are focused on the development and commercialization of novel therapeutics for the treatment of rare diseases, and our lead candidate is Diazoxide Choline Controlled-Release or DCCR, which is a once-daily oral tablet for the treatment of PWS.
Our ongoing Phase III study is, DESTINY PWS, which stands for DCCR Efficacy and Safety Trial IN Young children and adults with PWS.
I am joined by my colleagues today, Dr. Neil Cowen, Senior Vice President for Drug Development and Kristen Yen, Head of Clinical Operations, as well as Dr. Parisa Salehi, who is a Principal Investigator at Seattle Children's Hospital .
I will start by asking Neil Cowen to provide some background on DCCR. Neil.
Neil Cowen, Soleno Therapeutics:
Thanks, Anish. I would like to provide you with some background on DCCR.
Appetite is controlled by 2 sets of neurons in the region of the brain called the hypothalamus which controls certain metabolic processes in the body. The NPY/AgRP neurons increase appetite. POMC neurons decrease appetite.
Research shows that, due to the deletion of SNORD116, one of the genes in the Prader-Willi critical region on chromosome 15, the function of neurons involved in stimulating appetite is increased in PWS. These increases are likely what drives hyperphagia.
The neurons that increase appetite and decrease appetite have channels, called KATP channels, and DCCR opens the KATP channels in these neurons, thereby reducing appetite and hyperphagia.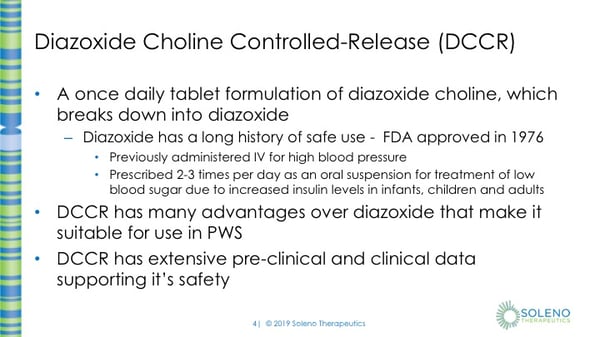 DCCR is a once daily tablet formulation of diazoxide choline, which is a choline salt of diazoxide and breaks down into diazoxide that is then absorbed from the gut.
Diazoxide has a long history of safe use. It was approved by the FDA in 1976 and has been in use since then in patients for which it is approved, so the safety profile of diazoxide is well known. It is
used for treatment of low blood sugar due to increased insulin levels in infants, children and adults in very rare conditions known as hyperinsulinism and insulinoma. The oral suspension is usually taken 2-3 times per day and often at daily doses up to several times higher than the doses that are being evaluated in PWS.
In the development of DCCR, there's been no new safety findings, compared with diazoxide. The most common adverse effects are increased blood sugar and peripheral swelling – both of which can be managed by your doctor. It is worth noting that the doses of DCCR used in this study are at the low end or below the range used for diazoxide.
DCCR has pre-clinical and clinical data supporting its safety. To date, 8 clinical trials have been conducted using DCCR and over 210 healthy volunteers and subjects with obesity, hypertriglyceridemia and Prader-Willi patients have been treated in these studies.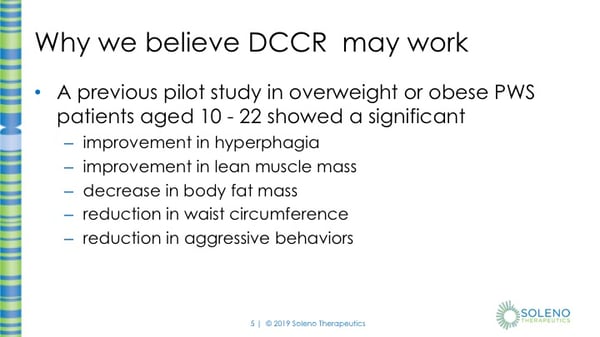 A study of DCCR in 13 overweight and obese PWS patients aged 10-22, was conducted at University of California at Irvine.
In this study, the subjects treated with DCCR showed significant improvements in hyperphagia. In addition, there was a significant decrease in body fat mass and waist circumference, consistent with a loss of visceral fat, and a significant increase in lean body mass. There was also a significant reduction in aggressive behaviors.
It is worth noting that subjects who were treated with higher doses showed greater beneficial effects such as improvements in hyperphagia, decreases in body fat and an increases in lean body mass or muscle mass.
The adverse events reported in this study were consistent with the adverse events or effects that were expected from diazoxide. This pilot study helped drive the design of the DCCR development program.

Anish Bhatnagar, Soleno Therapeutics:
Thank you, Neil. I would like to now introduce Dr. Parisa Salehi who is a pediatric endocrinologist at Seattle Children's Hospital and a Principal Investigator on this study. Dr. Salehi was the first investigator to enroll a patient in the DESTINY PWS study. She now has several patients enrolled on this study and is one of our top enrollers. She also has subjects enrolled in the open-label extension study, and she is going to provide you with details about the DESTINY PWS study as well as the extension study. Dr. Salehi…
Dr. Parisa Salehi, Principal Investigator:
Thank you, Anish and also thank you to the FPWR for inviting me to speak about the DESTINY PWS study. It's really nice to see a potential option for PWS patients which not only affects their hyperphagia but also may affect other aspects of the disease. This program consists of two studies, C601, the DESTINY PWS Study, which is a multi-center, randomized, double-blind, placebo-controlled, parallel arm study in patients with PWS, which is a Phase III study. Then we have C602, which is an open-label safety extension study.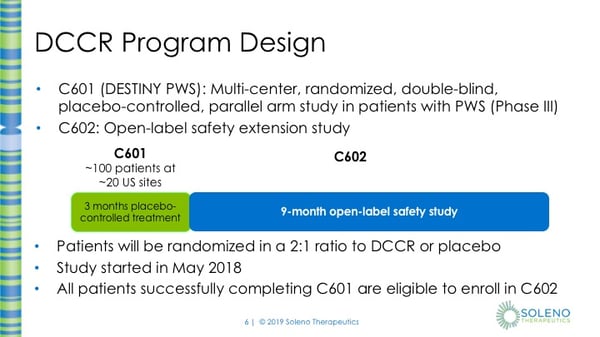 In the C601 study, the plan is to enroll about 100 patients at approximately 25 sites. Eligible subjects will be in this study for approximately 15 weeks. This is double-blind, it also is placebo-controlled, which means that some subjects will not receive DCCR but will receive placebo, which means that the tablet does not contain any drug. The assignment to DCCR or placebo is random, like rolling a die or flipping a coin. Subjects have a 2 out of 3 chance in being assigned to DCCR and a 1 out of 3 chance of being assigned to placebo. Subjects will undergo a titration phase during which their doses will be increased every two weeks until they reach their maintenance dose. In total, there will be 7 visits in this study where the first 6 visits are every two weeks then there are 5 weeks in between the last two visits. At the End of Study Visit, subjects who have successfully completed C601 are eligible to enroll into C602. C602 is then a 9-month open-label safety study. In C602, all subjects will receive DCCR.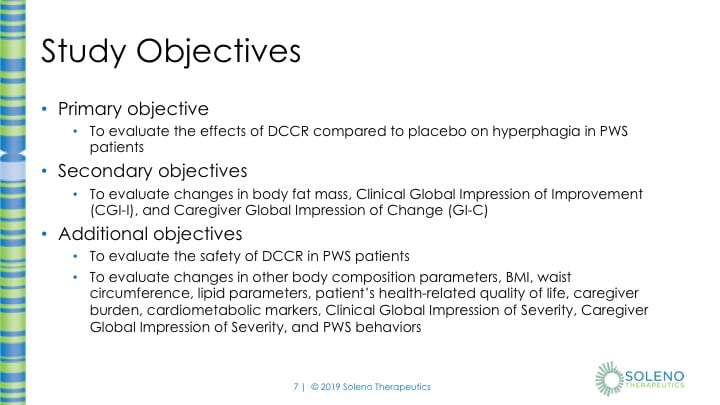 The primary objective of this study is to evaluate the effects of DCCR compared to placebo on hyperphagia in PWS patients. This is being evaluated using a Hyperphagia Questionnaire.
One of the secondary objectives is to evaluate changes in body fat mass. The body fat mass will be measured using a DXA scanner, which is an X-ray procedure to measure body fat mass as well as lean body mass (or muscle).
Two other secondary objectives are to evaluate the Clinical Global Impression of Improvement or the CGI-I, and Caregiver Global Impression of Change or the GI-C. The Clinical Global Impression of Improvement is a question that the Study Doctor will answer, and the Caregiver Global Impression of Change is a question that the Caregiver will answer.
Additional objectives of this study are to assess safety as well as the effect of DCCR compared to placebo on body composition parameters, BMI, waist circumference, lipid parameters, subject's health related quality of life, caregiver burden, and PWS behaviors.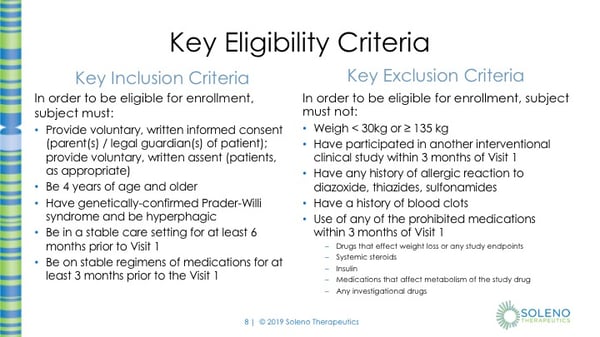 So what are the Key Eligibility criteria for this study?
NOTE: Protocol changes have decreased the minimum weight for participation to 20kgs and has increased the maximum weight. Please contact your nearest site coordinator for more information.
Key Inclusion Criteria does include being able to provide voluntary, written informed consent from the parent(s) or the legal guardian(s) of the patient; as well as provide voluntary, written assent from the patient, as appropriate. You must have genetically-confirmed Prader-Willi syndrome and be hyperphagic. You must be 4 years of age and older. You must be in a stable care setting for at least 6 months prior to Visit 1. And be on stable regimens of medications for at least 3 months prior to Visit 1
Some criteria that might exclude you from being in the study include: having a weight less than 30kg or less than 66 lbs or having a weight greater than 135 kg or greater than 297 lbs. Also, if you've participated in another interventional clinical study within 3 months of Visit 1 that will also exclude you. Although there might be an amendment in the next protocol where this will be shortened to 60 days before Visit 1. If you've ever had any history of allergic reaction to diazoxide, thiazides, or sulfonamides, this will also exclude you from being in the study, as well as a history of blood clots. There is also a list of some prohibited medications that you can't use within 3 months of Visit 1. These include drugs that might affect weight loss or any of the study endpoints. If you've ever been on systemic steroids within 3 months of visit 1, so that includes oral or IV steroids for asthma or some other condition like that (steroid inhalers are typically permitted). If you've used insulin within 3 months, any medication that affects metabolism of the study drug or any other investigational drug.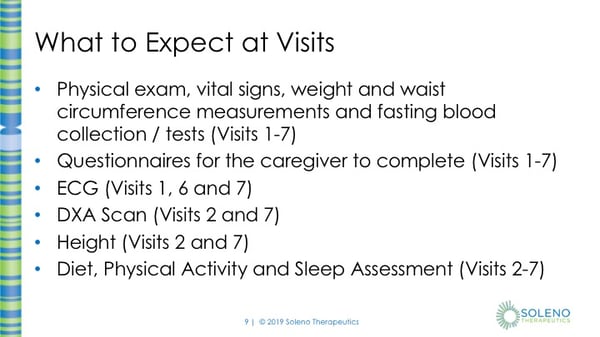 Now what can you expect at these study visits? The duration of participation is 15 weeks with 7 visits. Visits 1 - 6 are two weeks apart. Visit 6 and 7 are 5 weeks apart.
At every visit, we do monitor for safety. Subjects will have a safety questionnaire by their physician or the study coordinator, a physical exam, which will include a peripheral edema assessment and a thromboembolic assessment. Subjects will need to fast for at least 8 hours prior to every visit for fasting blood tests.
At some visits, there will be questionnaires for the caregiver to complete, an ECG at Visits 1, 6, and 7, a DXA scan at Visits 2 and 7, a urine test at Visit 2, 4, 6 and 7 as well as a Diet, Physical Activity and Sleep Assessment at Visits 2 – 7.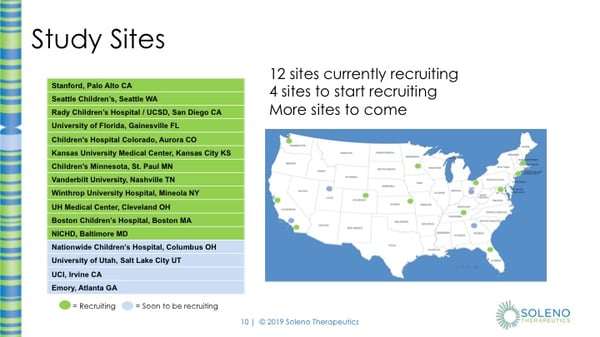 This map shows where the sites are in the US. There are 12 sites that are currently recruiting subjects and 4 sites that will soon be recruiting. There will be more sites coming soon.
Clinicaltrials.gov as well as the FPWR website lists the sites that are actively recruiting subjects. If you have any questions about sites or if your area is not available as a site, please contact the Soleno Project Manager at the phone number or email provided.
---
Webinar attendees were invited to ask questions of the panelists. Below are the questions presented and the responses.


---
Q: Is there any documentation that shows that DCCR works?
A: Yes in fact there has been a pilot study in patients with PWS which was conducted at UC Irvine Medical Center. And in that study DCCR showed significant improvements in hyperphagia, significant decreases in body fat mass and waist circumference, consistent with a loss of visceral fat, and also a significant increase in lean body mass, this is based on DEXA scanning. A number of posters and presentations have been done at national and international conferences that describe the safety and potential effectiveness of DCCR in patients with PWS and a number of these are available on our website which is www.soleno.life.
Q: Perhaps you could tell us, how have subjects been doing so far in this study? Have you seen any improvement?
A: So as we noted earlier, the ongoing DESTINY PWS study is a double-blind, placebo-controlled study, with a third of patients receiving placebo. We do not know which patients are on DCCR and which ones are on placebo, so we are not really able to say whether improvement has been seen or not at this time. I'm afraid.
Q: How is this DCCR different from the diazoxide that's already available?
A: That's a really good question. Diazoxide Choline Controlled Release (or DCCR) is not the same as diazoxide. Diazoxide Choline is a crystalline salt form of diazoxide, which allows it to be made into a tablet form, which in turn allows for a slow release of diazoxide choline and absorption of diazoxide. Think of it as a tablet that releases small amounts of diazoxide choline over 24 hours in the gut. In contrast, the currently available diazoxide formulation is an "immediate release" formulation. Meaning that it is more rapidly absorbed and then cleared from the body, so it needs to be taken 2 or 3 times a day. DCCR is an extended release formation so it's absorbed over a longer time and it allows us to dose the medication once daily. The tablets, DCCR tablets also allow for consistency of dosing which is difficult to achieve with an oral suspension diazoxide. We expect that DCCR may be safer and may have a lower number and severity of side effects due to the ability to dose at lower levels while still achieving a therapeutic effect. That, however, needs to be confirmed in the clinical trials that we are now conducting.
Q: What side effects might participants need to be watching for?
A: So, the most common side effects that have been seen in previous studies in the use of diazoxide in its current indication are increased blood sugar and peripheral edema, think of it as fluid retention or swelling. In most cases, we expect these to be short term and self-limited. If needed, the doctor can lower the DCCR dose or stop treatment temporarily to treat those, but we expect that to be infrequent. We have seen that in the past that diazoxide when it's used without titration, which means that we directly dose with a high dose of diazoxide, there used to be more side effects. With the current dosing paradigm of diazoxide, DCCR is much better tolerated.
Q: Does this medication interact with a person's blood sugar? Does it increase or decrease those levels and if so, are these going to be monitored throughout the 15 weeks?
A: So theoretically, it can impact blood sugar because it does decrease the insulin secretion temporarily. However, what we have seen so far is that these effects tend to be temporary. In the study that we are conducting, we allow either patients who are not diabetic or patients who are diabetic on treatment without insulin though, to be admitted into the study. And what we have seen so far and we expect to see, is that there may be a transient increase in glucose, but over time with continued dosing with DCCR, the levels should come back to normal. And that's kind of our expectation with DCCR..
Q: Can you describe in layman's term…I know Dr. Salahi did a great job going through each visit but could you talk a little bit more about how long will a visit last and what some of these tests mean?
A: So in total, as Dr. Salehi said, there are 7 visits in total within the 15 weeks in the study and most of these visits are lasting two to two and a half hours on average. However, the screening and randomization and end of study visits may last up to about four hours.
Some of the evaluations that Dr. Salehi was talking about, such as a DEXA scan, think of it as a simple x-ray of the whole body that takes just a few minutes and doesn't really require any particular involvement from the patient. A number of the other evaluations are just questionnaires, typically they are either filled out by the caregiver who is accompanying the patient or by the physician. There is blood work to be done and it varies by which visit in some visits there is more blood work in others, there is less.
Q: In regards to the blood work, Dr. Salehi had mentioned that fasting needed to take place for 8 hours prior, are these appointments then scheduled for the morning so that our children or loved ones are able to fast overnight?
A: Yes, all the sites will make an attempt to schedule the visits as early as possible in the morning to ensure that the fasting bloods can be obtained. And I also wanted to complete an answer from one of your prior questions which was Is blood sugar evaluated on a regular basis for these 15 weeks, and the answer is yes, blood sugar is carefully evaluated for these 15 weeks.
Q: There is a question regarding the availability of drug. Is there an open label extension where parents can continue to participate with their loved one and will have access to drug during that time?
A: Yes, as Dr. Salehi mentioned, once the patient completes the three-month randomized double-blind placebo-controlled study, they have the ability to enroll into a 9-month safety extension study. This is a study in which everyone will get drug. So, the total duration of treatment could be as much as one year.
Q: Could you provide more information on what the monitoring looks like in that open-label 9-month period?
A: Think of it more as a safety extension study. So we don't do such extensive evaluation in the study. It's a simpler version of the randomized double-blind study. The visits, after the first few weeks, are much less frequent and the number of evaluations are much less as well. We are working on simplifying that protocol further and we expect to see the number of visits to be quite infrequent after the first few weeks in that protocol.
We have several questions regarding eligibility, around the weight requirements as well as hyperphagia so…to go through these questions… the first one is
Q: My child is old enough to participate but weighs less than 30kg and he clearly has hyperphagia. Why can't my child enroll?
A: Yes, it's a really good question. The answer really is because of the fact that the optimal dose of DCCR is in a certain range based on body weight. Think of it as a milligram per kilogram. We currently have specific tablet strengths that are available which could make the dose too high for patients who are lighter than 30kg. We are working on lower dose strengths right now and we plan to update the protocol once those are available. And conversely, if the patient is above 135kg, the challenges, the specific dose strengths are such that would make the doses too low for patients that are heavier than 135kg. In addition, on the higher end we would also like to limit the dose to what's been used in studies so far so that we continue to be comfortable with the safety of DCCR in the study.
This is a second question in regard to weight.
Q: If my child's height and weight are normal, is he/she still eligible?
A: Correct, there's no exclusion for anyone with normal height or weight. The exclusion really is that the patient must weigh either above 30kg or below 135kg to be eligible. And obviously they must meet the other eligibility criteria as well. But in response to the question, the patients do not need to be obese or have a high BMI to be enrolled in this study.
Q: You showed us a list earlier of sites that are currently enrolling or getting ready to enroll. One of our audience members is saying that there's not a trial site near where they're at in Chicago. Is there a possibility of having a site in that area? Or is there travel funds to help get to one of these other sites?
A: So we are actively trying to recruit more sites who are interested in participating so I would actually encourage anyone who is a seeing a physician in the Chicago area to ask if they're interested. We're happy to open a site in the area, however until such time, we would be happy to support the travel of anyone who would want to go to the nearest site which is not in their area.
Q: What is covered when you facilitate travel? Will that cover transportation, lodging expenses?
A: Yes, there is reimbursement available for each visit and it does cover lodging and other travel expenses as well as meals.
Q: If there is not a trial site near a person, what should they do? How do they pick a site?
A: It may be easiest to pick the geographically closest site and call the contact information that's listed at clinicaltrials.gov. The study coordinators are very responsive, and they will be able to talk you through how to best do it. If you have any problems with that, the Soleno project manager is always available to help you and that contact information is also on one of the slides.
Q: Do you have a timeline for when we might know where more sites are going to be available?
A: We are active at 12 sites right now, and those are listed on the sides and I believe there's four or five additional sites that we are hoping to start hopefully in the next few weeks. As I said, if there are specific geographies, we're happy to look at them for other sites. Remember though that it does take time to get to site up and running, so it may be most practical for someone to actually look at their closest site graphically and be enrolled there, and as Kristen mentioned we do provide to travel assistance etc so that should be able to facilitate the participation.
In regards to current medications..
Q: If someone's on growth hormone does that preclude them from participating?
A: It does not. Patients in our prior study, a good proportion of them, were on growth hormone as well and we do not expect to have any detrimental effects of DCCR on growth hormone or vice versa.
Q: This is a tablet. How big is this tablet and have patients had any problems taking it?
A: We have not had any concern expressed by patients or sites to date. This was a topic of conversation as we designed the study etc. There are two strengths of tablets available, the smaller one is probably the size of an advil and the larger one is probably about two times that or so. So these are not very large tablets and like I said we have not heard any concerns so far from patients in terms of swallowing them. Just a reminder, these tablets do need to be swallowed whole. They should not be chewed because this is an extended-release product and it's important that they be swallowed.
Q: Does DCCR impact any specific organs like the kidneys or liver?
A: There is no evidence to suggest that DCCR has any detrimental effects on the liver or kidney etc, however we are studying that, we are closely following that. The reason we do this blood work is to ensure that that is the case, but there's no evidence to suggest that it detrimentally impacts any of the vital organs.
Q: Speaking of long-term use, is there any data so far that supports that this drug continues to work after 3 or 6 months? What does the data on this drug show, does it seem to have a long-term efficacy?
A: That's a very good question. As is probably obvious to you, DCCR has not been studied for long-term treatment in PWS patients however, there is an interesting data set that can be looked at to see if patients developed tolerance or not. This drug, as Neil mentioned, was first approved in 1976 for the treatment of rare conditions, it's currently used for treating hyperinsulinism and patients with insulinoma. These are patients who stay on diazoxde for very long time, years at a time and it remains a standard of care for many of those patients. So, if that is any gauge, we should not expect to see tolerance develop but we do not have this specific data in PWS at this time.
Q: Let's talk about anxiety. A lot of our community members, their loved ones experience high levels of anxiety. Have you seen or measured any changes in anxiety with DCCR?
A: As part of this study we are measuring a number of behaviors. As you know the FPWR has a very substantial series of questions that are asked as part of the PWS profile questionnaire and that will be administered as part of this study. So we don't have any definitive data on the effect on anxiety at this time. What we saw in the earlier study was an effect on aggressive and destructive behaviors, but we hope to know a lot more at the end of this study.
We have some enrollment/ timeline questions.
Q: Will all participants start and end at the same time or is this an open, rolling enrollment where I can start as soon as my site is ready to enroll me.
A: It's the latter, so it is a rolling enrollment in the sense that not all patients will start at the same time. There are several patients who have started, and we expect that patients will continue to enroll probably over the next handful of months. But yes, it is a rolling enrollment.
Q: Is there a deadline for when people need to be enrolled by?
A: We don't have a definitive date for completion of enrollment, but we are currently enrolling at 12 different sites and new sites are coming onboard quite rapidly so I expect that we should be completing enrollment in the not-too-distant future. I would encourage patients to reach out to their closest site as soon as possible.
on.
Susan Hedstrom:
Additional information on this study, as well as others, can be found on the FPWR.org web site as well as clinicaltrials.gov. We do have more upcoming trial webinars and these are all listed on the FPWR website. We hope you will continue to join us and learn more about these important opportunities.