A special contribution by guest blogger Claire Carucci.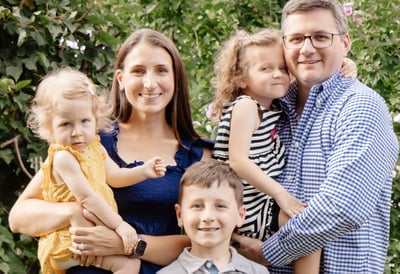 Our 17-month-old daughter Caroline has Prader-Willi syndrome (PWS), and it has forced me to be stronger than I ever thought I would need to be. When I was looking at this little baby in the hospital that couldn't even eat by herself I thought, "Okay, it's up to me: I have to kind of get over whatever fears I have, whatever doubts I have, how scared I am about the future."
Caroline has shown us time and time again that she is so much more than her diagnosis. She has gone from being almost entirely dependent on a feeding tube to eating and drinking on her own. She is smiling, laughing, rolling, sitting up, and playing with her adoring older siblings.
And our family has become stronger. My son, Andrew, is almost 7, and my daughter Eleanor is 4. Caroline's the youngest, and in a lot of ways, that's a plus for us. I've talked with parents whose first child has PWS, and I cannot even imagine. Parenting is difficult enough as it is, and when it's your first, you don't know what to expect anyway.
We lived in Boston for about 10 years, and then we moved to Dallas in May of 2020. Caroline was born in March 2021, so we were pretty much still in the thick of Covid. On top of that, she was born a month early, and we didn't have family nearby. It was a crazy couple of months.
After she was born, she was in the NICU for 6 weeks, and ended up needing to have g-tube surgery when she was 5 weeks old.
Those two years in Dallas we couldn't have predicted what it would be like living there. Basically, the biggest changes in our lives happened there. Then my husband, Brian, had an opportunity to move to Charlotte, North Carolina, so we moved here in April.
We're happy to be closer to home, or within driving distance of family. That helps. As our journey with Caroline continues, it's nice to have a little more support from people that know her best, so that's been good.
From Emergency C-Section To PWS Diagnosis
But luckily, we had made some good friends in Dallas. The day that I had to have an emergency C-section and we knew Caroline was going to be born, we called friends and said, 'We need to drop the kids off with you." My husband was able to be at the hospital, and my parents flew down the next day.
Caroline was born breech at 36 weeks, so she was considered a "late preemie." But she had low muscle tone and was not eating well. Because she was premature, they didn't think it was unusual, saying they would just keep an eye on things. But the NICU doctors wanted to run genetic tests to rule out problems. That's how we found out when she was 8 days old that she had PWS.
I had been discharged from the hospital, but she was still there. We were trying to manage hospital trips with two other kids and our parents, and it pretty much felt like the worst time in my life — it was the worst nightmare.
The First Few Months: Adapting and Learning
But now, looking back on that, we have a little more perspective. I'm glad we found out when we did, because we were able to pretty much hit the ground running, immediately setting her up with specialists and finding out more about PWS and starting her treatment right away. It informed our decisions in the NICU, too. We knew there was a chance that she wasn't going to leave the hospital eating on her own, so we had to make a plan for how to get her out of the hospital. Other than not eating, she was healthy, but she needed help. The hospital would only discharge her with a G-tube, which we initially were not comfortable with. We ended up transferring her to Children's Hospital in Dallas, and after a week of being there, they said they didn't think she was making enough progress. So that's when we decided to go ahead with the G-tube surgery. She was in the hospital for about a week after that, recovering, and then she was able to come home.
The week or so after her diagnosis was by far the hardest time we've been through, both individually and as a married couple. I have two other kids, and I never for a second thought what their future was going to be like. But you get that diagnosis and think, "Okay, this is not what I was expecting." As a baby she's going to need all this extra help, but you also hear that this or that might happen. It was tough, and my husband was also down. I thought to myself, "Okay, one of us needs to pull us out of this because we have this baby that's sitting in the hospital that needs us. We are the ones who have to take care of her. That's our job, for better or for worse."
My husband ended up doing a lot of research into PWS, and honestly, a lot of the information we found was pretty outdated and extremely depressing. The FPWR website was the most current and by far the most hopeful information that we got. The research being done by FPWR and the ongoing clinical trials give us so much hope for Caroline's future that she will live an independent, happy life.
Those first couple of weeks were the hardest, and we couldn't just focus on her. We had our other kids that needed our attention. She was still pretty sleepy and low energy, not the same level of interaction that we'd had with our first two. But then, the smiles started coming, and you could tell she was recognizing things.
For the first 11 months she had the g-tube so she couldn't drink on her own. We had to do feeding therapy up to five days a week. But she finally got that, and once we introduced solid foods, she never had an issue with that. It was a big milestone, for sure.
More Good Days Than Bad
Obviously, it's still up and down, but now there are more good days than bad, for sure. We just spent the last couple of weeks with family, and she was playing with all the kids and bonding with my in-laws and aunts and uncles. So seeing that definitely gives us more hope. My nieces that are older will just sweep right in and take her and want to play with her. She loves playing with them and giving everyone hugs.
I think the most help and support we've gotten is from other people in the PWS community. We've gotten emotional support from our families, and they've come and helped with the kids, but I think it's such a specific journey and it's a small community. That was one of the things that really helped us in the first couple of weeks, hearing from other families and seeing these stories of hope. We were encouraged by reading about families that had kids our age or older kids and seeing how well they were doing. That has been a game-changer for us.
We are so grateful for the support of our family, friends, the PWS community, and Caroline's dedicated team of doctors and therapists.
It's My Job To Seek Help
We know it is possible to live with a kid with this diagnosis, to travel and go out, and for them to go to mainstream schools. That was a lifeline for us. The social worker in the hospital introduced us to FPWR and said we should reach out. They immediately got us on email lists and in Facebook groups that we could connect with.
By nature, I am not necessarily extroverted or assertive. I always felt uncomfortable asking for help from people and standing up for things. But I think I've learned that this is my job now. So I need to be out of my comfort zone and push for the things that my kids need — even like going to doctors and saying, "You know, we've done our research and we've talked to other families that have this; this is what we need to do."
We've been fortunate that we have the specialists we've seen, and that our pediatrician has been on our side and worked with us, because they've only seen a kid or two in their careers with PWS.
Gaining Hope from Other Families — And From Caroline
It gives me hope to see other families that are a few years ahead of us. I try to not look too far ahead, because even kids that are 10 years older than her might have received different medical advice or treatment. I have a lot of hope seeing them go to school and graduating from high school and going to college. Because that's honestly the biggest fear that we had: Is she going to be happy? And is she going to live an independent life? Because that's what we want for all our kids.
It also gives me hope to see how far she's come in the past 17 months, the things we've already been through and that she's overcome.
I'm so thankful for Caroline. She's completely changed our lives and the lives of our family and close friends. It's definitely opened our eyes to the diverse needs that all people have. And we're thankful to everyone in the community that's helped us, indirectly or directly, by sharing their own stories and giving advice and sharing their struggles.