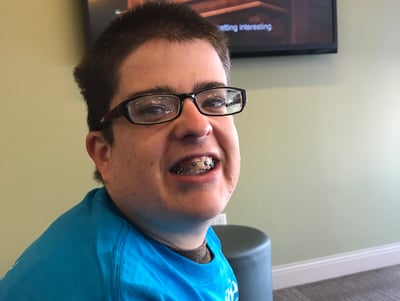 A special contribution by guest blogger Joni Augustine.
Joni shared her story via our Stories of Hope Questionnaire.
How has your child exceeded your expectations?
Branden was born 30 years ago, before there were so many wonderful resources. I was told he would not walk, and his life expectancy was low. I was so devastated. Then one day — he was almost two — he scooted over to the wall, used it to get himself upright, and took off walking. From that day, I never treated him any different. He is thriving, happy, and dealing with the PWS struggles like a champ.
What would you say to inspire a parent whose child has recently been diagnosed with PWS?
Although it may not feel this way right now, I promise you, you will be the recipient of life's most amazing gifts through that wonderful and amazing child. I am so lucky to have my son in my life. I had to let go of my idea of what I wanted and give him what he needed; he did the rest. You are truly blessed. Take a lot of deep breaths and take it one day at a time. When you think it's too much, the sun does come up every day.
What are you thankful for?
My son, Branden, and all of the amazing gifts he brings to our family and all those who know him.
What does this quote mean to you?: "Until you have a kid with special needs, you have no idea of the depth of your strength, tenacity and resourcefulness."
The gifts are not tangible and are hard to describe to those feeling the sadness of an early diagnosis, but they are real. The pain is okay too. I often felt as though I was the one with special needs, not my son. He was doing his best and happy. It's funny how the growth was within myself and those surrounding my son. A blessing for sure.
What does this quote mean to you?: "Most people see what is, and never see what can be."
This was the biggest obstacle for us, in education. Know what your child's rights are. You are the advocate. Your child can accomplish a lot. Surround yourself with those who know that this is true, and keep them on your team. Give hugs and kisses and use humor — laughter is the best medicine!