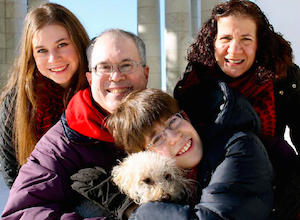 As a parent of a child with Prader-Willi syndrome (PWS), I want to tell every parent who's just received a diagnosis: don't believe everything you read! At the same time, there are a few basic facts about PWS that are helpful to know, and in this blog, I'll give an overview of basic information that can serve as a starting point in your research.
Basic Definition of PWS
Prader-Willi syndrome (PWS) is a rare genetic disorder that occurs in approximately one out of every 15,000 births. PWS affects males and females with equal frequency and affects all races and ethnicities. PWS results from an abnormality of chromosome 15, and it is a chance occurrence. Nothing that parents do either prior to conception or during the pregnancy causes PWS.
The Broad PWS Spectrum
When reading about the symptoms that are associated with PWS, it's important to keep in mind that PWS has a broad spectrum. Although many symptoms can be associated with PWS, most people don't experience all of the possible symptoms. In addition, the range of severity is very broad. Many parents understandably want to know where their child will fall along the spectrum of PWS, but right now it's not possible to tell ahead of time which symptoms will happen in any particular individual, or to what degree. We do know that all children with PWS benefit from early intervention, a loving environment, good social interaction and an informed and caring medical team.
Some Common PWS Symptoms
Infants with PWS often have low muscle tone (hypotonia). They may have a weak cry and a poor suck reflex, and can be very sleepy. Babies with PWS usually are unable to breastfeed and may require special bottles or tube feeding. As babies with PWS grow older, strength and muscle tone generally improve. Motor milestones are achieved, but may be delayed.
Unregulated appetite (hyperphagia) and easy weight gain commonly begin between ages 3 and 8 years old, but are quite variable in onset and intensity. In addition, the metabolic rate of persons with PWS is lower than normal. Maintaining a healthy weight can be challenging, but is achievable if there are consistent rules about food, and if family, friends and teachers work together to maintain a healthy and controlled food environment.
A variety of other clinical features can also be associated with PWS. Individuals typically exhibit cognitive challenges, with IQs ranging from the low normal range to moderate intellectual disability. Those with normal IQs usually have some learning disabilities. Other clinical problems may include growth hormone deficiency/short stature, scoliosis, sleep disturbances with excessive daytime sleepiness, high pain threshold, speech apraxia/dyspraxia, and infertility.
Behavioral challenges can also arise, and may include increased anxiety, obsessive-compulsive symptoms, skin picking, and difficulty controlling emotions. Adults with PWS are at increased risk for mental health issues.
There Is Hope
Although the symptoms associated with PWS are daunting, there are many reasons to be hopeful. Acting proactively to become educated about PWS and to set up a good environment will help your child thrive. In addition, PWS research offers new possibilities to eliminate the challenges of Prader-Willi syndrome. There are a variety of new drugs currently in development for control of appetite in PWS and most of this progress has occurred in the last few years.
There have also been recent advances in technologies to manipulate DNA, which have led to the possibility of gene-based strategies to treat PWS at the molecular level. Conventional drugs and devices are being developed and tested to alleviate some of the more troubling aspects of PWS including hypotonia, hyperphagia, and behavioral problems. Research has brought us a wealth of opportunities and hope for the days ahead, and the number of potential new therapies and intensity of investigation is promising.
For more helpful information and advice from parents who have been through the same challenges you're facing, download First Steps: A Parent's Guide to Prader-Willi Syndrome.