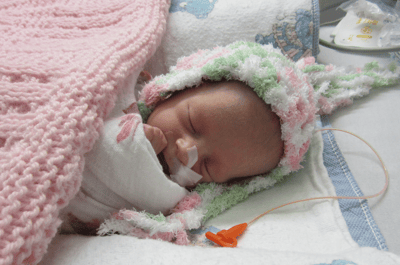 On April 18th, 2012, our beautiful daughter, Peyton, was born. At 5lbs, 7oz, she was little, but everyone thought she was just weak and that she would get stronger as she grew. Peyton was not strong enough to nurse and she struggled with a bottle. We worked hard to feed her because we could not wait to take her home with us. At home, Peyton continued to struggle to take a bottle. We woke her up every 3 hours to eat. We hoped and prayed for Peyton to gain the strength that she needed to thrive.
At 10 days old, Peyton was readmitted to the hospital for 'failure to thrive'. We met with cardiology, neurology, genetics, the list goes on. We held on to the thought that she could just be weak and once she gained the strength that she needed, everything would be okay. We were at the hospital for 3 weeks and every morning when the doctors made their rounds, they would run through the list of what was wrong and what it might be, and every morning I would ask them the same thing, "it could also be because she is weak, right? And when she gains the strength that she needs, everything could be okay, right?" Every morning they would agree that could be a possibility, but as the days passed, their response was less reassuring.
It was Friday evening at the hospital, a little after 7pm, and our pediatrician walked into our room. I was shocked to see her there so late. Naively, I thought she was there seeing other patients. Her face dropped, and she sadly told me that she was there to see us. My heart sunk. As she walked into the room, the Geneticist walked behind her. Until that moment, I was still holding on to the possibility that Peyton could just be weak, that once she gained her strength, everything would be okay. As they walked into the room and sat down, I had to let them know that I wasn't ready. I put my head down on the hospital bed and I cried. I wasn't ready for what they were going to tell me. I wasn't ready to hear that something was wrong. I wasn't ready for them to break my heart forever. I laid there and cried for a long time. I just needed that last bit of time of not knowing. I needed those last few minutes before things changed forever. Then, I lifted my head, and tried to pull myself together. I told them I was ready or as ready as I could be. Then, with sadness in their eyes, they told me, "Peyton has Prader-Willi Syndrome."
It is still painful to think back on the beginning of our journey. When Peyton was diagnosed…our world was shattered. The pain of knowing she would eventually always be hungry was so difficult to wrap our heads around. Not knowing what to do, we started researching. When Peyton was 6 months old, we attended our first One Small Step Walk for FPWR in Santa Monica, CA. We showed up to the walk event and we were still so fragile and heartbroken, not knowing what the future held for our daughter. It was that day, that we found our people. We found a group of families that were not taking no for an answer, that were not accepting the status quo. These families were fighting for a different future for our kids, they were fighting for research.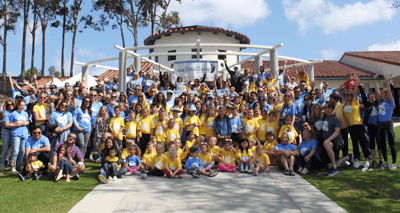 Six months later, we attended our first FPWR Conference. We were relieved and inspired as we listened to the researchers discuss their findings and the possibilities for our children. At that conference, a parent shared this quote by Sydney Smith: "It is the greatest of all mistakes to do nothing because you can only do little-do what you can."
There was so much power in that one quote. We knew that we wanted to do something. We knew that we wanted to make an impact. We were excited, we were hesitant, but we knew that we could do something. When we returned home, we decided to form our own team and participate in the One Small Step Walk in Santa Monica. We were shocked at the love and support that we received from our family and friends. We learned that our friends and family wanted to do something to help, and this was the perfect opportunity to make a difference by supporting research. Then, we decided, ready or not, we are going to host our own One Small Step Event in our community. It was awesome to have the love and support of our family, our friends and our community. It was empowering, knowing that we were doing what we could to fund life-changing research.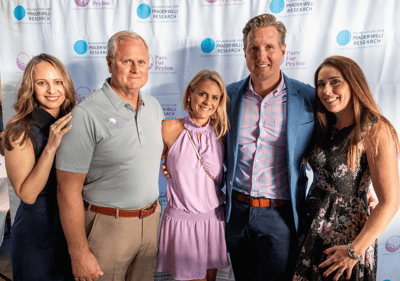 We hosted a few of our own walk events and then we decided with a lot of encouragement and support from our friends, family, and the FPWR, that it would be a lot of fun to put together a golf tournament and dinner event. An event that would bring golfers together for a fun day of golf and spouses, friends, colleagues, and our community together for an evening of fun, all while fundraising for research. We took a huge leap of faith and it has all been worth it.
As parents, I know so many of you can relate, we just try to do everything that we can so that our kids can live their best lives. For Peyton, we know that requires more. We also know that she deserves that from us. We have seen that with RESEARCH there is a renewed HOPE for Peyton's future and for all of those with PWS. When we fundraise, we are continually surprised by the love and gratitude that we feel at each event. There is power in knowing that that we are not fighting this battle alone. We are comforted by the love and support for our cause, and for our sweet Peyton … knowing that we are doing all that we can to change the future for Peyton and for all people with PWS. We know that through medical research we can eliminate the many hurdles that Peyton and others with PWS face on a daily basis. What amazes us over and over is that so many people care about our cause, about our Peyton, and changing the future for her and her friends.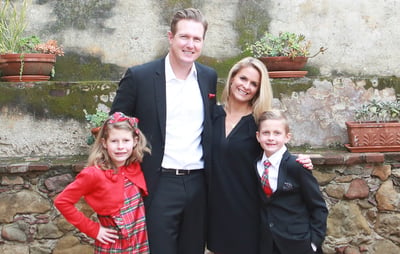 Looking back at when Peyton was diagnosed, thinking about that moment, 8 years ago, I never could have imagined in my wildest dreams that we would be here; fundraising, advocating, fighting for a cure … and that all of our friends, family, colleagues, our community, would be here right along with us. This is us doing what we can. We love Peyton, we love so many things about our sweet girl; her smile, her humor, her hugs, her love…and we wouldn't change that. We want to allow Peyton to live her best life. A life where she is not hungry all of the time, a life where she has the opportunity for independence. We continue to hope, pray, advocate, fundraise…doing all that we can to change the future of Prader-Willi Syndrome. We know that this is only the beginning of what the future holds for PWS. We are so grateful to those in our life that spend time to make a difference, for being so generous, and being a part of this amazing cause. With a rare condition, the money raised, goes a long way.I cannot wait for the day that we can all look at each other and say, "We did it!" I cannot wait for that day!
Join the Snyders In Raising Funds for PWS Research!
This year, the Snyders took their annual fundraising event virtual so anyone across the U.S. could participate — they held their annual Pars for Peyton golf competition virtually! Participants played from their favorite local golf course any time between Oct. 1 and Jan. 1, and then submitted their scores online. It was a great way to support PWS research while maintaining social distance!